Hello!
As fall is rushing in and I'm dreaming of spices and baking and thick socks and warm drinks, I thought it was time to emerge from my summer hibernation. This summer has been tremendously productive AND relaxing, which has been lovely, but I apologize for neglecting the blog.
I went on vacation this summer, which I've only done one other time in my life. You could say it was much needed. But I discovered one of the benefits of never taking a vacation — not having to reacclimate to real life again. Oy. I also moved into a new place, finished writing and editing the Trader Joe's cookbook, ate obscene amounts of sweet corn and just plain chilled.
It was pretty great.
I hope you all had a lovely summer! What was happening in your neck of the woods?
Now back to life, back to reality and with the publication of the TJ's book approaching and the heat backing off, I'm back in the kitchen and am eating more than salads and bowls of watermelon chunks.
We're in that weird limbo phase of summer/fall transition, when the air is getting crisp and we're layering blankets on our beds, but farmer's markets are still going strong and gardens keep on producing. Here is a recipe from the upcoming book for a lovely Roasted Carrot Risotto, the perfect comfort food to help use up your lingering carrots. As written, the recipe is vegetarian, but the vegan option is noted at the end. Because this recipe is from the book, it notes TJ's versions of the ingredients, but it's basic enough that you could throw this together with stuff from any grocery store.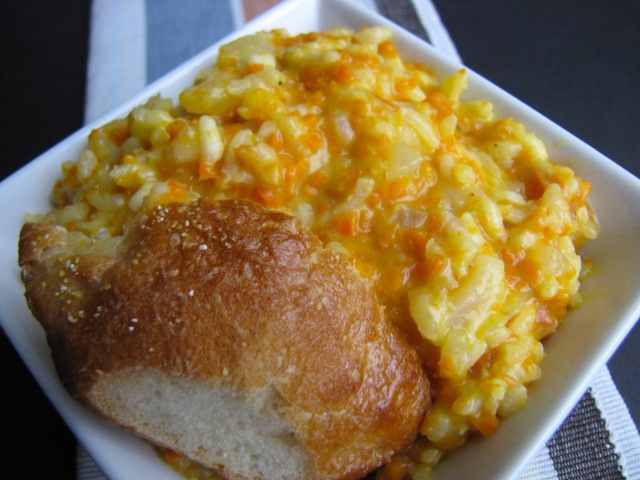 Roasted Carrot Risotto (from The I Heart Trader Joe's Vegetarian Cookbook, out November 2012)
Risotto is not a shortcut meal, requiring low temperatures and much stirring… but it's worth every minute. Roasting the carrots enhances their earthy flavor and adds a complexity that is intoxicating.
1/2 lb. organic carrots (whole carrots, not the little guys)
1 tbsp. olive oil
1 teas. balsamic vinegar
salt and pepper, to taste
1 tbsp. butter
1 small yellow or white onion, diced small
1 cup Trader Joe's Arborio Rice
4 cups of Trader Joe's Organic Veggie Broth
1 1/2 cups Trader Joe's Freshly Shaved Parmesan, Romano & Asiago Cheese
Preheat oven to 400. Line a baking sheet with parchment. Wash the carrots and cut down into 1 inch sticks. Toss carrots with olive oil and balsamic and sprinkle with salt and pepper. Spread on prepared sheet and roast until tender, about 20-25 minutes. Remove from oven and puree in a food processor or blender, until smooth, adding a little water (1 tbsp. at a time), if needed.
In a stockpot, melt the butter on medium-low heat. Add the onion and saute until slightly translucent, about 3 minutes. Add the rice and saute for about 3 more minutes. Add 1 cup of the broth, lower heat to just a tinge about low and cook, stirring often, until absorbed. Repeat with the second and third cups of broth, one cup at a time. Add the carrot puree with the fourth cup of broth. Once absorbed, remove from heat and stir in the cheese, stirring until melted and well combined.
Serve with a salad and some crusty bread.
Makes: 4-6 servings
Gluten-free
Vegan option: Replace the butter with non-dairy margarine. In place of the cheese, while the carrots are roasting, soak 1/2 cup of raw cashews in warm water. Let them soak until you are cooking the risotto. Drain the water and puree the cashews with 1/4 teas of salt and a squeeze of lemon juice (about 1/2 teas.). Add the cashew puree in place of the shaved cheese.