*Kelly! You won the marsh­mal­lows! Send me an email with your address and I'll pop them in the mail!*
While I love the lin­ger­ing days of sum­mer, as soon as the leaves begin to change my mind turns towards fall (my favorite sea­son) and then it turns to bak­ing, which is always enhanced by those first days of cool, crispy autumn air and crunchy leaves beneath your feet.
A few weeks ago the lovely folks at Chicago Soy Dairy gifted me with a cou­ple of bags of Dandies, their vegan marsh­mal­lows, with the request that I make some­thing cre­ative with them. I have enjoyed play­ing with their Teese in the past and I am always up for a chal­lenge, but those Dandies have just been star­ing at me for a cou­ple of weeks now.
Should I make some­thing rocky road? No, too boring.
Should I make some­thing s'mores? No, I can't com­pete with Amy's awe­some­ness.
Then I remem­bered my great Thanks­giv­ing love.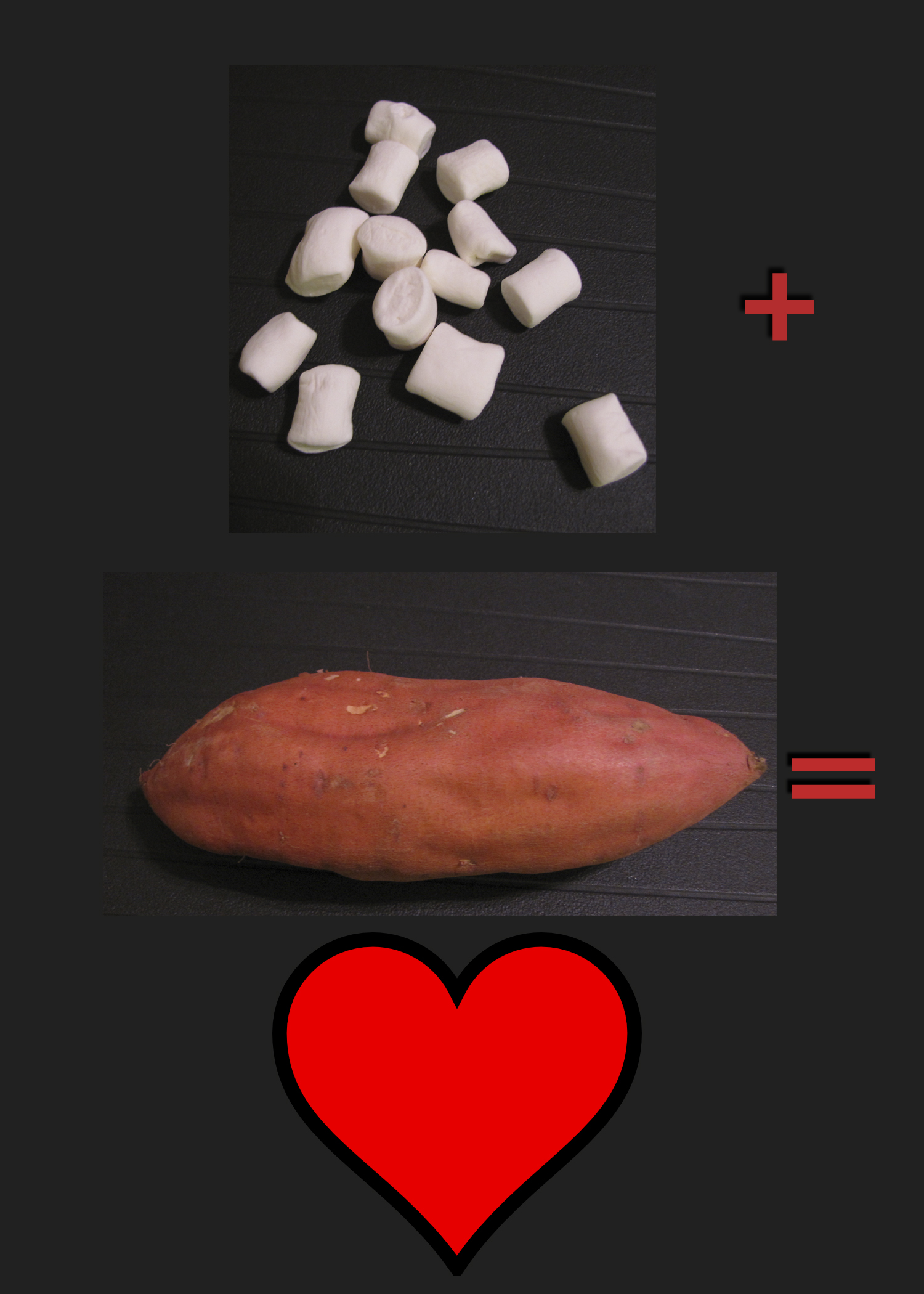 Like most any good Mid­west­ern girl, one of my favorite Thanks­giv­ing side dishes was the sweet potato (or yam, what­ever) casse­role, filled with juicy, sweet yams and pineap­ple and a marsh­mal­low and maraschino cherry topping.
Jim absolutely loathes any­thing sweet that is eaten at meal­time, so when I men­tioned this to him he vis­i­bly shut­tered. How to please us both? Why, turn it into a dessert, of course!
The Chicago Soy Dairy folks were kind enough to send me 2 bags of Dandies– leave a com­ment and 1 lucky per­son (drawn next Mon­day) will win the other bag!
These soft and fluffy cup­cakes are the per­fect tes­ta­ment to fall– moist sweet pota­toes with a creamy marsh­mal­low cen­ter, a hint of nut­meg and the lightly crunchy/gooey mal­low topping.
1 1/2 cups all-purpose flour
1/2 cup brown or other dark gran­u­lated sugar
1 teas. bak­ing pow­der
1/2 teas. bak­ing soda
1/2 teas. cin­na­mon
1/4 teas. nut­meg
1/4 teas salt
1 cup pureed sweet potato (or yam)
1/2 cup crushed pineap­ple (liq­uid drained)
1/3 cup oil
3/4 cup milk of choice
1/2 bag Dandies Marsh­mal­lows
Maraschino cherries
Pre­heat oven to 350. Line a cup­cake pan with liners.
In a small bowl, com­bine the flour, sugar, bak­ing pow­der, soda, spices and salt. In a medium bowl, com­bine the sweet potato, pineap­ple and oil. Mix until well com­bined. Add the milk and whisk together thor­oughly. Add the dry ingre­di­ents to the wet in two batches until just mixed.
Fill each cup­cake liner 1/3 way with bat­ter and place 1–2 Dandies in the mid­dle. Top with addi­tional bat­ter to seal the Dandies in the mid­dle. Lin­ers should be filled to just under the top of each liner. Bake for 18–20 min­utes or until a tooth­pick (poked at an angle to avoid the mal­lows) comes out clean.
Remove cup­cake pan from oven. Care­fully top each cup­cake with 4–5 Dandies. Place cup­cakes under your broiler on low for 15–45 sec­onds, or until puffy and very lightly browned. Remove from oven and let cool on cool­ing rack for 10 min­utes before remov­ing from pan to cool on rack. Top each cup­cake with a dried off maraschino cherry.
Makes 12 cupcakes