Woo-hoo!
It's the first Fri­day on the new nom! nom! nom! and do you know what that means? Of course you don't, it's the first one! Let it be known across the land that Fri­days shall now be known as the day we show­case our Treat of the Week. Huzzah!
I'm not a huge fan of food that mas­quer­ades as some­thing that it's not. For exam­ple, "muffins" that have equal pro­por­tions of sugar and flour and fea­ture frost­ing on top. That's not a muf­fin, it's a cup­cake! But then the idea of car­rot cake for break­fast sneaked up on me… but I just couldn't.
But it got me think­ing… what if I could accom­plish the same fla­vor pro­file with more health and less sugar? I could have my cake and eat it, too.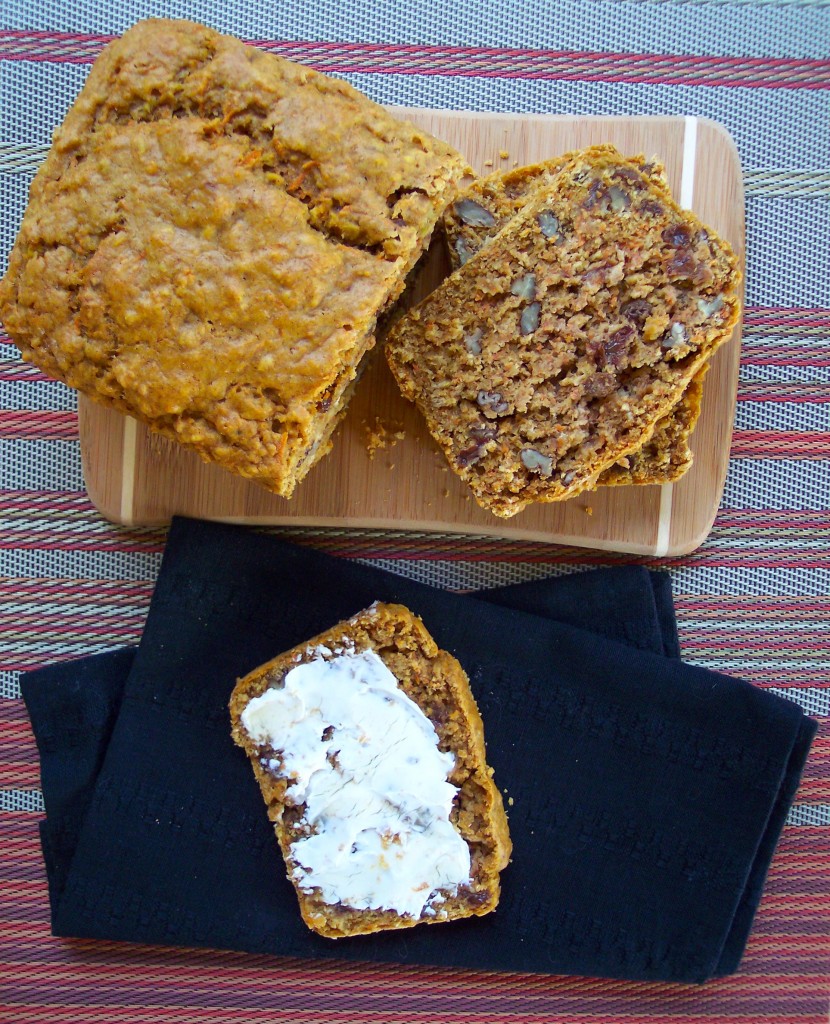 Car­rot Cake Bread
1 3/4 cups flour (all-purpose or white whole wheat)
3/4 cup quick-cooking or tra­di­tional oat­meal, uncooked
1/3 cup organic gran­u­lated sugar
2 teas. cin­na­mon
2 teas. bak­ing pow­der
1/2 teas. bak­ing soda
1/2 teas. ground gin­ger
1/4 teas. salt
1/8 teas. nut­meg
1 1/2 cups milk of choice
1/4 cup oil
2 tbsp. apple­sauce
1/2 teas. vanilla
1 cup shred­ded car­rots
1/3 cup wal­nuts
1/3 cup raisins
soy cream cheese (optional)
agave (optional)
Pre­heat oven to 350 and lightly grease a 9x5 loaf pan.
In a small bowl, com­bine the flour, oats, sugar, spices, bak­ing pow­der, soda and salt. In a large bowl, com­bine the milk, oil, apple­sauce and vanilla. In batches, com­bine the dry with the wet until almost incor­po­rated. Gen­tly mix in the car­rots, raisins and nuts until just mixed. Gen­tly spread the bat­ter into the pre­pared pan.
Bake for 1 hour or until loaf is tall and golden and a tooth­pick comes out of the cen­ter of the loaf clean. Let cool in pan, on cool­ing rack, for 45 min­utes before loos­en­ing, invert­ing and allow­ing to cool on pan rest of the way. Store left­over bread cov­ered at room temperature.
Serve slices warm with a smear of cream cheese and driz­zle of agave.
Yields: 10 slices