Woo-hoo!
It's the first Friday on the new nom! nom! nom! and do you know what that means? Of course you don't, it's the first one! Let it be known across the land that Fridays shall now be known as the day we showcase our Treat of the Week. Huzzah!
I'm not a huge fan of food that masquerades as something that it's not. For example, "muffins" that have equal proportions of sugar and flour and feature frosting on top. That's not a muffin, it's a cupcake! But then the idea of carrot cake for breakfast sneaked up on me… but I just couldn't.
But it got me thinking… what if I could accomplish the same flavor profile with more health and less sugar? I could have my cake and eat it, too.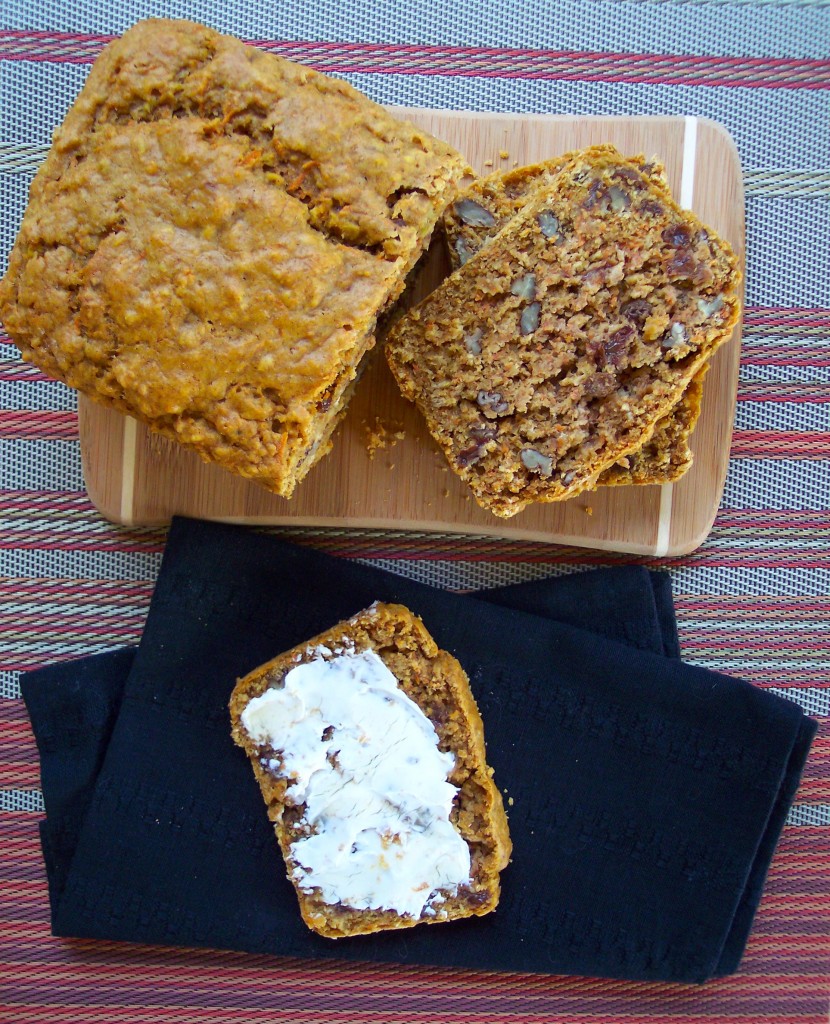 Carrot Cake Bread
1 3/4 cups flour (all-purpose or white whole wheat)
3/4 cup quick-cooking or traditional oatmeal, uncooked
1/3 cup organic granulated sugar
2 teas. cinnamon
2 teas. baking powder
1/2 teas. baking soda
1/2 teas. ground ginger
1/4 teas. salt
1/8 teas. nutmeg
1 1/2 cups milk of choice
1/4 cup oil
2 tbsp. applesauce
1/2 teas. vanilla
1 cup shredded carrots
1/3 cup walnuts
1/3 cup raisins
soy cream cheese (optional)
agave (optional)
Preheat oven to 350 and lightly grease a 9×5 loaf pan.
In a small bowl, combine the flour, oats, sugar, spices, baking powder, soda and salt. In a large bowl, combine the milk, oil, applesauce and vanilla. In batches, combine the dry with the wet until almost incorporated. Gently mix in the carrots, raisins and nuts until just mixed. Gently spread the batter into the prepared pan.
Bake for 1 hour or until loaf is tall and golden and a toothpick comes out of the center of the loaf clean. Let cool in pan, on cooling rack, for 45 minutes before loosening, inverting and allowing to cool on pan rest of the way. Store leftover bread covered at room temperature.
Serve slices warm with a smear of cream cheese and drizzle of agave.
Yields: 10 slices