These are older recipes that appeared on Squirrel's Vegan Kitchen.  Still tasty!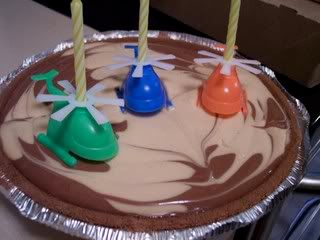 Peanut But­ter Choco­late Silk Pie
1 choco­late cookie pie crust (most pre­pared ones are vegan)
1/2 cup choco­late chips
12 oz (one asep­tic, vacuum-sealed box) firm silken tofu
1/2 cup plus 2 table­spoons all-natural peanut but­ter
1 1/2 cups pow­dered sugar
2 tbsp corn starch
1/2 cup vegan milk, divided and room tem­per­a­ture
1 teas. vanilla
Over a dou­ble boiler melt choco­late until smooth and creamy. Add 1/4 cup of vegan milk (room tem­per­a­ture is impor­tant, as cold milk will make the choco­late seize!) and whisk until smooth. Pour approx­i­mately 1/4 cup of mix­ture into the bot­tom of the pie crust and let set in fridge until choco­late has hard­ened. Let rest of choco­late mix­ture cool to room temperature.
In a food proces­sor com­bine all other ingre­di­ents, start­ing with the tofu, except for the addi­tional 2 tbsp of peanut but­ter. Blend for about 2 min­utes or until smooth. Pour out about 1/2 cup of the mix­ture into a bowl. Add cooled, melted choco­late to the mix­ture and blend again until well mixed, scrap­ing down the sides of the bowl as needed.
Remove pie crust from fridge and spread remain­ing 2 tbsp of peanut but­ter over the choco­late bot­tom. Pour choco­late fill­ing mix­ture into the crust. Spoon the reserved peanut but­ter fill­ing on top, pour­ing it as stripes, and draw a knife though the stripes to make pretty, swirling patterns.
Set in fridge for at least 4 hours before serv­ing. Pie will have a thick and creamy, pudding-like fill­ing but should hold up well and make sta­ble pieces.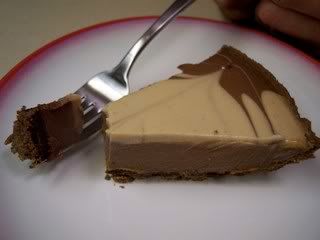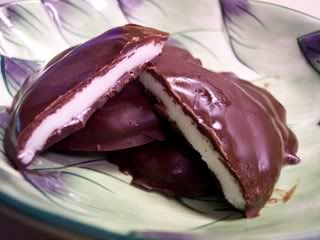 Pep­per­mint Pucks
1/3 cup corn syrup
3 table­spoons soy milk
2 teas. pep­per­mint extract
4–5 cups sifted pow­dered sugar
3 cups chopped dark choco­late
2 table­spoons shortening
In a medium sized bowl, whisk together the corn syrup and the soy milk. Add the extract and begin work­ing in the pow­dered sugar one cup at a time, until thick­ened to a point where you can roll it into pat­ties. Dough will be sticky.
Dust a sheet of waxed paper with some pow­dered sugar and begin mak­ing 2 inch pat­ties, coat­ing them in pow­dered sugar before plac­ing them on the sheet. Let them dry for one hour before flip­ping, let the other side dry for 1 hour. They will be soft, but should hold together with a lit­tle reshaping.
In a dou­ble boiler melt down most of the choco­late, reserv­ing the short­en­ing and 1/2 cup of the choco­late. Once melted, add remain­ing choco­late and short­en­ing, stir­ring well until all is melted and incor­po­rated. Let cool.
Lay­ing them on a fork, quickly dip the pat­ties one at a time in the choco­late mix­ture. You will have to be quick, as the choco­late will start to affect the patty. Place them on waxed paper. If you don't get them coated com­pletely, you can always driz­zle some choco­late on top of them with a spoon. Let them set at room tem­per­a­ture (takes awhile, up to 24 hours depend­ing on humid­ity and room temp) or toss them in the fridge or freezer. We like ours cold. Makes 24 patties.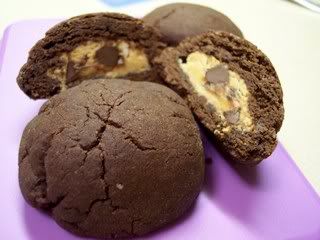 Choco­late Peanut But­ter Shells

Dry:
1–1/2 cups flour
1/2 cup bak­ing cocoa
1/2 teas. bak­ing soda
Wet:
1/2 cup mar­garine, soft­ened
1/2 cup sugar
1/2 cup brown sugar, packed
1/4 cup soy milk
1 teas. vanilla
Peanut But­ter Fill­ing:
1/2 cup sifted pow­dered sugar
3/4 cup peanut but­ter– chunky is great!
1/3 cup choco­late chips
Pre­heat oven to 350. Line a cookie sheet with parch­ment paper.
In a small bowl, sift together the flour, cocoa pow­der and bak­ing soda. In a large bowl beat together mar­garine, sugar, brown sugar. Add milk. Beat well. Gen­tly mix in the flour mix­ture about 1/3 at a time until incorporated.
For the fill­ing, com­bine pow­dered sugar and peanut but­ter in a mix­ing bowl and beat until sugar is absorbed and peanut but­ter feels stiffer. Add choco­late chips. It should be a pretty solid mix­ture because you want to form it into lit­tle balls. If it's still oily or thin, add a lit­tle more pow­dered sugar.
Using a piece of dough just a bit smaller than the size of a golf ball, flat­ten the dough into a disc on a piece of parch­ment paper. Place a heap­ing tea­spoon of the peanut but­ter mix­ture on the cen­ter of the dough. Care­fully fold choco­late dough over the peanut but­ter ball and seal the edges. Roll dough into a ball. If the dough gets dry, add a splash of milk to moisten it.
Place balls on bak­ing sheet, seam down, about 1 inch apart. Bake for about 8 min­utes, until the sur­face begins to slightly crack. Let cool for 1 minute on the sheet then trans­fer to cool­ing rack.
Makes about 2 dozen.
*The dough should be sim­i­lar in tex­ture and mal­leabil­ity to Play-doh.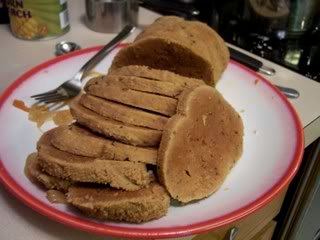 SEITAN CROCK POT ROAST
This sei­tan is extra nice because it requires no knead­ing. It is wrapped in cheese­cloth and tied up with kitchen twine. The sei­tan works against this con­fine­ment while it cooks, knead­ing itself for a ten­der but firm texture.
Makes a large sei­tan roast, for a 5.5 quart crock pot. Eas­ily feeds 4–6 people.
2 cups vital wheat gluten
1/4 cup flour
1/2 teas. ground pep­per
1/2 teas. salt
1/2 small onion, chopped
1 stalk cel­ery, chopped
2 cloves gar­lic, chopped
1/4 cup olive oil
1 1/2 cups water
1 tbsp ground sage
1 tbsp dried oregano
In a large bowl, com­bine first 4 dry ingre­di­ents. In a food proces­sor, finely chop the onion, cel­ery and gar­lic. Add to a small bowl with olive oil, water, sage, and oregano and whisk to com­bine. Add wet to dry mix­ture and com­bine well. Let sit for about 5 min­utes to let the gluten plump up. If you like "meatier" sei­tan, you can knead it for about 3 min­utes to make it chewier.
Unroll a piece of cheese­cloth twice as big as the roast. Lay the roast on one end and roll to cover twice. Secure with kitchen twine.
Mix 4 cups of veg­gie stock with 1/4 cup of low sodium soy sauce and 1 tbsp of toasted sesame oil. Place roast in the bot­tom of the crock-pot and fill it in with chopped onion, gar­lic cloves, pota­toes and car­rots, if you choose. Pour veg­gie stock mix­ture over it. Add water as needed to make sure roast is cov­ered with liquid.
Cook on low for 6–8 hours or until pota­toes are soft, rotat­ing the roast once, if you are around (no big­gie if you're not).