These are older recipes that appeared on Squirrel's Vegan Kitchen. Still tasty!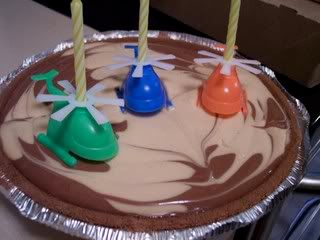 Peanut Butter Chocolate Silk Pie
1 chocolate cookie pie crust (most prepared ones are vegan)
1/2 cup chocolate chips
12 oz (one aseptic, vacuum-sealed box) firm silken tofu
1/2 cup plus 2 tablespoons all-natural peanut butter
1 1/2 cups powdered sugar
2 tbsp corn starch
1/2 cup vegan milk, divided and room temperature
1 teas. vanilla
Over a double boiler melt chocolate until smooth and creamy. Add 1/4 cup of vegan milk (room temperature is important, as cold milk will make the chocolate seize!) and whisk until smooth. Pour approximately 1/4 cup of mixture into the bottom of the pie crust and let set in fridge until chocolate has hardened. Let rest of chocolate mixture cool to room temperature.
In a food processor combine all other ingredients, starting with the tofu, except for the additional 2 tbsp of peanut butter. Blend for about 2 minutes or until smooth. Pour out about 1/2 cup of the mixture into a bowl. Add cooled, melted chocolate to the mixture and blend again until well mixed, scraping down the sides of the bowl as needed.
Remove pie crust from fridge and spread remaining 2 tbsp of peanut butter over the chocolate bottom. Pour chocolate filling mixture into the crust. Spoon the reserved peanut butter filling on top, pouring it as stripes, and draw a knife though the stripes to make pretty, swirling patterns.
Set in fridge for at least 4 hours before serving. Pie will have a thick and creamy, pudding-like filling but should hold up well and make stable pieces.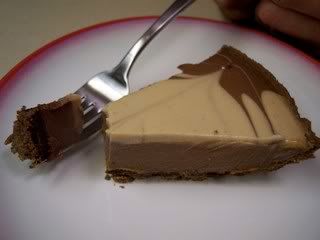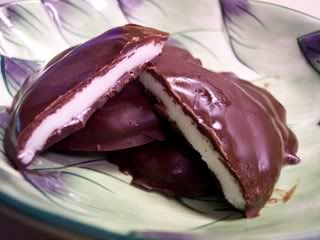 Peppermint Pucks
1/3 cup corn syrup
3 tablespoons soy milk
2 teas. peppermint extract
4-5 cups sifted powdered sugar
3 cups chopped dark chocolate
2 tablespoons shortening
In a medium sized bowl, whisk together the corn syrup and the soy milk. Add the extract and begin working in the powdered sugar one cup at a time, until thickened to a point where you can roll it into patties. Dough will be sticky.
Dust a sheet of waxed paper with some powdered sugar and begin making 2 inch patties, coating them in powdered sugar before placing them on the sheet. Let them dry for one hour before flipping, let the other side dry for 1 hour. They will be soft, but should hold together with a little reshaping.
In a double boiler melt down most of the chocolate, reserving the shortening and 1/2 cup of the chocolate. Once melted, add remaining chocolate and shortening, stirring well until all is melted and incorporated. Let cool.
Laying them on a fork, quickly dip the patties one at a time in the chocolate mixture. You will have to be quick, as the chocolate will start to affect the patty. Place them on waxed paper. If you don't get them coated completely, you can always drizzle some chocolate on top of them with a spoon. Let them set at room temperature (takes awhile, up to 24 hours depending on humidity and room temp) or toss them in the fridge or freezer. We like ours cold. Makes 24 patties.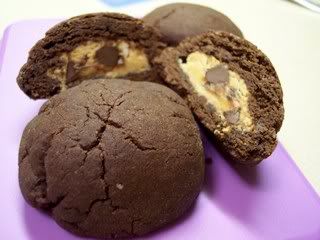 Chocolate Peanut Butter Shells

Dry:
1-1/2 cups flour
1/2 cup baking cocoa
1/2 teas. baking soda
Wet:
1/2 cup margarine, softened
1/2 cup sugar
1/2 cup brown sugar, packed
1/4 cup soy milk
1 teas. vanilla
Peanut Butter Filling:
1/2 cup sifted powdered sugar
3/4 cup peanut butter- chunky is great!
1/3 cup chocolate chips
Preheat oven to 350. Line a cookie sheet with parchment paper.
In a small bowl, sift together the flour, cocoa powder and baking soda. In a large bowl beat together margarine, sugar, brown sugar. Add milk. Beat well. Gently mix in the flour mixture about 1/3 at a time until incorporated.
For the filling, combine powdered sugar and peanut butter in a mixing bowl and beat until sugar is absorbed and peanut butter feels stiffer. Add chocolate chips. It should be a pretty solid mixture because you want to form it into little balls. If it's still oily or thin, add a little more powdered sugar.
Using a piece of dough just a bit smaller than the size of a golf ball, flatten the dough into a disc on a piece of parchment paper. Place a heaping teaspoon of the peanut butter mixture on the center of the dough. Carefully fold chocolate dough over the peanut butter ball and seal the edges. Roll dough into a ball. If the dough gets dry, add a splash of milk to moisten it.
Place balls on baking sheet, seam down, about 1 inch apart. Bake for about 8 minutes, until the surface begins to slightly crack. Let cool for 1 minute on the sheet then transfer to cooling rack.
Makes about 2 dozen.
*The dough should be similar in texture and malleability to Play-doh.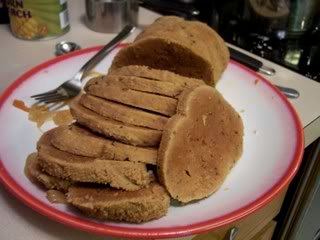 SEITAN CROCK POT ROAST
This seitan is extra nice because it requires no kneading. It is wrapped in cheesecloth and tied up with kitchen twine. The seitan works against this confinement while it cooks, kneading itself for a tender but firm texture.
Makes a large seitan roast, for a 5.5 quart crock pot. Easily feeds 4-6 people.
2 cups vital wheat gluten
1/4 cup flour
1/2 teas. ground pepper
1/2 teas. salt
1/2 small onion, chopped
1 stalk celery, chopped
2 cloves garlic, chopped
1/4 cup olive oil
1 1/2 cups water
1 tbsp ground sage
1 tbsp dried oregano
In a large bowl, combine first 4 dry ingredients. In a food processor, finely chop the onion, celery and garlic. Add to a small bowl with olive oil, water, sage, and oregano and whisk to combine. Add wet to dry mixture and combine well. Let sit for about 5 minutes to let the gluten plump up. If you like "meatier" seitan, you can knead it for about 3 minutes to make it chewier.
Unroll a piece of cheesecloth twice as big as the roast. Lay the roast on one end and roll to cover twice. Secure with kitchen twine.
Mix 4 cups of veggie stock with 1/4 cup of low sodium soy sauce and 1 tbsp of toasted sesame oil. Place roast in the bottom of the crock-pot and fill it in with chopped onion, garlic cloves, potatoes and carrots, if you choose. Pour veggie stock mixture over it. Add water as needed to make sure roast is covered with liquid.
Cook on low for 6-8 hours or until potatoes are soft, rotating the roast once, if you are around (no biggie if you're not).