About:
In May of 2007 I self-published my book The Damn Tasty! Guide to Vegan Bak­ing. It was pub­lished on a shoe-string and was a true labor of love. At the end of 2007, I took a break from the cook­book and blog­ging to focus on some other things.
In 2009 The 100 Best Vegan Bak­ing Recipes was released, pub­lished by Ulysses Press.  This tome com­bined the 50 recipes in Damn Tasty! with 50 new recipes, cov­er­ing all baked goods from cook­ies and cakes to yeasted breads and croissant.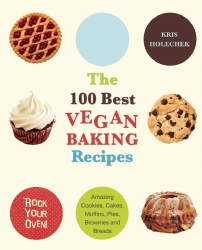 You can find it at Cosmo's Vegan Shoppe, Ama­zon or find it at most big box book sellers!
In April 2011 my third cook­book will be out– Have Your Cake And Vegan Too!