About:
In May of 2007 I self-published my book The Damn Tasty! Guide to Vegan Baking. It was published on a shoe-string and was a true labor of love. At the end of 2007, I took a break from the cookbook and blogging to focus on some other things.
In 2009 The 100 Best Vegan Baking Recipes was released, published by Ulysses Press. This tome combined the 50 recipes in Damn Tasty! with 50 new recipes, covering all baked goods from cookies and cakes to yeasted breads and croissant.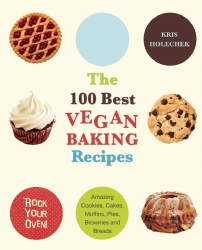 You can find it at Cosmo's Vegan Shoppe, Amazon or find it at most big box book sellers!
In April 2011 my third cookbook will be out- Have Your Cake And Vegan Too!