One of the best times of year is the sticky, pumpkiny, caramelly mess that is October-November. The leaves are changing, sweaters and scarves fall into heavy rotation and when you bake something- oh my. The smells of spices and the bright, vibrant hue of pumpkin are two things I can never get enough of.
So bake this Bundt! And if you don't make it today, the pumpkin season is just getting started, so there are still plenty of nooks and crannies you can cram it into.
*There is still time to enter my drawing for a copy of my latest cookbook– click here to enter, winners will be announced on Friday, November 2nd!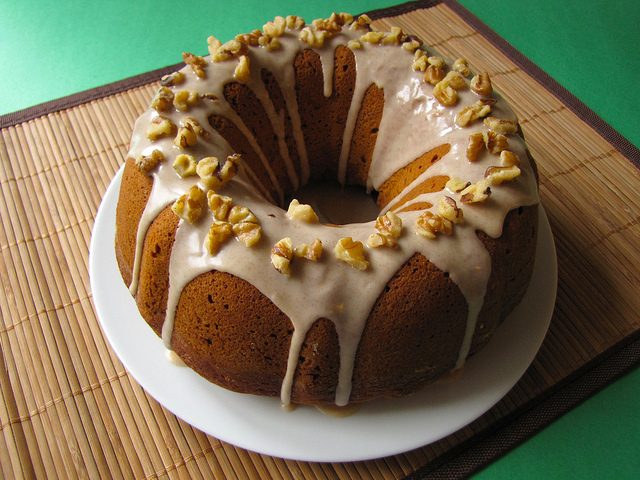 The Great Pumpkin Bundt Cake
From Have Your Cake and Vegan Too.
This cake has all of the great things of autumn: pumpkin, spices and a light glaze all wrapped up into a treat that pairs beautifully with tea or coffee, making you feel like you are on some picturesque warm beverage commercial… except they don't let you lick the plate clean in commercials.
3 cups all-purpose flour
1 cup granulated sugar
1 tbsp. baking powder
1 tbsp. pumpkin pie spice
1 teas. cinnamon
1/4 teas. salt
1 cup pumpkin puree (not pumpkin pie filling)
1 3/4 cups milk of choice
1/2 cup mild vegetable oil
2 tbsp. molasses
1 teas. vanilla
1 recipe Cinnamon Glaze (recipe follows)
1/2 cup walnuts or pecans, roughly chopped (optional)
Preheat oven to 350. Lightly grease a Bundt or tube cake pan.
In a medium bowl, combine the flour, sugar, baking powder, pumpkin pie spice and salt. In a large bowl, whisk together the pumpkin, milk, oil, molasses and vanilla. Add dry to wet in batches and mix until just combine. Spread batter into pan and bake for 42-47 minutes or until toothpick comes out clean.
Let cake cool in pan for about 5 minutes and gently loosen around the edges with a butter knife. Turn cake out onto a cooling rack.
Drizzle glaze over warm Bundt and top with nuts, if using. After completely cooled, finish with a light dusting of powdered sugar.
Store covered loosely at room temperature.
Makes 12 servings
Cinnamon Glaze
2 tbsp. milk of choice
1 teas. cinnamon
1 1/2- 2 cups powdered sugar
In a medium bowl, combine milk with sifted powdered sugar and cinnamon, until thick enough to coat a spoon but thin enough to drizzle.