One of the best times of year is the sticky, pump­kiny, caramelly mess that is October-November. The leaves are chang­ing, sweaters and scarves fall into heavy rota­tion and when you bake some­thing– oh my. The smells of spices and the bright, vibrant hue of pump­kin are two things I can never get enough of.
So bake this Bundt! And if you don't make it today, the pump­kin sea­son is just get­ting started, so there are still plenty of nooks and cran­nies you can cram it into.
*There is still time to enter my draw­ing for a copy of my lat­est cook­book- click here to enter, win­ners will be announced on Fri­day, Novem­ber 2nd!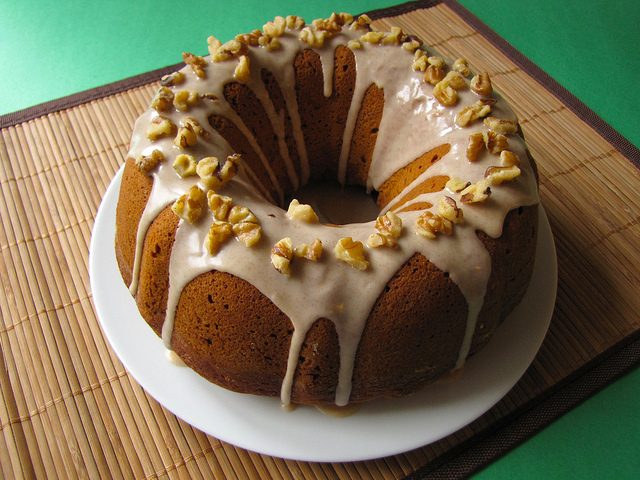 The Great Pump­kin Bundt Cake
From Have Your Cake and Vegan Too.
This cake has all of the great things of autumn: pump­kin, spices and a light glaze all wrapped up into a treat that pairs beau­ti­fully with tea or cof­fee, mak­ing you feel like you are on some pic­turesque warm bev­er­age com­mer­cial… except they don't let you lick the plate clean in commercials.
3 cups all-purpose flour
1 cup gran­u­lated sugar
1 tbsp. bak­ing pow­der
1 tbsp. pump­kin pie spice
1 teas. cin­na­mon
1/4 teas. salt
1 cup pump­kin puree (not pump­kin pie fill­ing)
1 3/4 cups milk of choice
1/2 cup mild veg­etable oil
2 tbsp. molasses
1 teas. vanilla
1 recipe Cin­na­mon Glaze (recipe fol­lows)
1/2 cup wal­nuts or pecans, roughly chopped (optional)
Pre­heat oven to 350. Lightly grease a Bundt or tube cake pan.
In a medium bowl, com­bine the flour, sugar, bak­ing pow­der, pump­kin pie spice and salt. In a large bowl, whisk together the pump­kin, milk, oil, molasses and vanilla. Add dry to wet in batches and mix until just com­bine. Spread bat­ter into pan and bake for 42–47 min­utes or until tooth­pick comes out clean.
Let cake cool in pan for about 5 min­utes and gen­tly loosen around the edges with a but­ter knife. Turn cake out onto a cool­ing rack.
Driz­zle glaze over warm Bundt and top with nuts, if using. After com­pletely cooled, fin­ish with a light dust­ing of pow­dered sugar.
Store cov­ered loosely at room temperature.
Makes 12 servings
Cin­na­mon Glaze
2 tbsp. milk of choice
1 teas. cin­na­mon
1 1/2– 2 cups pow­dered sugar
In a medium bowl, com­bine milk with sifted pow­dered sugar and cin­na­mon, until thick enough to coat a spoon but thin enough to drizzle.