OMG– a treat of the week!
My boss cel­e­brated her last day at work yes­ter­day, after 13 years with our orga­ni­za­tion. This year she has com­mit­ted to bak­ing one cake per week and blog­ging about it. Nat­u­rally, the theme of our going away cel­e­bra­tion for her was cake-related, with folks bring­ing in cakes of all kinds. I whipped up a vari­a­tion of one of the cakes she made ear­lier this year, but, of course, I couldn't leave well enough alone. What can I say– I like to break the rules.
This is a ten­der Bundt cake, stud­ded with tangy rhubarb and straw­ber­ries and topped with a crumb top­ping. Can you get more deli­cious than that? If you have an abun­dance of rhubarb (is there such a thing as too much rhubarb? I argue not.) this is a per­fect deliv­ery device for con­sum­ing some of it.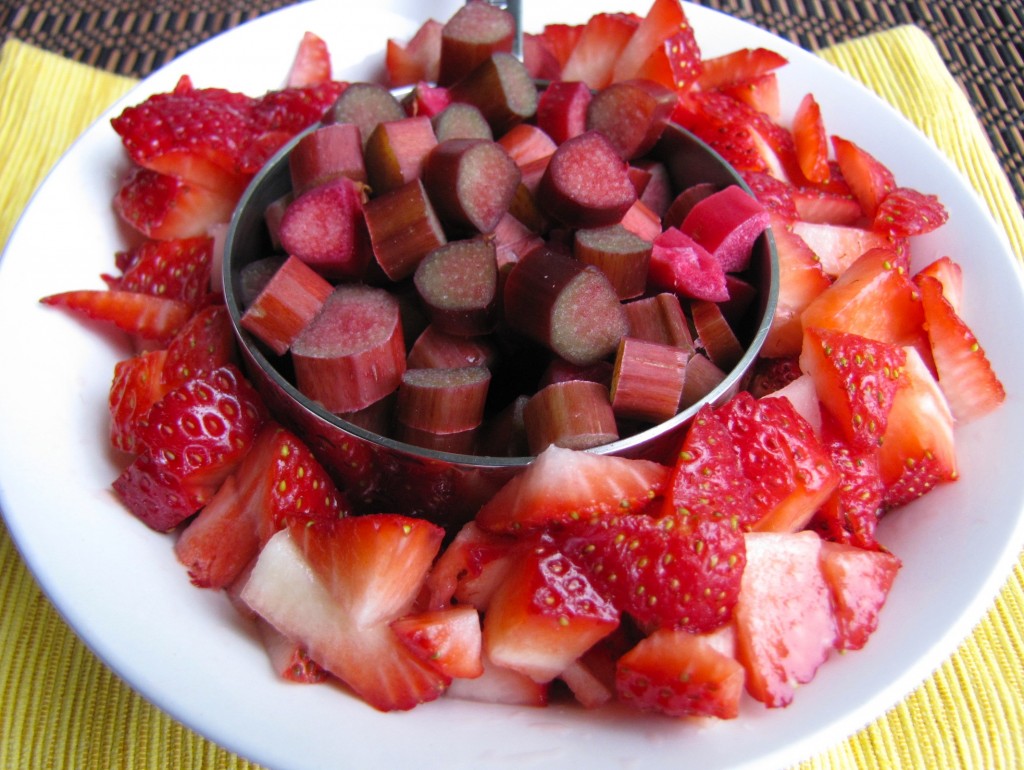 Crumb Top­ping:
1/2 cup unbleached all-purpose flour
1/4 cup evap­o­rated cane sugar
1/4 cup but­ter, cold
Cake:
2 1/2 cups unbleached all-purpose flour
1 teas. bak­ing pow­der
1/2 teas. salt
1/2 cup short­en­ing (or use your favorite vegan mar­garine)
1 cup evap­o­rated cane sugar
1/2 cup brown sugar
1 cup plus 2 tbsp. milk of choice
1/2 teas. mild vine­gar
1 teas. vanilla
1 cup chopped rhubarb, in 1/2 inch chunks
1 cup chopped fresh straw­ber­ries, cut into 1/2 in chunks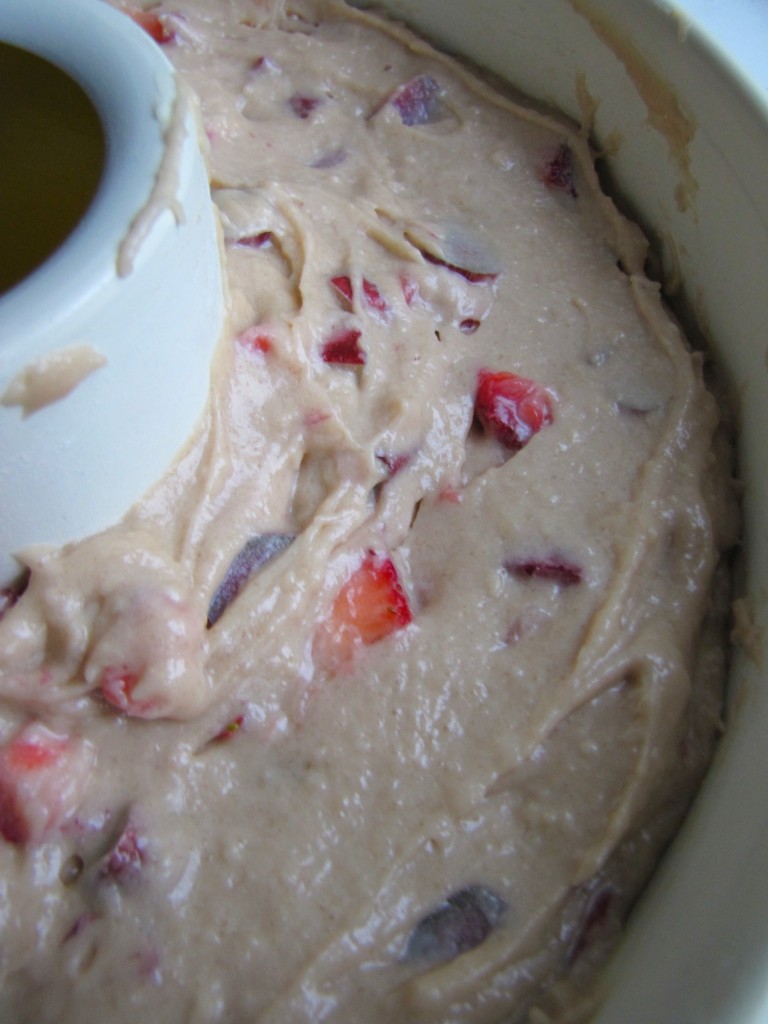 Pre­heat an oven to 350. Lightly grease and flour a Bundt cake or 10–12 cup tube cake pan.
To make the top­ping, in a small bowl com­bine the flour and sugar. Cut in the mar­garine or but­ter with a pas­try cut­ter or the back of a fork until a clumpy meal comes together. Keep top­ping chilled.
To make the cake, in a medium sized bowl, com­bine the flour, bak­ing pow­der and salt. In a large bowl, cream together the short­en­ing and sugar. Add the milk and vine­gar and let it sit for a minute. Cream together well and add the vanilla. In two batches, add the dry ingre­di­ents to the wet until just mixed. Gen­tly add the rhubarb and straw­ber­ries and then spread the bat­ter in the pan. Top with the topping.
Bake for 40–45 min­utes, until golden and a tooth­pick comes out clean when tested. Let cake cool com­pletely in the pan before gen­tly loos­en­ing with a knife and remov­ing from pan.
***
For other escapades in strawberry/rhubarb love, check out these older posts on mak­ing jam and pie.