So yeah.
I had planned to have the tester site up by late March.
It's now bor­der­ing on late April. And I'm cur­rently 3 lattes deep at a favorite local cafe while fran­ti­cally typ­ing, photo edit­ing and dis­tract­ing myself with Face­book and videos of big cats doing really cute shiz.
I'm clearly the most orga­nized per­son you know. This technologically-steeped girl is all about pen and paper in the kitchen… And while I'd like to blame my sloth-like data entry ten­den­cies on being busy, in real­ity it comes down to ques­tion­able time man­age­ment. Like when I'm watch­ing reruns of The IT Crowd while eat­ing tor­tilla chips. Or re-reading Harry Pot­ter for the eleventy bil­lionth time when I should be doing yoga teacher train­ing home­work (and then doing yoga teacher train­ing home­work when I should be typ­ing up recipes).
I'm a rock­star, what can I say? 😉
*(Total aside, but I've been work­ing on and writ­ing for this super awe­some pub­lic radio show you should know about– The Din­ner Party. Check it out! And you're welcome!)*
In exchange for your love and patience, here is a fast, tasty (and gluten-free!) recipe from my upcom­ing Trader Joe's book.
So, if you applied to test, please have patience with me. And in the mean­time, enjoy these tasty lit­tle morsels.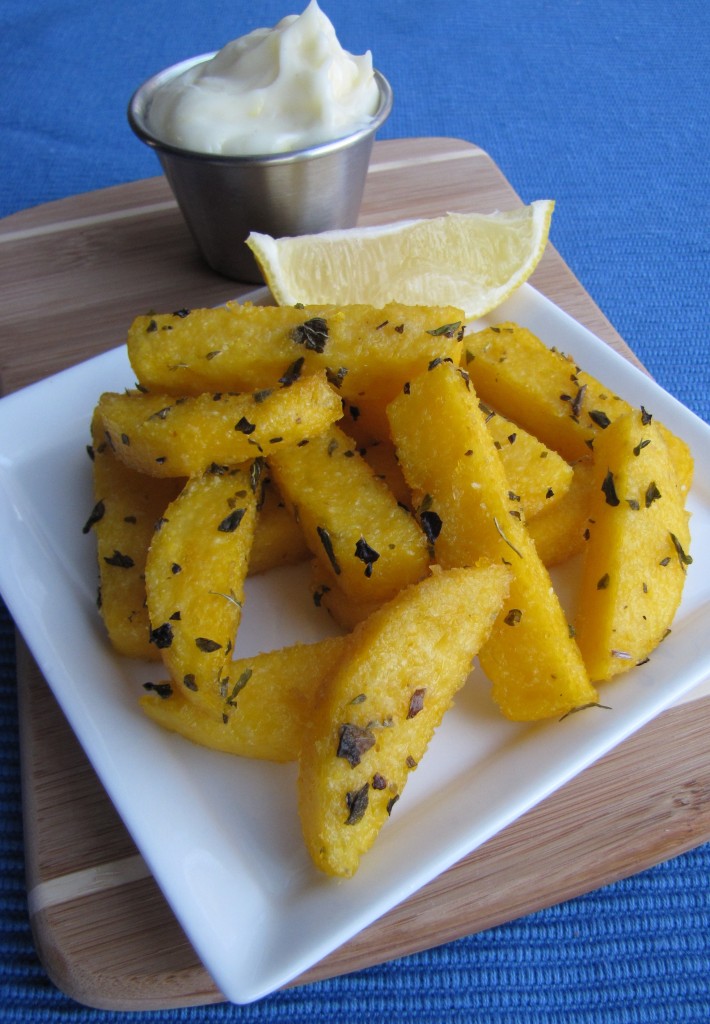 The TJ's Organic Polenta is gluten-free and the Reduced Fat May­on­naise is (bizarrely) vegan, so this appe­tizer is a win for any and every­one.

Gar­lic Herbed Polenta Fries with Lemon Aioli
For the polenta fries:
1 log of Organic Polenta, cut into 1/2 inch discs, then strips
2 tbsp. olive oil
2 teas. Trader Joe's Gar­lic Pow­der
1 tbsp. Trader Joe's Organic Dried Oregano
1/2 teas. sea salt
For the aioli:
1 tbsp. olive oil
2 cloves gar­lic, minced
1 tbsp. lemon juice
1/2 teas. lemon zest
1/3 cup Trader Joe's Reduced Fat May­on­naise
salt and pep­per, to taste
Pre­heat oven to 400. Line a bak­ing sheet with parch­ment paper.
Pre­pare polenta slices. In a small bowl, com­bine the olive oil, gar­lic pow­der and oregano. Whisk to com­bine. Gen­tly toss the polenta with the olive oil mix­ture and spread in an even layer on the pre­pared bak­ing sheet. Sprin­kle with sea salt. Bake for 35–40 min­utes, flip­ping fries halfway through, until slightly browned and crispy on the edges.
While the fries are bak­ing, pre­pare the aioli. In a small pan, heat the olive oil. Sautee the gar­lic for 2 min­utes, to remove bit­ter­ness. Remove from heat to cool. In a small bowl, whisk together the gar­lic, lemon juice and zest. Add the mayo and mix until incor­po­rated. Add the salt and pep­per to taste. Keep refrig­er­ated until use.
Serve the fries warm with the aioli.
Makes: 4 servings