So yeah.
I had planned to have the tester site up by late March.
It's now bordering on late April. And I'm currently 3 lattes deep at a favorite local cafe while frantically typing, photo editing and distracting myself with Facebook and videos of big cats doing really cute shiz.
I'm clearly the most organized person you know. This technologically-steeped girl is all about pen and paper in the kitchen… And while I'd like to blame my sloth-like data entry tendencies on being busy, in reality it comes down to questionable time management. Like when I'm watching reruns of The IT Crowd while eating tortilla chips. Or re-reading Harry Potter for the eleventy billionth time when I should be doing yoga teacher training homework (and then doing yoga teacher training homework when I should be typing up recipes).
I'm a rockstar, what can I say? 😉
*(Total aside, but I've been working on and writing for this super awesome public radio show you should know about- The Dinner Party. Check it out! And you're welcome!)*
In exchange for your love and patience, here is a fast, tasty (and gluten-free!) recipe from my upcoming Trader Joe's book.
So, if you applied to test, please have patience with me. And in the meantime, enjoy these tasty little morsels.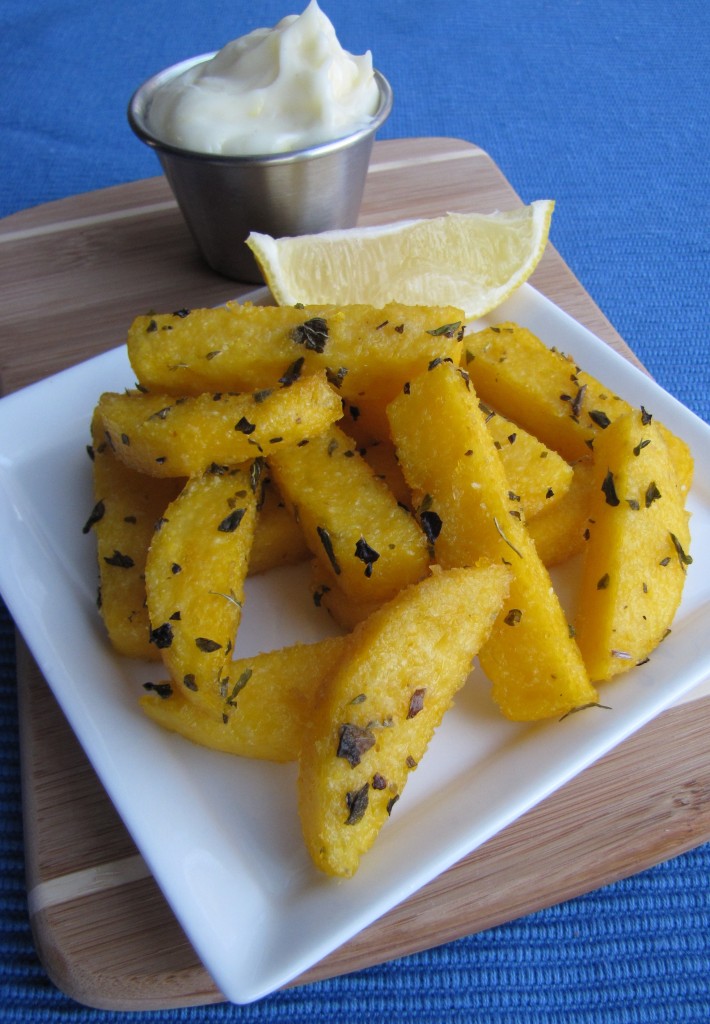 The TJ's Organic Polenta is gluten-free and the Reduced Fat Mayonnaise is (bizarrely) vegan, so this appetizer is a win for any and everyone.

Garlic Herbed Polenta Fries with Lemon Aioli
For the polenta fries:
1 log of Organic Polenta, cut into 1/2 inch discs, then strips
2 tbsp. olive oil
2 teas. Trader Joe's Garlic Powder
1 tbsp. Trader Joe's Organic Dried Oregano
1/2 teas. sea salt
For the aioli:
1 tbsp. olive oil
2 cloves garlic, minced
1 tbsp. lemon juice
1/2 teas. lemon zest
1/3 cup Trader Joe's Reduced Fat Mayonnaise
salt and pepper, to taste
Preheat oven to 400. Line a baking sheet with parchment paper.
Prepare polenta slices. In a small bowl, combine the olive oil, garlic powder and oregano. Whisk to combine. Gently toss the polenta with the olive oil mixture and spread in an even layer on the prepared baking sheet. Sprinkle with sea salt. Bake for 35-40 minutes, flipping fries halfway through, until slightly browned and crispy on the edges.
While the fries are baking, prepare the aioli. In a small pan, heat the olive oil. Sautee the garlic for 2 minutes, to remove bitterness. Remove from heat to cool. In a small bowl, whisk together the garlic, lemon juice and zest. Add the mayo and mix until incorporated. Add the salt and pepper to taste. Keep refrigerated until use.
Serve the fries warm with the aioli.
Makes: 4 servings