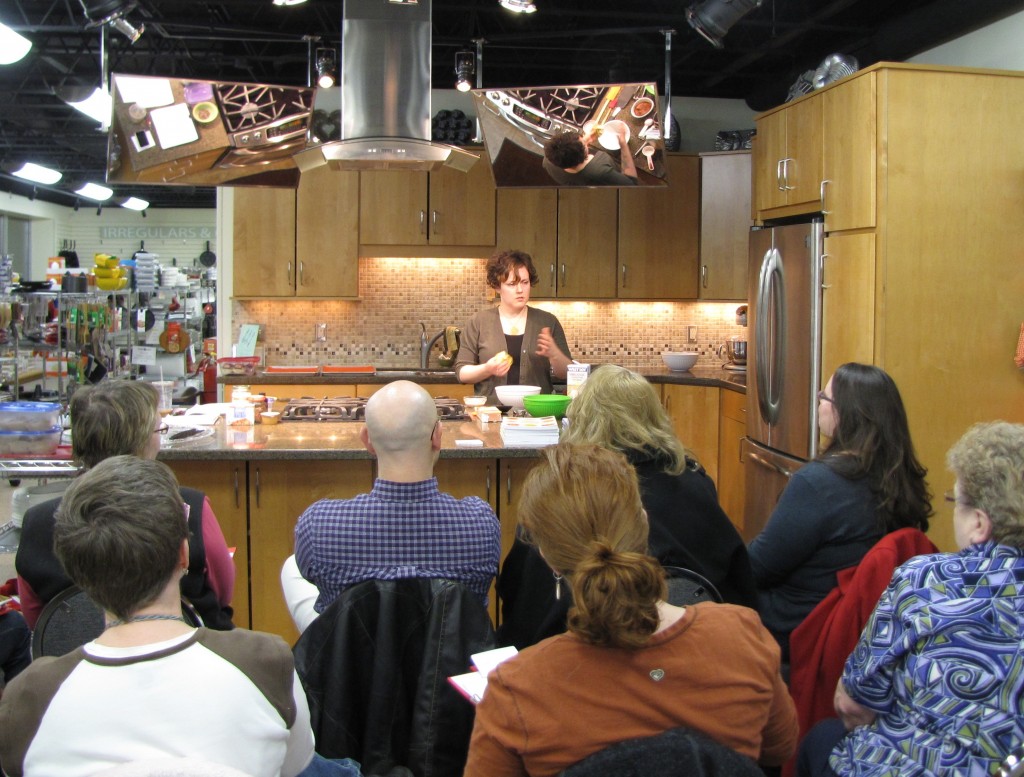 Despite how quiet it's been on the blog, lots of stuff has been going on at nom! head­quar­ters (aka my house). Out­side of the edi­ble, I will finally be grad­u­at­ing from col­lege (hal­lelu­jah!) at the end of this quar­ter and I recently started a yoga teacher train­ing pro­gram– both very good things (on top of my rockin' day job). And, in the world of food, I have some excit­ing news to share!
This week I had the oppor­tu­nity to teach a class on vegan bak­ing at the Nordic Ware out­let store here in the Cities. I had a great time pre­sent­ing, meet­ing folks and, of course, feed­ing them.
At that class, I offi­cially announced my upcom­ing cook­book, which I'm cur­rently in the thick of work­ing on.

*drum roll please*
My next book is the I <3 Trader Joe's Veg­e­tar­ian and Vegan Cook­book!

It's true, my depen­dency on Joe's has actu­ally proven to be a pro­fes­sional asset. Not many addicts can say that! And, it's a COOK book, so for those of you who have been patiently wait­ing for me to expand beyond the realm of sugar comas and pas­try induced Type 2 dia­betes, the time has arrived! The book will be out by the end of the year, so I'm in seri­ous cook­ing and devel­op­ment mode and it's fan­tas­tic. All of the Hawai­ian shirts at my local TJs are becom­ing my BFFs, thanks to the seri­ous R&D time I'm spend­ing at the store (could I have fit any more acronyms in that sentence?).
That said, I am still heavy in recipe devel­op­ment, but need to start test­ing the recipes that I have already fin­ished. If you are inter­ested in test­ing for this book, please fill out this sur­vey. Details about test­ing are in the sur­vey, but feel free to let me know if there are any ques­tions. Test­ing will start by the end of the month.
Trader Joe's, baby!
*For those who are interested/concerned about the veg­e­tar­ian aspect of the book– every recipe that is not already vegan, will have a vegan ver­sion of it avail­able. By pro­vid­ing a book that appeals to a broader base I feel that I can take my love of TJ's, in all its vegan-friendliness, and expose a greater pop­u­la­tion to it and to animal-free food in general.