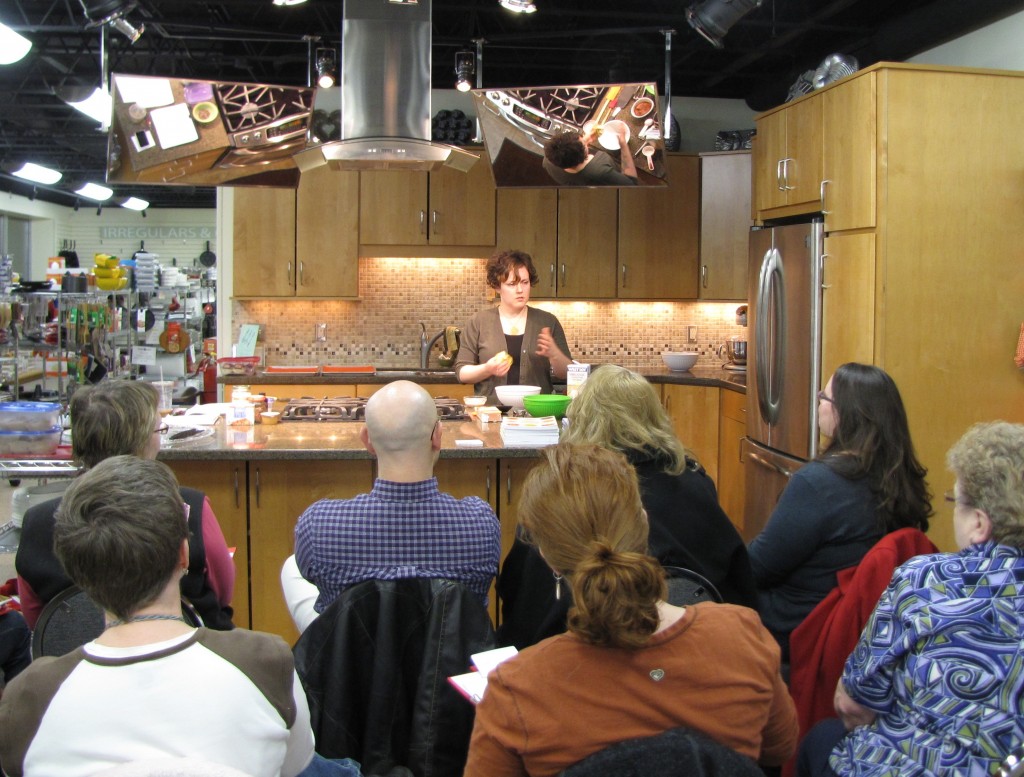 Despite how quiet it's been on the blog, lots of stuff has been going on at nom! headquarters (aka my house). Outside of the edible, I will finally be graduating from college (hallelujah!) at the end of this quarter and I recently started a yoga teacher training program- both very good things (on top of my rockin' day job). And, in the world of food, I have some exciting news to share!
This week I had the opportunity to teach a class on vegan baking at the Nordic Ware outlet store here in the Cities. I had a great time presenting, meeting folks and, of course, feeding them.
At that class, I officially announced my upcoming cookbook, which I'm currently in the thick of working on.

*drum roll please*
My next book is the I 3 Trader Joe's Vegetarian and Vegan Cookbook!

It's true, my dependency on Joe's has actually proven to be a professional asset. Not many addicts can say that! And, it's a COOK book, so for those of you who have been patiently waiting for me to expand beyond the realm of sugar comas and pastry induced Type 2 diabetes, the time has arrived! The book will be out by the end of the year, so I'm in serious cooking and development mode and it's fantastic. All of the Hawaiian shirts at my local TJs are becoming my BFFs, thanks to the serious R&D time I'm spending at the store (could I have fit any more acronyms in that sentence?).
That said, I am still heavy in recipe development, but need to start testing the recipes that I have already finished. If you are interested in testing for this book, please fill out this survey. Details about testing are in the survey, but feel free to let me know if there are any questions. Testing will start by the end of the month.
Trader Joe's, baby!
*For those who are interested/concerned about the vegetarian aspect of the book- every recipe that is not already vegan, will have a vegan version of it available. By providing a book that appeals to a broader base I feel that I can take my love of TJ's, in all its vegan-friendliness, and expose a greater population to it and to animal-free food in general.