My muffin top is all that,
Whole grain, low-fat
You know you want a piece of that,
But I just want to dance
Ah, 30 Rock. You win some and you lose some, but dammit when you win, you win big. (Although my all-time favorite is Werewolf Bar Mitzvah.)
One of my brothers recently celebrated a milestone birthday and so I wanted to make him something extra special. In our family, this equals elaborate breakfast spreads. Normally I'd fancy the place up with some crepes or waffles, but Ted is a savory man and while I don't always understand it, I can respect it.
That's where these little morsels come in. They have quickly become a beloved staple item that is so delicious, even my raging sweet tooth backs down and bows in their presence.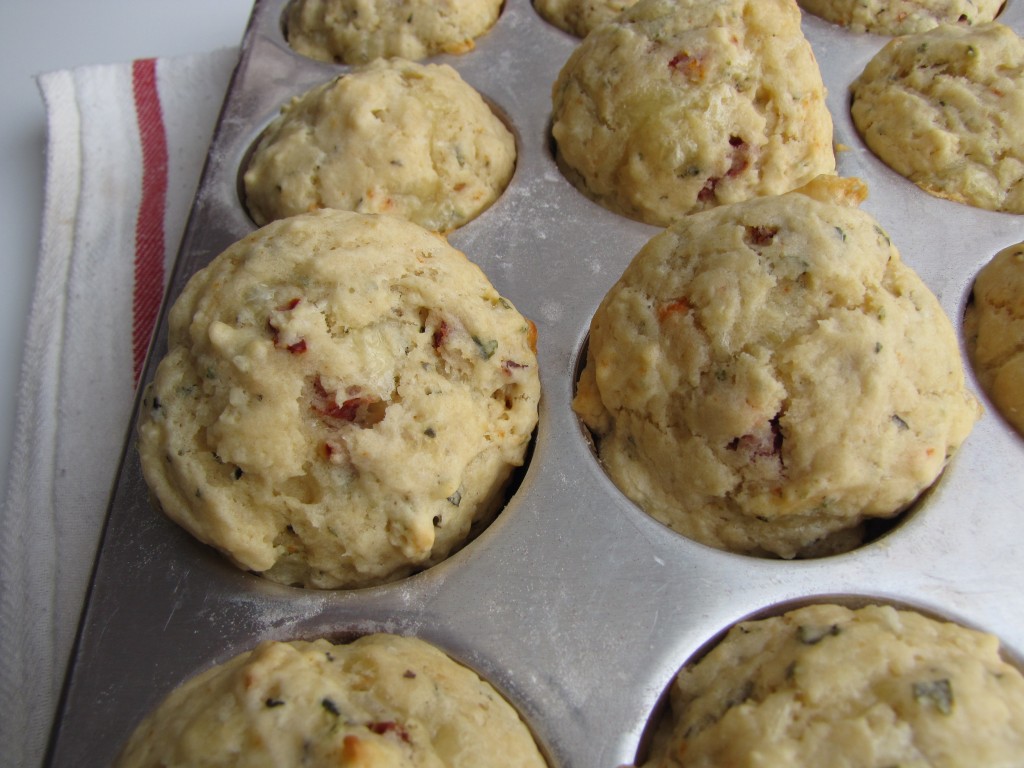 Do not be fooled by their understated appearance. These are savory muffins. Truly a tender, moist muffin, they are not misshapen scones or lazy biscuits. True to all that is muffin-topped and holy, these morsels are full of savory goodness and beg to be slathered with Earth Balance or to be split and stuffed with veggie sausage.
If you make them, your muffin world will be rocked. You have been warned.
Savory Muffin Madness
2 cups unbleached all-purpose flour (you can easily sub white whole wheat or spelt)
2 tbsp. organic cane sugar
2 teas. dried oregano
1 teas. dried garlic powder
1 teas. baking powder
1/2 teas. baking soda
1/4 teas. salt
1 1/4 cups milk of choice
1/4 cup oil
1/4 teas. mild vinegar (white or apple cider)
3/4 cup shredded vegan mozzerella or cheddar cheese (I recommend Daiya or Teese)
1/4 cup chopped sundried tomatoes
Preheat oven to 400. Grease and flour a standard sized muffin tin.
In a small bowl, combine the flour, sugar, oregano, garlic, baking powder, baking soda and salt. In a large bowl, combine the milk, oil and vinegar. Let sit for a minute so the vinegar can do it's thing. Whisk in the cheese and sundried tomatoes. In 2 batches, incorporate the dry ingredients into the wet, mixing until just combined.
Spoon out the muffin batter into the prepared pan, filling to just under the top of each cup. Bake for 14-16 minutes or until a toothpick comes out clean. Let muffins cool in the tin, on a rack.
Store leftover muffins covered at room temperature. Yields 11-12 muffins