My muf­fin top is all that,
Whole grain, low-fat
You know you want a piece of that,
But I just want to dance
Ah, 30 Rock. You win some and you lose some, but dammit when you win, you win big. (Although my all-time favorite is Were­wolf Bar Mitz­vah.)
One of my broth­ers recently cel­e­brated a mile­stone birth­day and so I wanted to make him some­thing extra spe­cial. In our fam­ily, this equals elab­o­rate break­fast spreads. Nor­mally I'd fancy the place up with some crepes or waf­fles, but Ted is a savory man and while I don't always under­stand it, I can respect it.
That's where these lit­tle morsels come in. They have quickly become a beloved sta­ple item that is so deli­cious, even my rag­ing sweet tooth backs down and bows in their presence.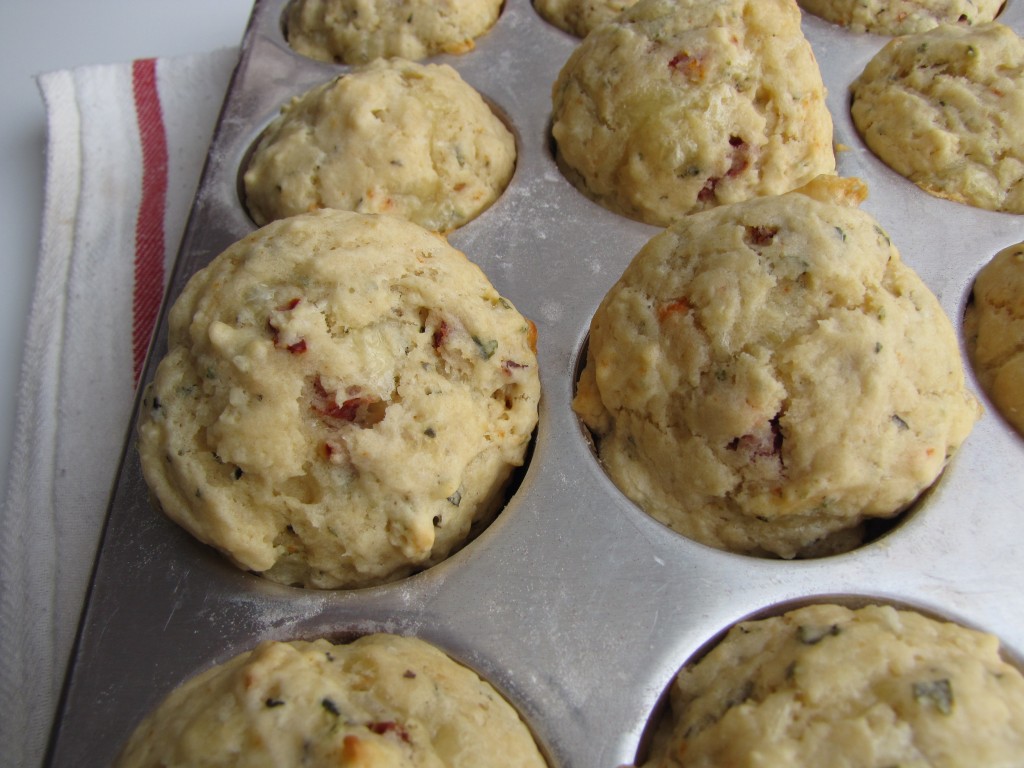 Do not be fooled by their under­stated appear­ance. These are savory muffins. Truly a ten­der, moist muf­fin, they are not mis­shapen scones or lazy bis­cuits. True to all that is muffin-topped and holy, these morsels are full of savory good­ness and beg to be slathered with Earth Bal­ance or to be split and stuffed with veg­gie sausage.
If you make them, your muf­fin world will be rocked. You have been warned.
Savory Muf­fin Madness
2 cups unbleached all-purpose flour (you can eas­ily sub white whole wheat or spelt)
2 tbsp. organic cane sugar
2 teas. dried oregano
1 teas. dried gar­lic pow­der
1 teas. bak­ing pow­der
1/2 teas. bak­ing soda
1/4 teas. salt
1 1/4 cups milk of choice
1/4 cup oil
1/4 teas. mild vine­gar (white or apple cider)
3/4 cup shred­ded vegan mozzerella or ched­dar cheese (I rec­om­mend Daiya or Teese)
1/4 cup chopped sun­dried tomatoes
Pre­heat oven to 400. Grease and flour a stan­dard sized muf­fin tin.
In a small bowl, com­bine the flour, sugar, oregano, gar­lic, bak­ing pow­der, bak­ing soda and salt. In a large bowl, com­bine the milk, oil and vine­gar. Let sit for a minute so the vine­gar can do it's thing. Whisk in the cheese and sun­dried toma­toes. In 2 batches, incor­po­rate the dry ingre­di­ents into the wet, mix­ing until just combined.
Spoon out the muf­fin bat­ter into the pre­pared pan, fill­ing to just under the top of each cup. Bake for 14–16 min­utes or until a tooth­pick comes out clean. Let muffins cool in the tin, on a rack.
Store left­over muffins cov­ered at room tem­per­a­ture. Yields 11–12 muffins