Inspi­ra­tion struck yes­ter­day, whilst work­ing away at my desk. Well, I will prop­erly attribute the inspi­ra­tion to Leigh, who admit­ted to resist­ing the impulse to put potato chips on my Hell Yes! Cake Bars. Instantly I thought of chocolate-covered potato chips. Then my mind moved on to chocolate-covered potato chips on a stick (I am a Min­nesotan, after all). Then, I thought of mous­taches on sticks and it all came together.
Although this idea would have been bet­ter done in Movem­ber, it still stands that hav­ing a mous­tache is trendy and mous­taches you can eat will make you even more pop­u­lar. These come together eas­ily with some sticks or skew­ers, melted choco­late and what­ever you can drench in said melted choco­late. Rice Krispies would work great! I used crushed up potato chips and peanut butter-dipped pret­zel sticks. If you were really ambi­tious, you could even add on a goatee.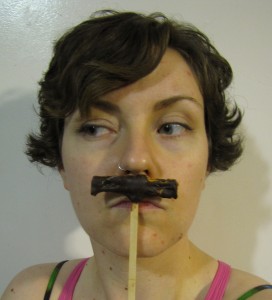 Munch­able Mous­tache Treats
This "recipe" is more of a gen­eral guide and is super flex­i­ble to feel free to play!
1 cup choco­late chips
Crushed potato chips
Pret­zel sticks
Peanut but­ter (optional)
Sticks
Line a bak­ing sheet with waxed paper. In a dou­ble boiler (or a heat resis­tant bowl) over a pot of sim­mer­ing water, gen­tly melt the choco­late, being care­ful to not get any water into the choco­late, until just melted. Place a hand­ful of crushed potato chips into a bowl. If coat­ing the pret­zels with peanut but­ter, pair them up and gen­tly spread the peanut but­ter to stick them together.
Use the melted choco­late to "glue" the tips of the sticks onto the waxed paper, plac­ing them far enough apart to fit their mous­tache toppers.
Pour enough choco­late into the bowl with the potato chips to coat the chips well. Spoon the chips artis­ti­cally over the tops of sticks, adding a lit­tle extra choco­late to secure them. For the pret­zel sticks, dip them quickly in the melted choco­late and lay them on the sticks in the arrange­ment of your choice. Add addi­tional choco­late fix any naked spots and to secure.
Chill mous­taches in the fridge for at least an hour and gen­tly peel off the waxed paper before serving.
Makes: as many mous­taches as you cre­ate, it depends on how big you like your upper lip hair!