I love mak­ing muffins and cook­ies and cakes. And brown­ies. And bread. Who am I kid­ding, if it goes in the oven, I'm in love!
But every once in awhile, an odd sort of inspi­ra­tion strikes. This week was an exam­ple of it and I think I've invented my new favorite break­fast treat.
Typ­i­cally, I'm much more of a sweet per­son than a savory per­son. In the a.m. I'm all about pas­tries and fruit rather than tofu or tem­peh. But occa­sion­ally I do like some bis­cuits and gravy.
But I says to myself, I says, "What if they were sweet bis­cuits and gravy?"
Now, before the idea of sweet "gravy" scares you off, imag­ine this: lightly sweet and ten­der, moist bis­cuits speck­led with tart cran­ber­ries and orange zest, smoth­ered in a thick vanilla cream "gravy"… now tell me that doesn't sound AMAZING?! Because it is!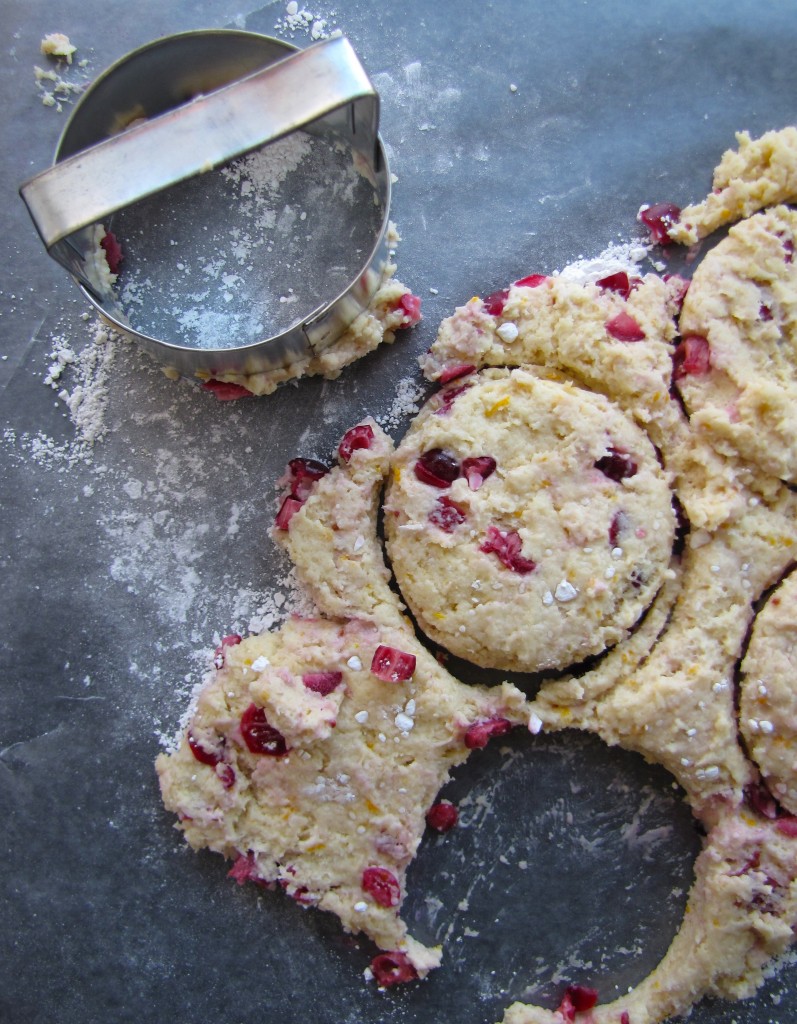 The com­bi­na­tion of cran­ber­ries and orange zest just says win­ter to me. This dish would be a per­fect Christmas/Chanukah/Festivus break­fast and comes together much quicker than cin­na­mon rolls, Fronch toast or other more com­pli­cated treats, though it also stands on its own as a solid dessert as well. The bis­cuits are def­i­nitely sweet-kissed bis­cuits, not the weird sug­ary scone-pucks so often seen in the US. And the vanilla "gravy"… sublime!
Holy Holly Bis­cuits and Sweet Gravy
Vanilla "gravy":
2/3 cup organic sugar
2 tbsp. plus 2 teas corn­starch
2 cups milk of choice (the higher the fat con­tent, the thicker it will be)
1–1/2 teas. good qual­ity vanilla extract
Bis­cuits:
2 cups unbleached all-purpose flour
4 teas. bak­ing pow­der
2 teas. sugar
sprin­kle salt
1/2 cup mar­garine, cold
1/4 cup orange juice
1/4 cup plus 2 tbsp. milk of choice
1 tbsp. orange zest
1/2 cup chopped fresh or frozen and thawed cran­ber­ries
Pow­dered sugar to "flour" work surface
Pre­heat oven to 425. Line a bak­ing sheet with parchment.
To make the "gravy", com­bine the sugar and corn­starch in a small saucepan and whisk until well com­bined. Whisk in milk and cook over medium-high heat to a boil, while whisk­ing. Lower to a sim­mer, stir­ring con­stantly, until sauce thick­ens, about 5–7 min­utes. Add vanilla and cook for one more minute. Remove from heat and pour sauce into a bowl. Let chill in fridge or freezer for 10–15 min­utes or until it is a bit more set, but still warm.
To make the bis­cuits, in the bowl of a food proces­sor (or a reg­u­lar bowl), com­bine the flour, bak­ing pow­der, sugar and salt. Pulse in the mar­garine until mix­ture resem­bles a coarse meal. Alter­nately, use the back of a fork or pas­try cut­ter to blend in mar­garine. In a small bowl, com­bine the orange juice, milk and zest. Add the liq­uid to the flour mix­ture and mix until just com­bined. Gen­tly mix in the cranberries.
Use the pow­dered sugar to "flour" your work area and turn out the bis­cuit dough onto it. Roll out the dough to a 3/4 inch thick­ness and cut out into 2 1/2–3 inch bis­cuits. Place bis­cuits on the pre­pared bak­ing sheet and bake for 9–11 min­utes, until they've risen and are golden on the edges.
Serve the bis­cuits warm and smoth­ered in the vanilla gravy. A side of tem­peh bacon would be amazing!
Makes: 12–14 biscuits