In the mag­i­cal inbe­tween world, less sweet and but­tery than a bar but not as fluffy as a cake, lies a dense but moist cre­ation, speck­led with deli­cious­ness. I've been mak­ing all sorts of cre­ations that are some weird cake/bar hybrid… hand­held, deli­cious and full of goodness!
You see, I love stuff in my baked goods. Nuts, choco­late chips, dried fruit– one or all, I love them. Sadly, not every­one enjoys great amounts of debris in their baked goods.
But some­times you gotta do things just for yourself.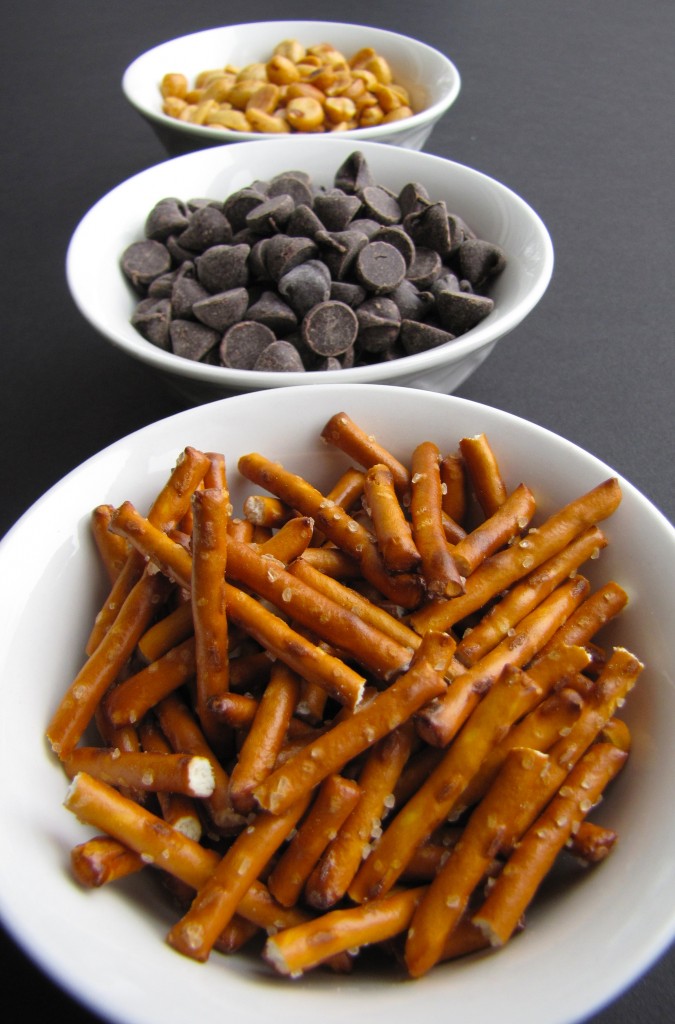 Peanut but­ter? Uh huh. Pret­zels? Yes. Choco­late chips? Yes! And peanuts? Hell yes! All together in one glo­ri­ous mouthful!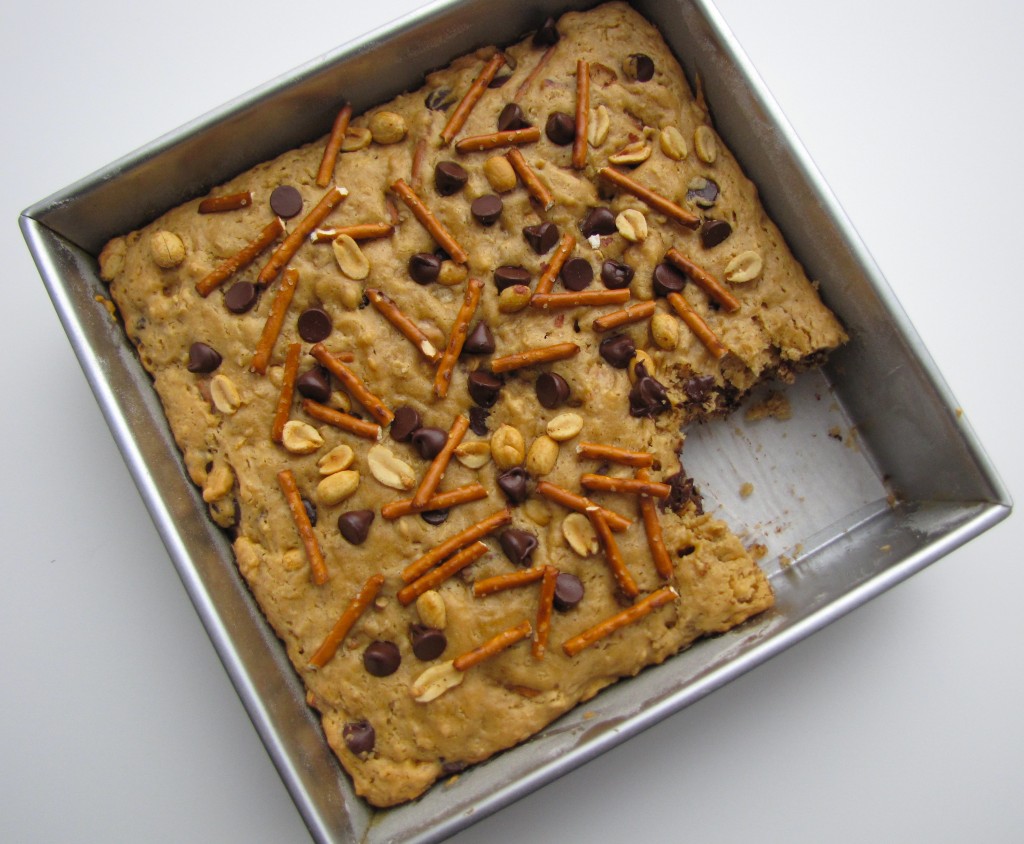 Hell Yes! Cake Bars
1 1/2 cups unbleached all-purpose flour
1/2 cup quick cook­ing or instant oats
1/2 cup organic sugar
1 teas. bak­ing pow­der
1/2 teas. bak­ing soda
sprin­kle salt
1 cup milk of choice
1/2 nat­ural peanut but­ter
1/4 cup mild veg­etable oil
1/2 teas. vanilla extract
1/2 teas. mild vine­gar
1/2 cup choco­late chips, 2 tbsp. reserved
1/2 cup peanuts, 2 tbsp. reserved
1/2–1 cup crushed pretzels
Pre­heat oven to 350. Lightly grease and flour an 8x8 pan.
In a small bowl, com­bine the flour, oats, sugar, bak­ing pow­der, bak­ing soda and salt. In a larger bowl, whisk together the milk, peanut but­ter, veg­etable oil, vanilla and vine­gar until smooth. Add the dry in two batches until just mixed then mix in the choco­late chips and peanuts (exclud­ing the reserved amounts).
Spread the bat­ter into the pre­pared pan. Sprin­kle the reserved choco­late chips and peanuts and the crushed pret­zels on top. Bake for 28–33 min­utes, until a tooth­pick comes out clean.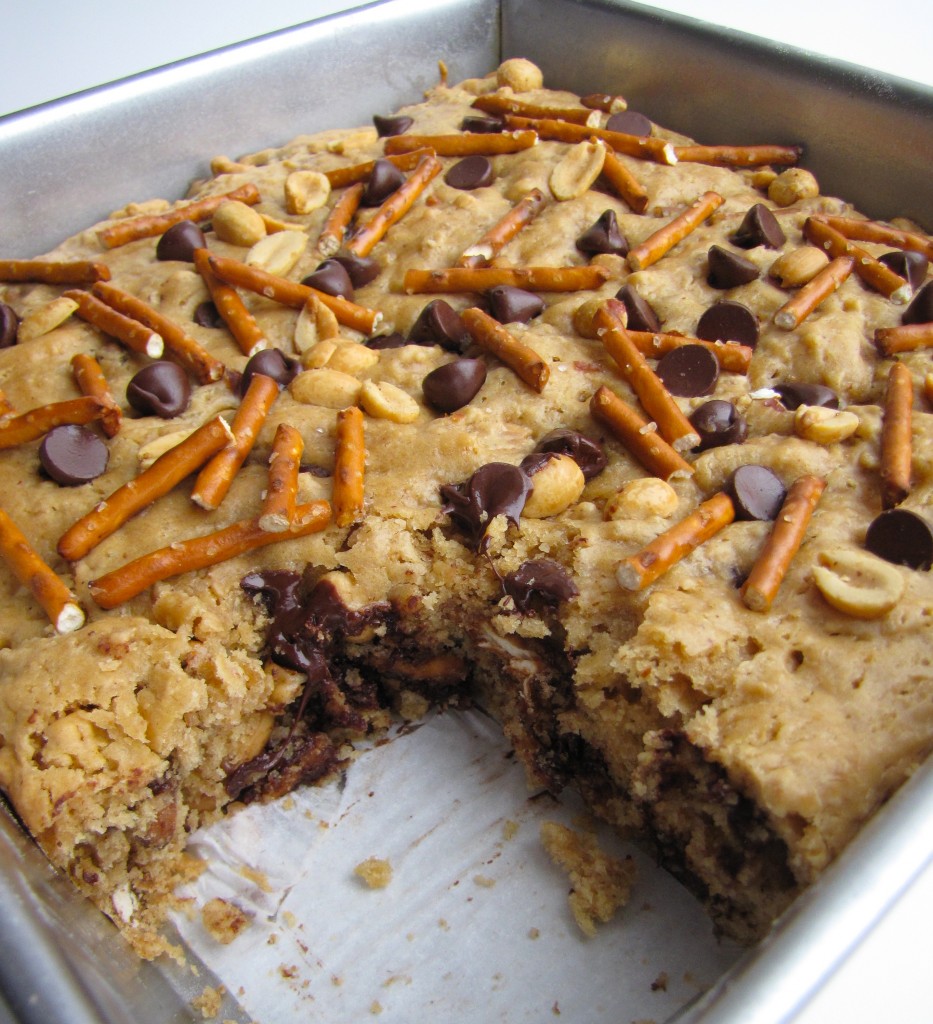 Hell yes indeed!