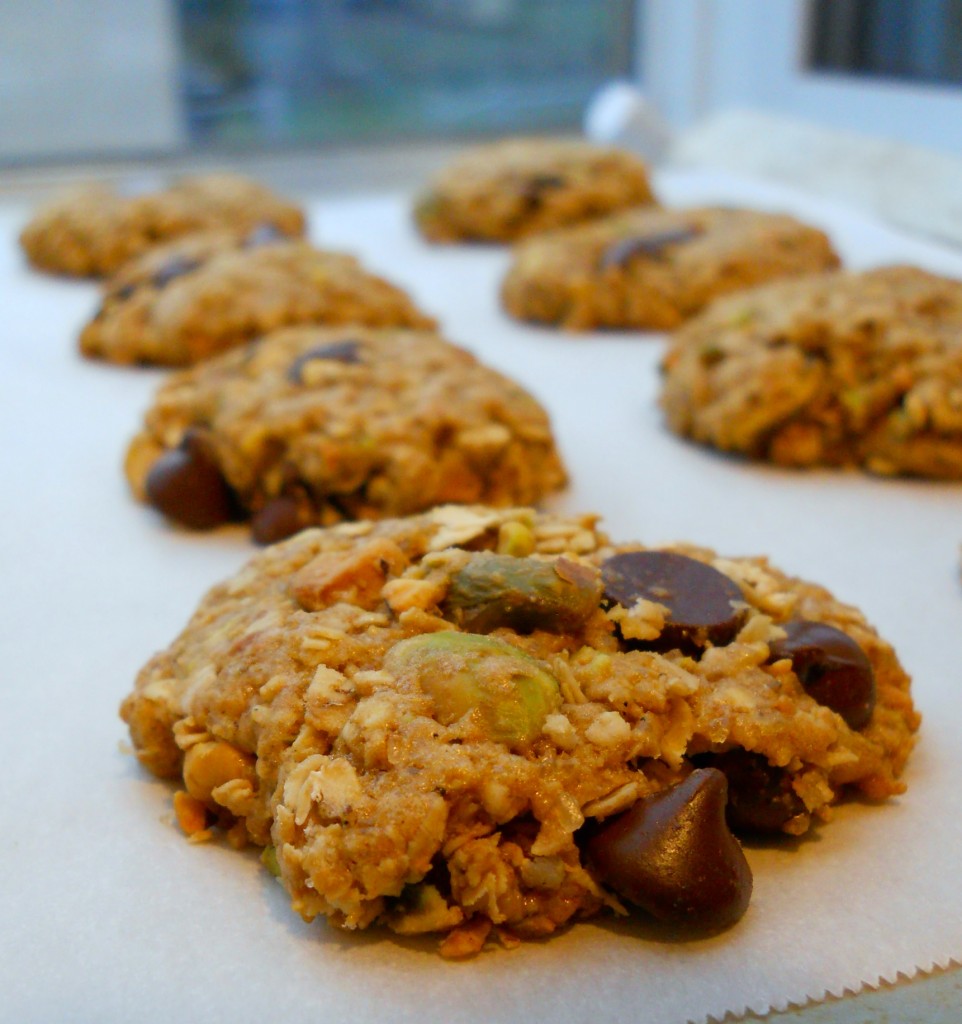 Cookies. They giveth (love) and they taketh away (skinny jeans). Alas, it is the season and cookies are my reason for holiday cheer, so I'll just be adding an extra weekly workout to the mix and calling it good.
I love pistachios and I love chocolate and I love chewy, nummy oatmeal cookies. Isn't it great when everything just comes together?
I hope you all (fellow Yanks) have a lovely Thanksgiving!
Pistachio Chocolate Chewies
The pistachios add an intoxicating aromatic element to these cookies that makes eating them a multi-sensory experience. Deliciousness on all fronts!
3/4 cup unbleached all-purpose flour
1/2 cup ground pistachio nut meats, unsalted (I use a small food processor)
1/2 teas. baking powder
sprinkle of salt
3/4 cup brown sugar or sucanat
1/2 teas. molasses
1/4 cup applesauce
1/4 cup vegetable oil
1/2 teas. vanilla
1 cup rolled oats (quick cooking or traditional)
1/3 cup chopped pistachio nut meats, unsalted
1/2 cup chocolate chips
Preheat oven to 350. Line a cookie sheet with parchment.
In a small bowl, combine the flour, ground pistachios, baking powder and salt. In a larger bowl, whisk together the brown sugar, molasses, apple sauce, oil and vanilla until well incorporated. Add the flour mixture in two batches. Add the oats in two batches, adding in the pistachios and chocolate chips with the second batch. Mix well and let sit for 10 minutes to allow oats to absorb moisture.
Scoop out dough into tablespoon sized balls and lightly flatten, placing them about 1 inch apart on the cookie sheet. Because of the nature of oatmeal cookies, they might crumble a bit on the edges when you do this, just go ahead and gently shape back together.
Bake for 8-9 minutes, until edges are set, but not browned. Cool cookie sheet on a cooling rack for 15 minutes, before removing cookies from sheet to finish cooling.
Makes 2 dozen cookies