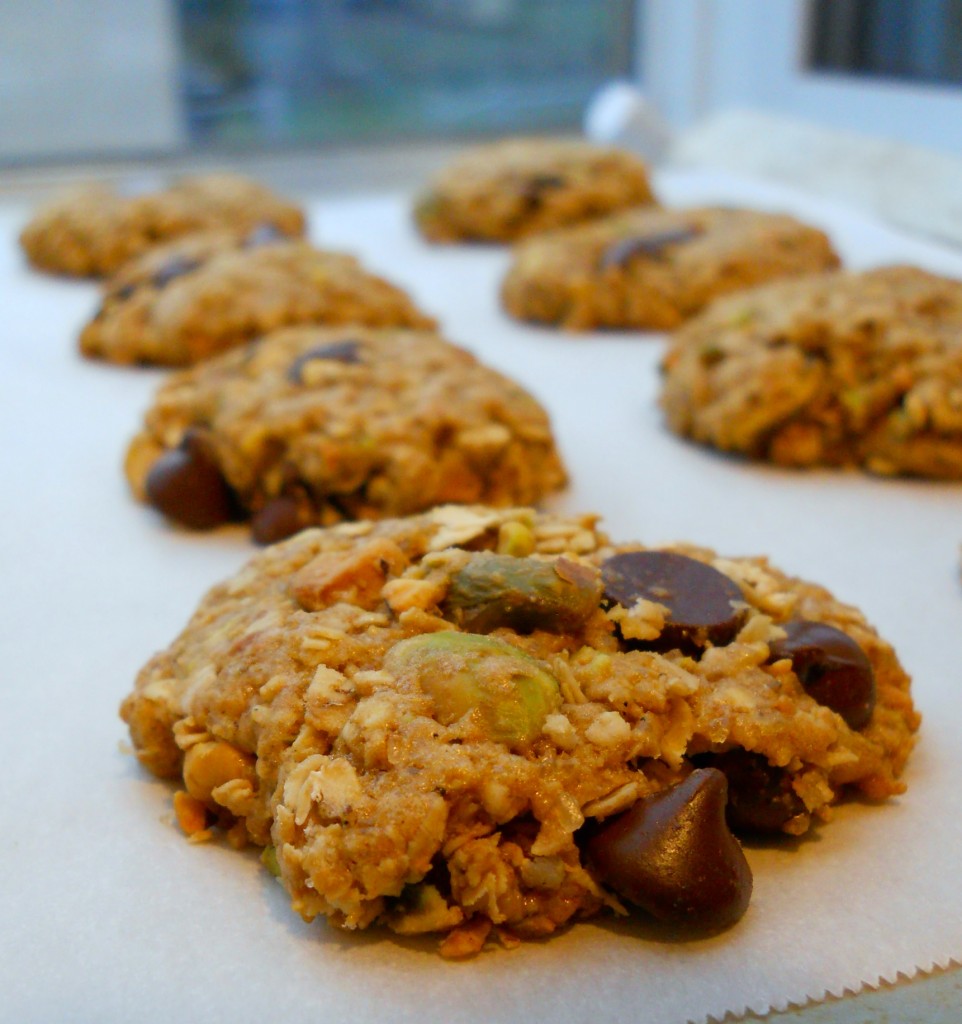 Cook­ies. They giveth (love) and they taketh away (skinny jeans). Alas, it is the sea­son and cook­ies are my rea­son for hol­i­day cheer, so I'll just be adding an extra weekly work­out to the mix and call­ing it good.
I love pis­ta­chios and I love choco­late and I love chewy, nummy oat­meal cook­ies. Isn't it great when every­thing just comes together?
I hope you all (fel­low Yanks) have a lovely Thanksgiving!
Pis­ta­chio Choco­late Chewies
The pis­ta­chios add an intox­i­cat­ing aro­matic ele­ment to these cook­ies that makes eat­ing them a multi-sensory expe­ri­ence. Deli­cious­ness on all fronts!
3/4 cup unbleached all-purpose flour
1/2 cup ground pis­ta­chio nut meats, unsalted (I use a small food proces­sor)
1/2 teas. bak­ing pow­der
sprin­kle of salt
3/4 cup brown sugar or sucanat
1/2 teas. molasses
1/4 cup apple­sauce
1/4 cup veg­etable oil
1/2 teas. vanilla
1 cup rolled oats (quick cook­ing or tra­di­tional)
1/3 cup chopped pis­ta­chio nut meats, unsalted
1/2 cup choco­late chips
Pre­heat oven to 350. Line a cookie sheet with parchment.
In a small bowl, com­bine the flour, ground pis­ta­chios, bak­ing pow­der and salt. In a larger bowl, whisk together the brown sugar, molasses, apple sauce, oil and vanilla until well incor­po­rated. Add the flour mix­ture in two batches. Add the oats in two batches, adding in the pis­ta­chios and choco­late chips with the sec­ond batch. Mix well and let sit for 10 min­utes to allow oats to absorb moisture.
Scoop out dough into table­spoon sized balls and lightly flat­ten, plac­ing them about 1 inch apart on the cookie sheet. Because of the nature of oat­meal cook­ies, they might crum­ble a bit on the edges when you do this, just go ahead and gen­tly shape back together.
Bake for 8–9 min­utes, until edges are set, but not browned. Cool cookie sheet on a cool­ing rack for 15 min­utes, before remov­ing cook­ies from sheet to fin­ish cooling.
Makes 2 dozen cookies