I'm not above bribery to try and excuse my long blog absence.
I'm really not.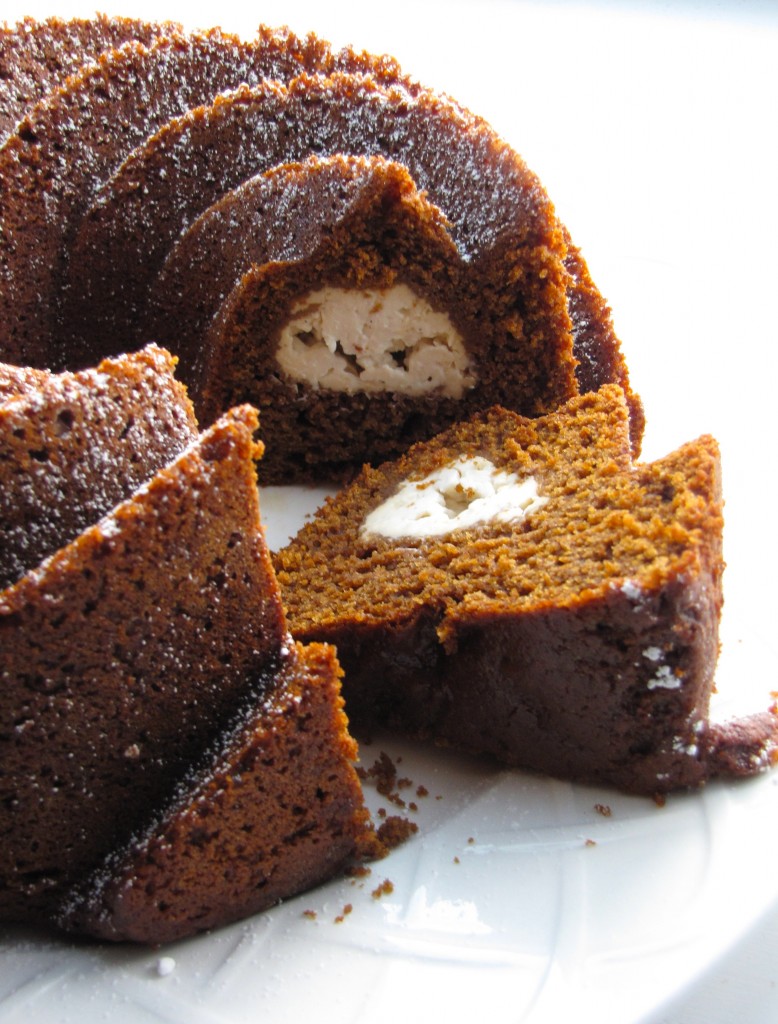 So, I come bearing cake. Not just any cake, but a festive, spicy, tastes-so-jolly-you'll-be-spiking-the-soy-nog-and-belting-out-carols-while-you-bake-it Bundt cake. It doesn't get any better than that.
I usually revel in the pumpkin run up to Thanksgiving, cramming it into every nook and cranny I can bake. And while I'm still feeling the pumpkin love, my stomach has skipped right over the Tofurkyfest and is on to Christmasy cheer.
This is a gingerbread bundt, complete with a cream filled center. The lightness of the filling compliments the gingerbread bite (which you can always tone down) and makes it so you can get away with a light dusting of powdered sugar on top rather than a glaze, although I think this cake would be redonkulous with a lemon glaze or sauce. Redonk.
Ho-ho-holy Gingerbread! Bundt Cake
Cake:
2 1/4 cups flour (I used an all-purpose/spelt blend)
3/4 cup organic evaporated cane juice or sugar
1 tbsp. baking powder
1 tbsp. ground cinnamon
2 teas. ground ginger
1/2 teas. ground nutmeg
1/4 teas. ground cloves
sprinkle salt
1/4 cup applesauce
1/4 cup molasses
1/3 cup oil
1/2 teas. vanilla
1 cup milk of choice
Cream filling:
1 8oz. container of soy cream cheese, room temperature
1 teas. lemon juice
1/4 teas. vanilla
1/2 cup organic powdered sugar, sifted
Optional:
1/3 cup chopped candied ginger (add to cake batter before spreading in pan)
Powdered sugar to dust
Preheat oven to 350. Lightly grease and flour a 10-12 cup Bundt pan or similar tube cake pan.
Prepare the filling by beating all ingredients together until smooth. Set aside.
In a small bowl, combine the flour, sugar, baking powder, spices and salt. In a large bowl, cream together the applesauce, molasses, oil and vanilla. Whisk in the milk until combined. Add the dry ingredients in two batches, until just mixed.
Spread half of the batter into the prepared pan. Scoop the cream filling into the pan, centering it on top of the batter, in a ring. Top with the remaining cake batter.
Bake for 38-43 minutes, or until a toothpick comes out clean. Let Bundt cool in the pan for 30 minutes before loosening and inverting onto your serving platter.