I'm not above bribery to try and excuse my long blog absence.
I'm really not.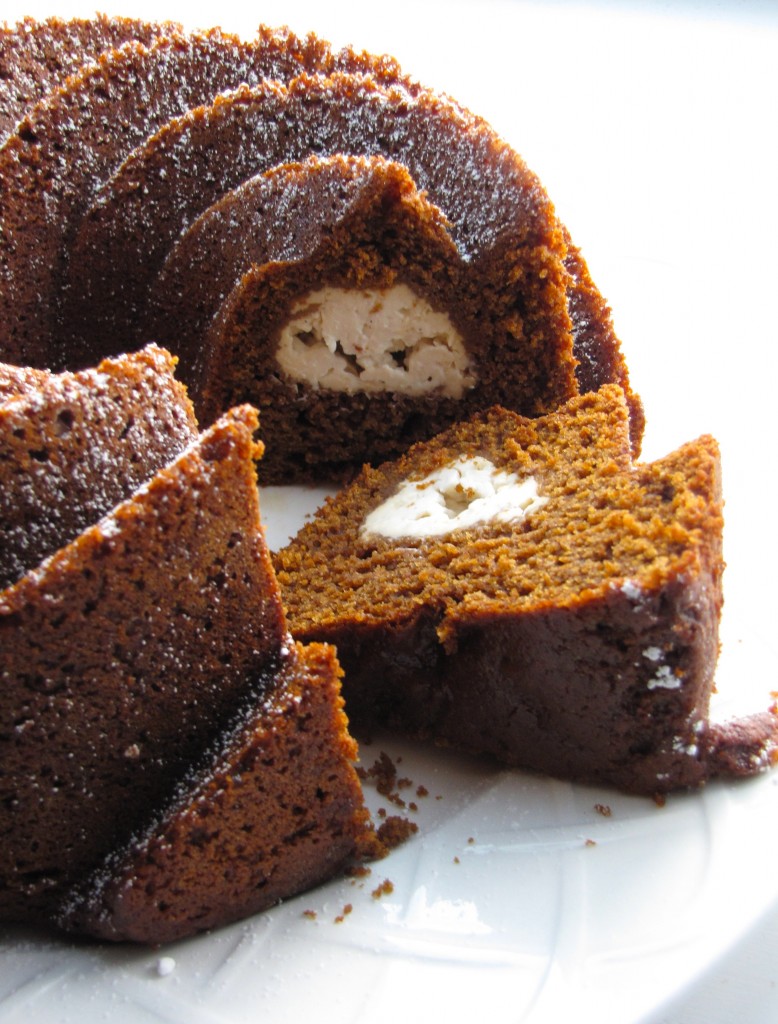 So, I come bear­ing cake. Not just any cake, but a fes­tive, spicy, tastes-so-jolly-you'll-be-spiking-the-soy-nog-and-belting-out-carols-while-you-bake-it Bundt cake. It doesn't get any bet­ter than that.
I usu­ally revel in the pump­kin run up to Thanks­giv­ing, cram­ming it into every nook and cranny I can bake. And while I'm still feel­ing the pump­kin love, my stom­ach has skipped right over the Tofurkyfest and is on to Christ­masy cheer.
This is a gin­ger­bread bundt, com­plete with a cream filled cen­ter. The light­ness of the fill­ing com­pli­ments the gin­ger­bread bite (which you can always tone down) and makes it so you can get away with a light dust­ing of pow­dered sugar on top rather than a glaze, although I think this cake would be redonku­lous with a lemon glaze or sauce. Redonk.
Ho-ho-holy Gin­ger­bread! Bundt Cake
Cake:
2 1/4 cups flour (I used an all-purpose/spelt blend)
3/4 cup organic evap­o­rated cane juice or sugar
1 tbsp. bak­ing pow­der
1 tbsp. ground cin­na­mon
2 teas. ground gin­ger
1/2 teas. ground nut­meg
1/4 teas. ground cloves
sprin­kle salt
1/4 cup apple­sauce
1/4 cup molasses
1/3 cup oil
1/2 teas. vanilla
1 cup milk of choice
Cream fill­ing:
1 8oz. con­tainer of soy cream cheese, room tem­per­a­ture
1 teas. lemon juice
1/4 teas. vanilla
1/2 cup organic pow­dered sugar, sifted
Optional:
1/3 cup chopped can­died gin­ger (add to cake bat­ter before spread­ing in pan)
Pow­dered sugar to dust
Pre­heat oven to 350. Lightly grease and flour a 10–12 cup Bundt pan or sim­i­lar tube cake pan.
Pre­pare the fill­ing by beat­ing all ingre­di­ents together until smooth. Set aside.
In a small bowl, com­bine the flour, sugar, bak­ing pow­der, spices and salt. In a large bowl, cream together the apple­sauce, molasses, oil and vanilla. Whisk in the milk until com­bined. Add the dry ingre­di­ents in two batches, until just mixed.
Spread half of the bat­ter into the pre­pared pan. Scoop the cream fill­ing into the pan, cen­ter­ing it on top of the bat­ter, in a ring. Top with the remain­ing cake batter.
Bake for 38–43 min­utes, or until a tooth­pick comes out clean. Let Bundt cool in the pan for 30 min­utes before loos­en­ing and invert­ing onto your serv­ing platter.