I have a tasty deal for the Treat of the Week this week…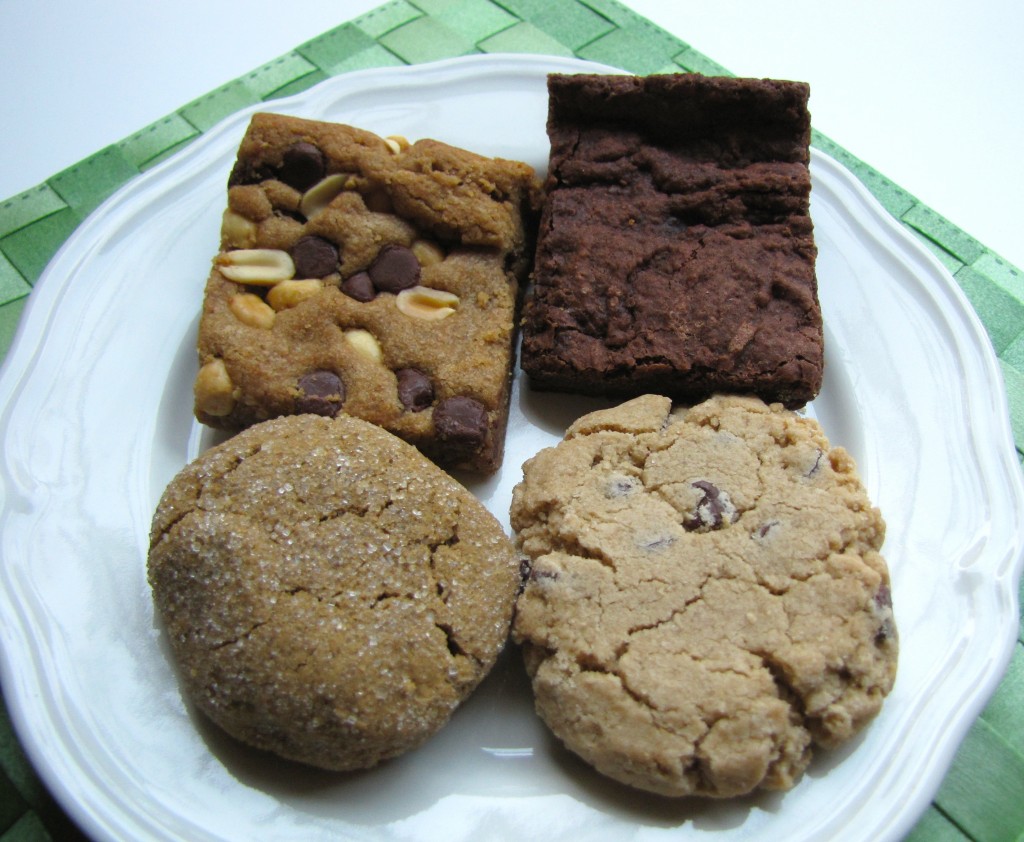 Can you imagine anything more exciting than the aroma of cookies and brownies when you open up your mailbox? Well, sure, I guess there are things more exciting than that, but not mail related!
The awesome Emma from Courser Farm Kitchen sent me a box of goodies to try. Courser Farm Kitchen is a awesome little business out of New Hampshire, baking up indulgent goodies that are both vegan AND gluten-free. Now, I think I have more blog readers than New Hampshire has residents, but never fear. They ship! And you lovely people get a special deal!
I was lucky enough to try a handful of treats. Here's the rundown (clockwise from top right):
The Double Chocolate Brownie was dense, moist and fudgy (my favorite kind of brownie!). It was truly double chocolatey (not at all like the weak cocoa-flavored brownies you find sometimes) and it even had the elusive layer of brownie crust on top. Yum!
The Chocolate Chip Cookie was simple and delicious- all that you want from such a classic treat. Perfect with a cold glass of almond milk (or chocolate almond milk!).
The Molasses Cookie was soft and delicious. It reminded me of these super soft molasses cookies my dad always used to buy when I was a kid. There's a hint of spice, making it almost like a little gingerbread cake. My first taste of fall. 3 Last, and certainly not least, the Peanut Butter Blondies. Okay, seriously, it was obvious that the famous combo was going to be my weak point, but truly, these were amazing. Moist, soft and buttery, with just the right amount of PB inside, topped with chocolate chips and peanuts. I believe in peace, but I would fight someone for the last one of these.
I tend to be critical of a lot of gluten-free goods (they'll have a strange texture, they'll crumble at first touch, they'll leave that weird guar/xanthan gum aftertaste in your mouth) but there is none of that going with CFK's goods. They are definitely at the top of my list for gluten-free goods.

So what's the magic deal? Because you guys are rad and because Emma is rad and her baked goods are rad, she's offering a deal for you guys- order 2 dozen treats and you'll get an additional 1/2 dozen (of the same treat you ordered) for free! I assure you that you will chow down through them quickly (especially if you're forced to share!) so the extra 1/2 dozen will be essential.
When I think back to when I started blogging 6 years ago, I can't even think of where you would have found a recipe for vegan and gluten-free cookies- and you can order them from the comfort of your sweatpants. Awesomesauce.
Happy Friday!