I have a tasty deal for the Treat of the Week this week…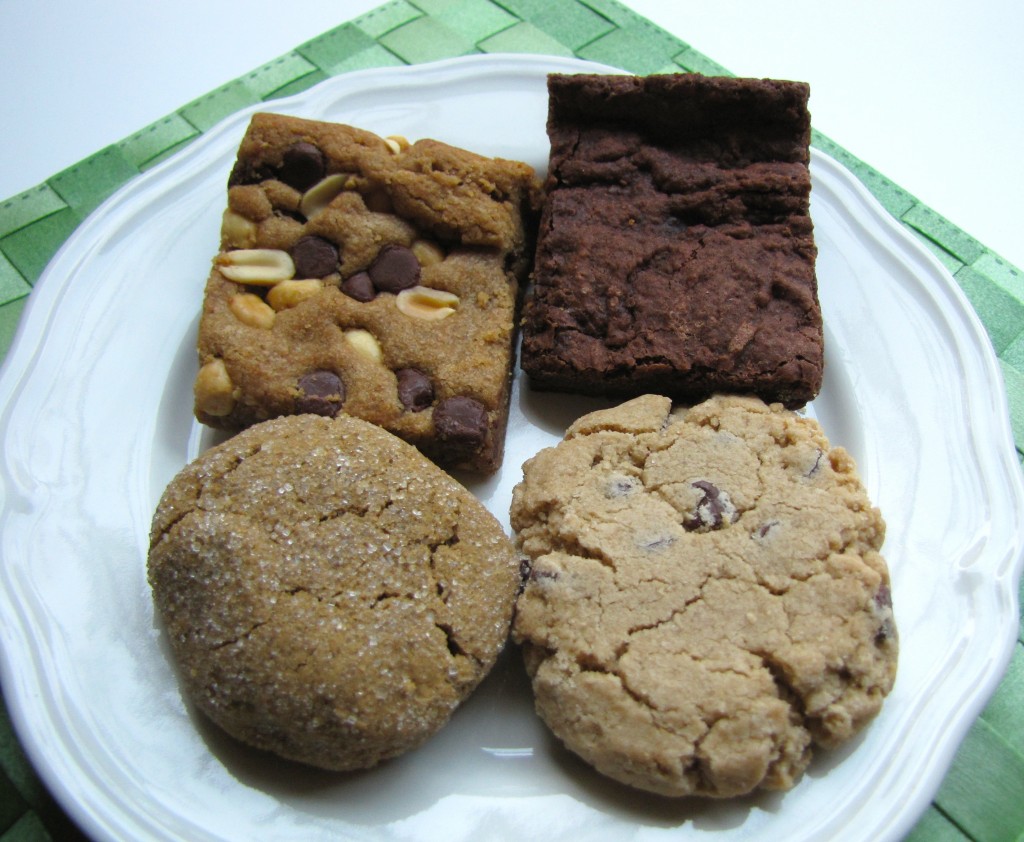 Can you imag­ine any­thing more excit­ing than the aroma of cook­ies and brown­ies when you open up your mail­box? Well, sure, I guess there are things more excit­ing than that, but not mail related!
The awe­some Emma from Courser Farm Kitchen sent me a box of good­ies to try. Courser Farm Kitchen is a awe­some lit­tle busi­ness out of New Hamp­shire, bak­ing up indul­gent good­ies that are both vegan AND gluten-free. Now, I think I have more blog read­ers than New Hamp­shire has res­i­dents, but never fear. They ship! And you lovely peo­ple get a spe­cial deal!
I was lucky enough to try a hand­ful of treats. Here's the run­down (clock­wise from top right):
The Dou­ble Choco­late Brownie was dense, moist and fudgy (my favorite kind of brownie!). It was truly dou­ble choco­latey (not at all like the weak cocoa-flavored brown­ies you find some­times) and it even had the elu­sive layer of brownie crust on top. Yum!
The Choco­late Chip Cookie was sim­ple and deli­cious– all that you want from such a clas­sic treat. Per­fect with a cold glass of almond milk (or choco­late almond milk!).
The Molasses Cookie was soft and deli­cious. It reminded me of these super soft molasses cook­ies my dad always used to buy when I was a kid. There's a hint of spice, mak­ing it almost like a lit­tle gin­ger­bread cake. My first taste of fall. <3 Last, and certainly not least, the Peanut But­ter Blondies. Okay, seri­ously, it was obvi­ous that the famous combo was going to be my weak point, but truly, these were amaz­ing. Moist, soft and but­tery, with just the right amount of PB inside, topped with choco­late chips and peanuts. I believe in peace, but I would fight some­one for the last one of these.
I tend to be crit­i­cal of a lot of gluten-free goods (they'll have a strange tex­ture, they'll crum­ble at first touch, they'll leave that weird guar/xanthan gum after­taste in your mouth) but there is none of that going with CFK's goods. They are def­i­nitely at the top of my list for gluten-free goods.

So what's the magic deal? Because you guys are rad and because Emma is rad and her baked goods are rad, she's offer­ing a deal for you guys– order 2 dozen treats and you'll get an addi­tional 1/2 dozen (of the same treat you ordered) for free! I assure you that you will chow down through them quickly (espe­cially if you're forced to share!) so the extra 1/2 dozen will be essential.
When I think back to when I started blog­ging 6 years ago, I can't even think of where you would have found a recipe for vegan and gluten-free cook­ies– and you can order them from the com­fort of your sweat­pants. Awesomesauce.
Happy Fri­day!