Nature giveth and she taketh away.
I think she took summer.
It took a long time for summer to finally make its appearance in the Pacific Northwest, so I couldn't help but feel a little slighted last night, as I begrudgingly pulled an extra blanket onto the bed. But while I long to soak up the sun and wear flip-flops, there's no denying that fall is my favorite season.
The smell of the air. The color of leaves. Sweaters with big, floppy necks. The smell of whatever baked good I have tucked into the oven. And the satisfying slurp of soup, mopped up with some rustic bread. These are all reasons why fall warms my heart, even as it chills my toes.
This soup is perfect this time of year, letting you take advantage of summer's lingering produce while providing a hearty and delicious soup for those chilly nights that await us.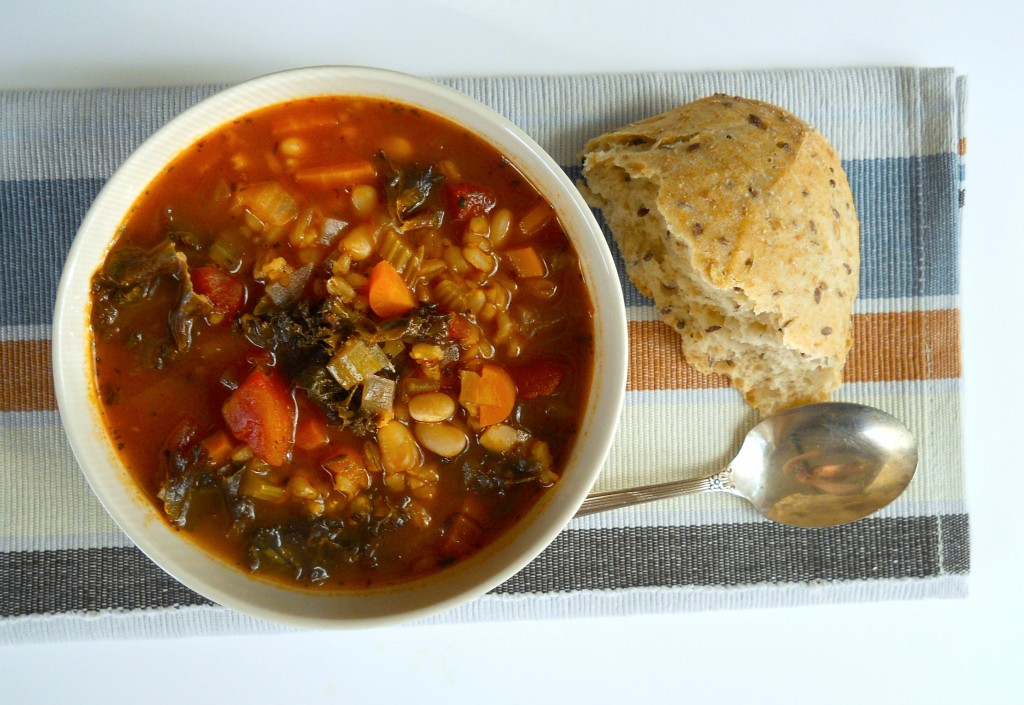 Mighty Minestrone
This soup is gluten-free if you choose buckwheat (you could also use rice) as a grain and use tamari in place of the soy sauce, if not using veggie broth. You can always mix up the veggies with what you have available. Potatoes, green beans, peas, parsnips, squash… there are a million options!
1 tbsp. olive oil
1 small onion, chopped
3 cloves garlic, minced
2 medium carrots, chopped
2 stalks celery, chopped
2 teas. oregano
1 teas. thyme
6 cups veggie broth or 6 cups water plus 3 tbsp. soy sauce or tamari
1/2 cup dried black-eyed peas or small white beans, uncooked and rinsed
1 cup dried barely or buckwheat, uncooked and rinsed
1 14.5 oz. can of crushed tomatoes with juice (Muir Glen fire roasted are the best!)
2 cups chopped greens (kale, spinach, chard)
In a large stock pot, saute onion in olive oil over medium heat for about 2 minutes. Add the garlic and continue cooking until onion is translucent, about 3-5 more minutes. Incorporate the carrots and celery and saute for about 5 minutes, stirring often. Add the oregano and thyme and cook, stirring, for about a minute or until fragrant.
Combine the veggie broth or water and soy sauce and increase heat to medium high, bringing to a boil. Add the dried beans and grain and lower heat to medium. Let soup simmer, covered, until beans and grain are tender, about 1- 1 1/2 hours. Add canned tomatoes, with juice, and cook through, about 10 minutes. Remove soup from heat and add the chopped greens. Stir to combine and wilt the greens.
Serve soup with a warm, crusty bread. Makes 5-6 hearty servings.