Nature giveth and she taketh away.
I think she took summer.
It took a long time for sum­mer to finally make its appear­ance in the Pacific North­west, so I couldn't help but feel a lit­tle slighted last night, as I begrudg­ingly pulled an extra blan­ket onto the bed. But while I long to soak up the sun and wear flip-flops, there's no deny­ing that fall is my favorite season.
The smell of the air. The color of leaves. Sweaters with big, floppy necks. The smell of what­ever baked good I have tucked into the oven. And the sat­is­fy­ing slurp of soup, mopped up with some rus­tic bread. These are all rea­sons why fall warms my heart, even as it chills my toes.
This soup is per­fect this time of year, let­ting you take advan­tage of summer's lin­ger­ing pro­duce while pro­vid­ing a hearty and deli­cious soup for those chilly nights that await us.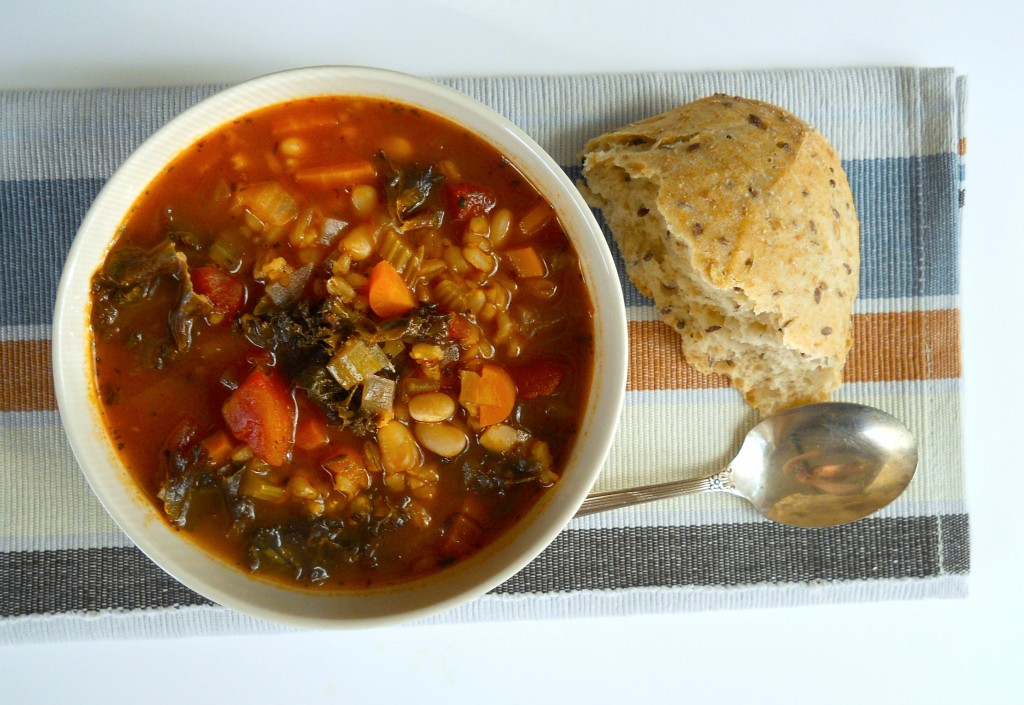 Mighty Mine­strone
This soup is gluten-free if you choose buck­wheat (you could also use rice) as a grain and use tamari in place of the soy sauce, if not using veg­gie broth. You can always mix up the veg­gies with what you have avail­able. Pota­toes, green beans, peas, parsnips, squash… there are a mil­lion options!
1 tbsp. olive oil
1 small onion, chopped
3 cloves gar­lic, minced
2 medium car­rots, chopped
2 stalks cel­ery, chopped
2 teas. oregano
1 teas. thyme
6 cups veg­gie broth or 6 cups water plus 3 tbsp. soy sauce or tamari
1/2 cup dried black-eyed peas or small white beans, uncooked and rinsed
1 cup dried barely or buck­wheat, uncooked and rinsed
1 14.5 oz. can of crushed toma­toes with juice (Muir Glen fire roasted are the best!)
2 cups chopped greens (kale, spinach, chard)
In a large stock pot, saute onion in olive oil over medium heat for about 2 min­utes. Add the gar­lic and con­tinue cook­ing until onion is translu­cent, about 3–5 more min­utes. Incor­po­rate the car­rots and cel­ery and saute for about 5 min­utes, stir­ring often. Add the oregano and thyme and cook, stir­ring, for about a minute or until fragrant.
Com­bine the veg­gie broth or water and soy sauce and increase heat to medium high, bring­ing to a boil. Add the dried beans and grain and lower heat to medium. Let soup sim­mer, cov­ered, until beans and grain are ten­der, about 1– 1 1/2 hours. Add canned toma­toes, with juice, and cook through, about 10 min­utes. Remove soup from heat and add the chopped greens. Stir to com­bine and wilt the greens.
Serve soup with a warm, crusty bread. Makes 5–6 hearty servings.