Today's the big day! Does this mean that I'm truly a grown up now?
I took the day off of work and have an awesome "me" day planned- 30 sun salutations on my front deck, to celebrate each of my journeys around the sun, followed by breakfast, then a complimentary birthday acupuncture appointment and a 1 1/2 hour massage. In the evening I'm meeting some co-workers for Happy Hour down by the Willamette River. All in all, I think it's going to be a rockin' day.
But the real question is: what's my birthday treat going to be?! This is a big friggin' deal! No boring, run-of-the-mill treat will do.
You all had SO many wonderful ideas, I seriously was overwhelmed (and in a mental sugar coma). I have a love of numerical relationships and I love the number 3 (my birthday is 9/9, and 3 is the square root of 9, plus it's related to so many other neat things…) so I've decided to give away 3 books. Here are the winners (and the reason they are winners):
Amy from Trinkets & Whatnots for being the first person to suggest cupcakes. I know, cupcakes aren't the most original birthday idea, but but the early bird catches the vegan worm.
Courtney for being the only person to suggest my beloved and sacred peanut butter and chocolate combo.
Emma from Courser Farm Kitchen gets a runner-up prize for suggesting an amazing alteration of a recipe from my new book- a lemon torte cake trifle, crumbled and layered with a vegan lemon curd, raspberries and coconut cream. Holy geez… that will be getting consumed sometime soon, for sure!
So what did I actually end up making?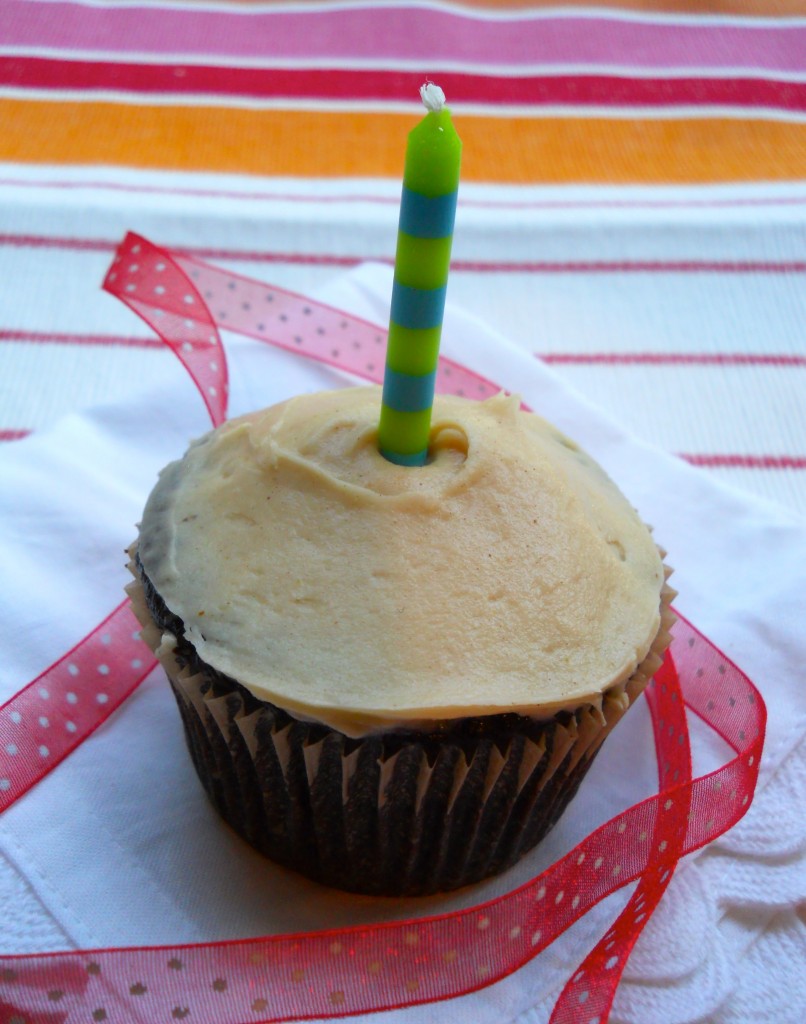 Chocolate cupcakes, filled with a chocolate peanut butter cream filling (an unfilled cupcake is like an unfinished dream) and topped with a peanut butter cream cheeze frosting.
Oh yeah.
And now you can has, too!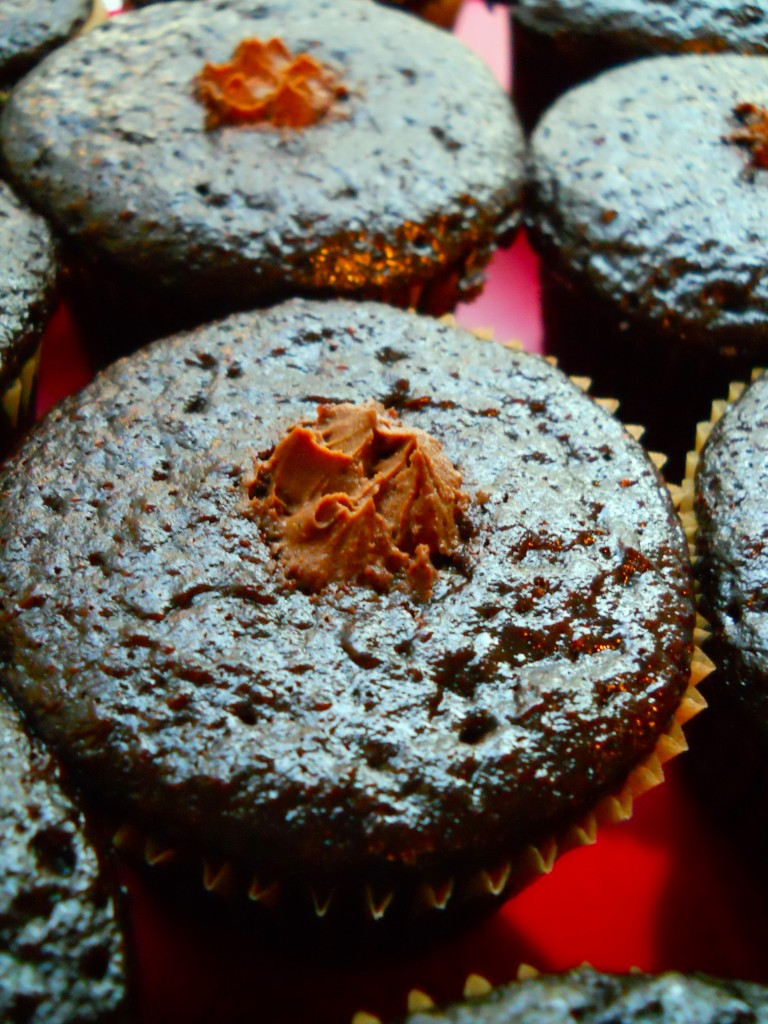 For the cake: This is the Basic Chocolate Cake from Have Your Cake and Vegan Too. It's my go-to cake recipe. It's always moist and delectable.
1 3/4 cups all purpose flour
1 1/2 cups granulated sugar
3/4 cup baking cocoa, sifted
1 1/2 teas. baking soda
1 1/2 teas. baking powder
1/8 teas. salt
1 1/2 cups milk of choice
1/2 teas. mild vinegar
1/2 cup oil
2 teas. vanilla
1 cup boiling water
Preheat oven to 350. Line 2- 12 cup cupcake tins with liners.
In a large bowl, combine the flour, sugar, cocoa, baking soda, baking powder and salt. In a separate bowl milk and vinegar and let site for a minute to react. Add oil and vanilla. In two batches, add the dry to the wet until just mixed. Add the boiling water and mix to combine, preferably with electric hand mixers. The batter will look very thin.
Spoon batter into cupcake liners, filling 3/4 full. Bake for 12-16 minutes or until a toothpick comes out clean.
Remove from oven and let cool in pans on cooling rack for 15 minutes before loosening and allowing to cool on cooling racks alone.
For the filling: make the cream filling from the Dad is Great Chocolate Cake, adding 1/3 cup of peanut butter.
For the frosting: this is the Peanut Butter Cream Cheeze Frosting from 100 Best. This makes ample frosting, so slather away!
1-8 oz tub of soy cream cheese, room temperature
2 tbsp. margarine, softened
1/4 cup peanut butter (or more, to taste)
2 to 2-1/2 cups sifted powdered sugar
In a large bowl with electric mixers, beat cream cheese, margarine and peanut butter. Add powdered sugar. Add more sugar or nut butter to taste.
*The key to this frosting is subtlety of the peanut butter. If you add too much peanut butter and the frosting becomes oily, so be sure to taste test after any additional scoops.