Today's the big day! Does this mean that I'm truly a grown up now?
I took the day off of work and have an awe­some "me" day planned– 30 sun salu­ta­tions on my front deck, to cel­e­brate each of my jour­neys around the sun, fol­lowed by break­fast, then a com­pli­men­tary birth­day acupunc­ture appoint­ment and a 1 1/2 hour mas­sage. In the evening I'm meet­ing some co-workers for Happy Hour down by the Willamette River. All in all, I think it's going to be a rockin' day.
But the real ques­tion is: what's my birth­day treat going to be?! This is a big frig­gin' deal! No bor­ing, run-of-the-mill treat will do.
You all had SO many won­der­ful ideas, I seri­ously was over­whelmed (and in a men­tal sugar coma). I have a love of numer­i­cal rela­tion­ships and I love the num­ber 3 (my birth­day is 9/9, and 3 is the square root of 9, plus it's related to so many other neat things…) so I've decided to give away 3 books. Here are the win­ners (and the rea­son they are winners):
Amy from Trin­kets & What­nots for being the first per­son to sug­gest cup­cakes. I know, cup­cakes aren't the most orig­i­nal birth­day idea, but but the early bird catches the vegan worm.
Court­ney for being the only per­son to sug­gest my beloved and sacred peanut but­ter and choco­late combo.
Emma from Courser Farm Kitchen gets a runner-up prize for sug­gest­ing an amaz­ing alter­ation of a recipe from my new book– a lemon torte cake tri­fle, crum­bled and lay­ered with a vegan lemon curd, rasp­ber­ries and coconut cream. Holy geez… that will be get­ting con­sumed some­time soon, for sure!
So what did I actu­ally end up making?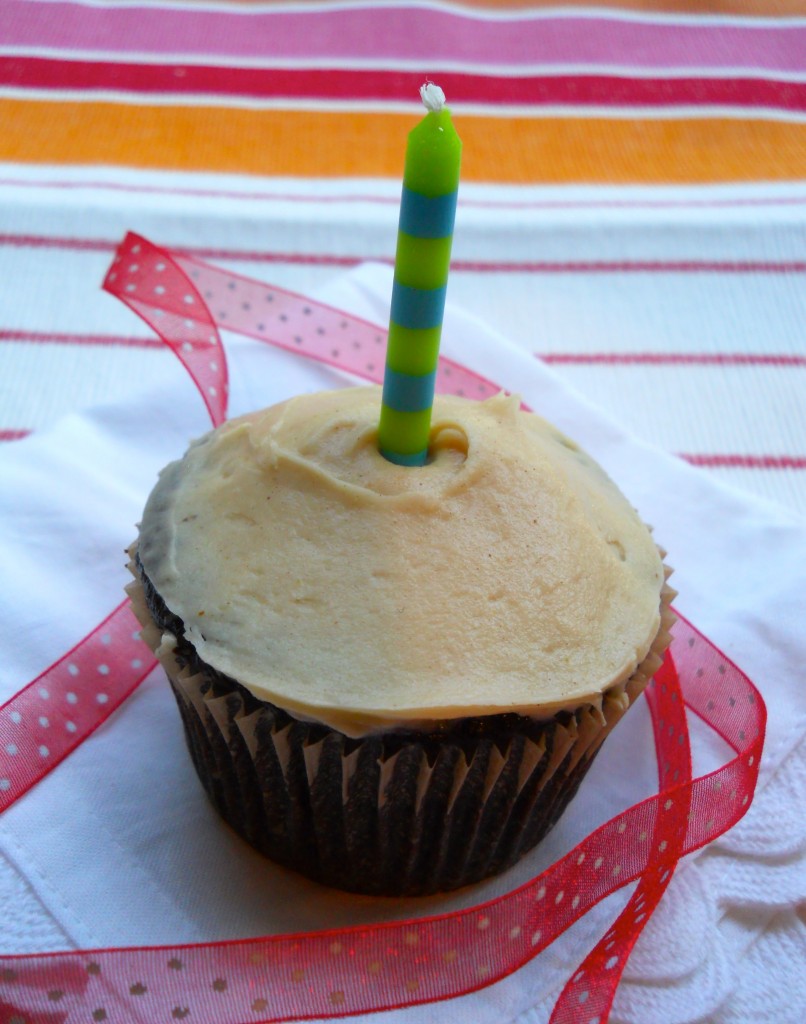 Choco­late cup­cakes, filled with a choco­late peanut but­ter cream fill­ing (an unfilled cup­cake is like an unfin­ished dream) and topped with a peanut but­ter cream cheeze frosting.
Oh yeah.
And now you can has, too!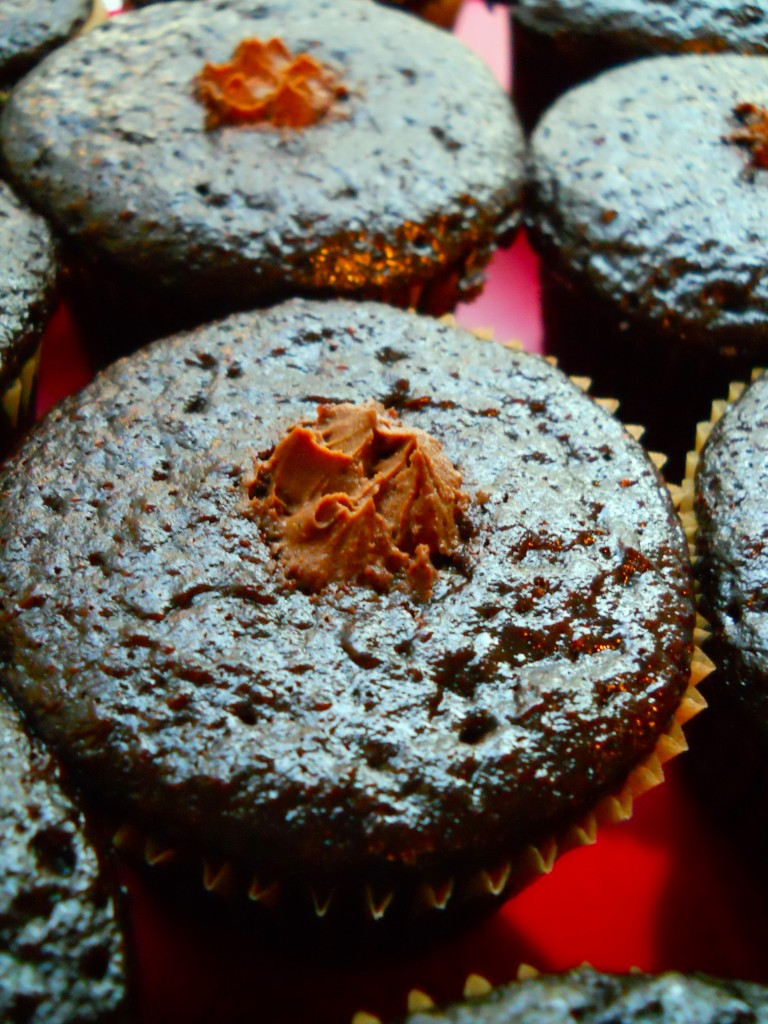 For the cake: This is the Basic Choco­late Cake from Have Your Cake and Vegan Too. It's my go-to cake recipe. It's always moist and delectable.
1 3/4 cups all pur­pose flour
1 1/2 cups gran­u­lated sugar
3/4 cup bak­ing cocoa, sifted
1 1/2 teas. bak­ing soda
1 1/2 teas. bak­ing pow­der
1/8 teas. salt
1 1/2 cups milk of choice
1/2 teas. mild vine­gar
1/2 cup oil
2 teas. vanilla
1 cup boil­ing water
Pre­heat oven to 350. Line 2– 12 cup cup­cake tins with liners.
In a large bowl, com­bine the flour, sugar, cocoa, bak­ing soda, bak­ing pow­der and salt. In a sep­a­rate bowl milk and vine­gar and let site for a minute to react. Add oil and vanilla. In two batches, add the dry to the wet until just mixed. Add the boil­ing water and mix to com­bine, prefer­ably with elec­tric hand mix­ers. The bat­ter will look very thin.
Spoon bat­ter into cup­cake lin­ers, fill­ing 3/4 full. Bake for 12–16 min­utes or until a tooth­pick comes out clean.
Remove from oven and let cool in pans on cool­ing rack for 15 min­utes before loos­en­ing and allow­ing to cool on cool­ing racks alone.
For the fill­ing: make the cream fill­ing from the Dad is Great Choco­late Cake, adding 1/3 cup of peanut butter.
For the frost­ing: this is the Peanut But­ter Cream Cheeze Frost­ing from 100 Best. This makes ample frost­ing, so slather away!
1–8 oz tub of soy cream cheese, room tem­per­a­ture
2 tbsp. mar­garine, soft­ened
1/4 cup peanut but­ter (or more, to taste)
2 to 2–1/2 cups sifted pow­dered sugar
In a large bowl with elec­tric mix­ers, beat cream cheese, mar­garine and peanut but­ter. Add pow­dered sugar. Add more sugar or nut but­ter to taste.
*The key to this frost­ing is sub­tlety of the peanut but­ter. If you add too much peanut but­ter and the frost­ing becomes oily, so be sure to taste test after any addi­tional scoops.