Oy. It's been too long. I won't make too many excuses, expect for having a busy summer. Plus, I haven't been doing much of note with food lately, but I have some stuff coming up soon that will hopefully get things jump started again.
First off, this Saturday at 1pm I will be getting interviewed on the Seattle Veg Coach radio show in Seattle. If you don't have access to hear it live, check it out the archived shows to listen to my show and others!
And now for a Treat of the Week recipe. This is from my latest book and is a delicious way to use up some of your overabundant zucchini crop. It's so summery and light and fresh. Seriously, you've got to be running out of ways to use zucchini by now, so treat yourself! If you have really juicy zucchini, I recommend adding a tablespoon of cornstarch to the dry ingredients and mixing well.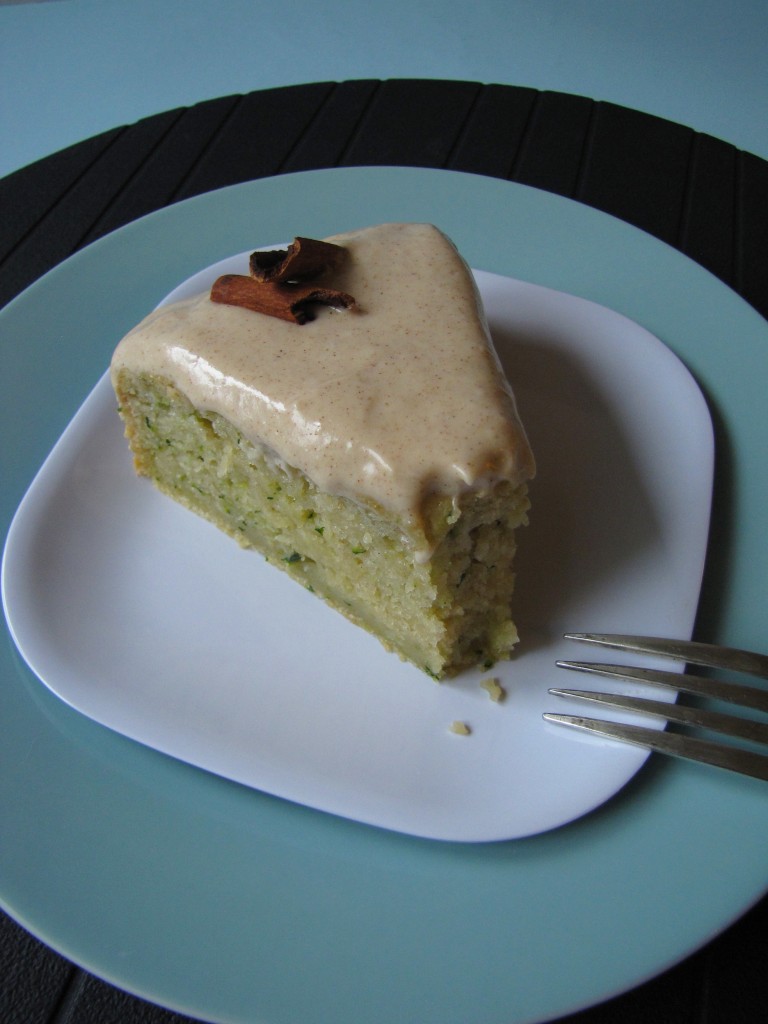 Zucchini Cake with Cinnamon Cream Cheese Frosting
You can opt to make this cake as a double layer cake rather than the single shown. Prepare two cake pans per below, divide the batter and then bake for 22-28 minutes. There is ample frosting.

Cake
1 1/2 cups all-purpose flour
3/4 cup + 2 tbsp sugar
1 teas. baking powder
1/2 teas. baking soda
1/4 teas. salt
1 1/4 cup milk of choice
1/4 teas. mild vinegar
1/4 cup oil
1 teas. vanilla
1 cup, packed, finely shredded zucchini
Frosting
1 8-oz tub of soy cream cheese, room temperature
2 tbsp. margarine, room temperature
2-3 cups powdered sugar
1 tbsp. milk
1-2 teas. cinnamon
Preheat oven to 350. Lightly grease and flour the sides of an 8 or 9 inch cake pan and line bottom with parchment.
In a medium bowl, combine the flour, sugar, baking powder and soda and salt. In a large bowl, combine milk with vinegar and let sit for a few minutes. Add the oil and vanilla and mix to combine. Add dry ingredients in batches until just incorporated, then add the zucchini. Spread the batter into the prepared pan.
Bake for 40-45 minutes until toothpick comes out clean and cake is light and springs back to the touch. Let cool in pan for 20 minutes. Loosen edges of cake with a butter knife and turn out onto a cooling rack to finish cooling.
To prepare the frosting: Using a hand mixer, blend the cream cheese and margarine together until smooth. Beginning with 1 cup of powdered sugar and 1 teas. of cinnamon, sift them into the creamed cheese mixture, blending until smooth. Add milk and additional sugar and cinnamon until a smooth but spreadable mixture is achieved. The cinnamon flavor becomes more prominent as the cake sits, so err of the side of caution- you don't want your cake to taste like a stick of Big Red!
Spread frosting over top and sides of cake. This is a generous serving of frosting, so you do this cake as 2 layers (see note on top) or bust out the piping bag and add some decorative frosting work to the top. You may need to add a little more sugar to the piping frosting to make it a bit stiffer so it holds shape.
Store covered in the fridge.