Oy.  It's been too long.  I won't make too many excuses, expect for hav­ing a busy sum­mer.  Plus, I haven't been doing much of note with food lately, but I have some stuff com­ing up soon that will hope­fully get things jump started again.
First off, this Sat­ur­day at 1pm I will be get­ting inter­viewed on the Seat­tle Veg Coach radio show in Seat­tle. If you don't have access to hear it live, check it out the archived shows to lis­ten to my show and others!
And now for a Treat of the Week recipe.  This is from my lat­est book and is a deli­cious way to use up some of your over­abun­dant zuc­chini crop.  It's so sum­mery and light and fresh. Seri­ously, you've got to be run­ning out of ways to use zuc­chini by now, so treat your­self! If you have really juicy zuc­chini, I rec­om­mend adding a table­spoon of corn­starch to the dry ingre­di­ents and mix­ing well.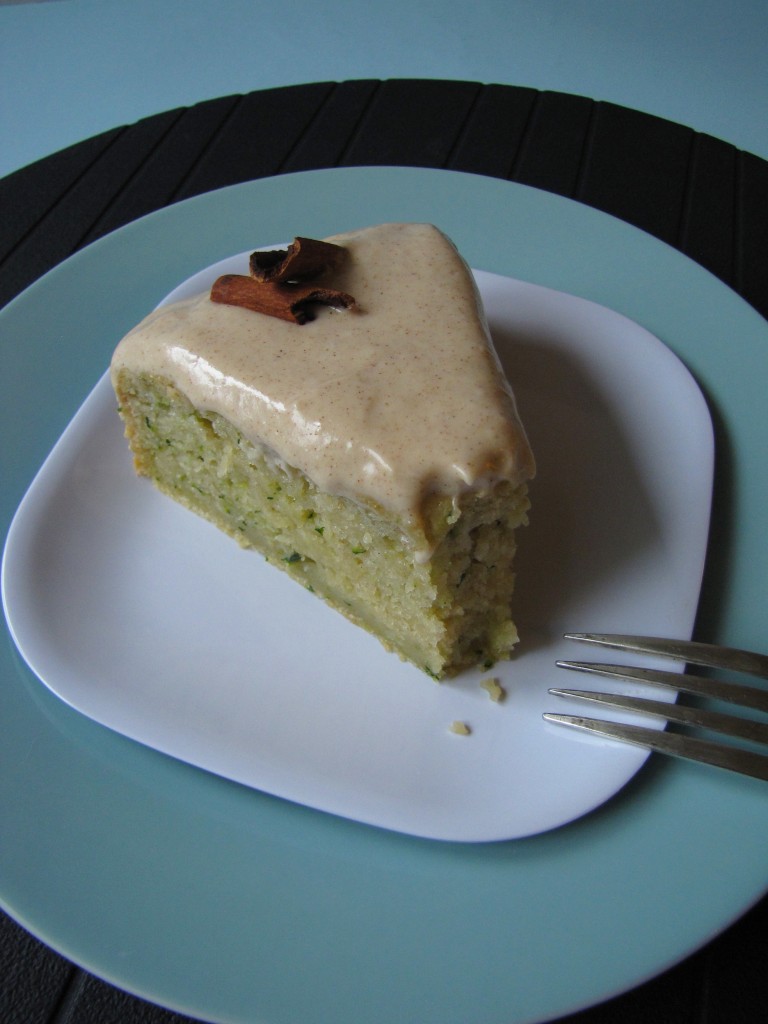 Zuc­chini Cake with Cin­na­mon Cream Cheese Frosting
You can opt to make this cake as a dou­ble layer cake rather than the sin­gle shown. Pre­pare two cake pans per below, divide the bat­ter and then bake for 22–28 min­utes. There is ample frosting.

Cake
1 1/2 cups all-purpose flour
3/4 cup + 2 tbsp sugar
1 teas. bak­ing pow­der
1/2 teas. bak­ing soda
1/4 teas. salt
1 1/4 cup milk of choice
1/4 teas. mild vine­gar
1/4 cup oil
1 teas. vanilla
1 cup, packed, finely shred­ded zucchini
Frost­ing
1 8-oz tub of soy cream cheese, room tem­per­a­ture
2 tbsp. mar­garine, room tem­per­a­ture
2–3 cups pow­dered sugar
1 tbsp. milk
1–2 teas. cinnamon
Pre­heat oven to 350. Lightly grease and flour the sides of an 8 or 9 inch cake pan and line bot­tom with parchment.
In a medium bowl, com­bine the flour, sugar, bak­ing pow­der and soda and salt. In a large bowl, com­bine milk with vine­gar and let sit for a few min­utes. Add the oil and vanilla and mix to com­bine. Add dry ingre­di­ents in batches until just incor­po­rated, then add the zuc­chini. Spread the bat­ter into the pre­pared pan.
Bake for 40–45 min­utes until tooth­pick comes out clean and cake is light and springs back to the touch. Let cool in pan for 20 min­utes. Loosen edges of cake with a but­ter knife and turn out onto a cool­ing rack to fin­ish cooling.
To pre­pare the frost­ing: Using a hand mixer, blend the cream cheese and mar­garine together until smooth. Begin­ning with 1 cup of pow­dered sugar and 1 teas. of cin­na­mon, sift them into the creamed cheese mix­ture, blend­ing until smooth. Add milk and addi­tional sugar and cin­na­mon until a smooth but spread­able mix­ture is achieved. The cin­na­mon fla­vor becomes more promi­nent as the cake sits, so err of the side of cau­tion– you don't want your cake to taste like a stick of Big Red!
Spread frost­ing over top and sides of cake. This is a gen­er­ous serv­ing of frost­ing, so you do this cake as 2 lay­ers (see note on top) or bust out the pip­ing bag and add some dec­o­ra­tive frost­ing work to the top. You may need to add a lit­tle more sugar to the pip­ing frost­ing to make it a bit stiffer so it holds shape.
Store cov­ered in the fridge.