*sniff*
The time is here. Tonight at mid­night I will enter the the­ater, don­ning my shiny new HP-inspired shirt and a grip of tis­sues to mop of my eyes.
I couldn't think of a bet­ter way to send off Harry than with his very favorite dessert (pud­ding, if you will), trea­cle tart. Trea­cle tart is a tra­di­tional British dessert that uses golden syrup as a pri­mary ingre­di­ent, which is just a thick cane syrup. I thought is tasted much like liq­uid cot­ton candy. While the ingre­di­ents in trea­cle tart may seem a lit­tle odd an Amer­i­can audi­ence and the fill­ing seems far too soupy to set up, I assure you it works.
I came upon some golden syrup at the our reg­u­lar gro­cery store, so that made it easy. Find­ing a recipe that didn't appear to bake up a tart of pure sugar was another story. I shifted and sorted and made up my own, adding some pureed apri­cots to it to try and off­set the intense sweet­ness of the golden syrup. Then I fig­ured, since I was already break­ing all of the rules that I would make it in my Baker's Edge pan to make it eas­ier for serv­ing for a lovely Eng­lish tea.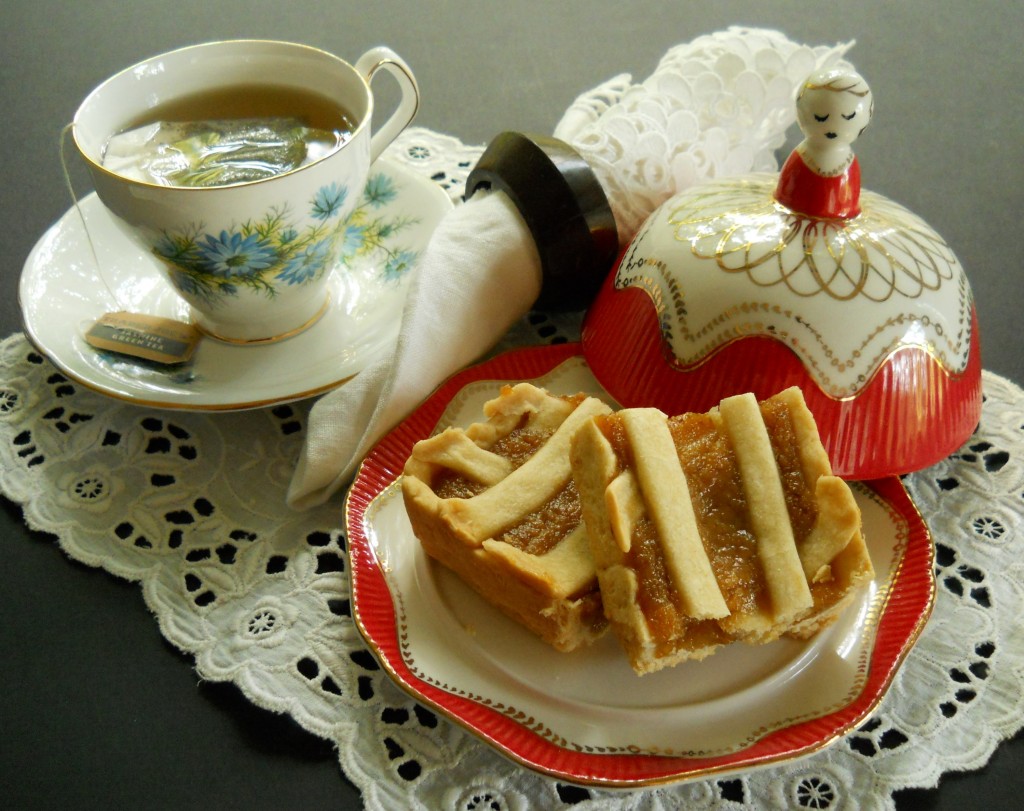 Harry's Farewell Trea­cle Tart
1 recipe Basic Pie Crust
1/2 pack­age of firm asep­tic tofu
1 1/4 cups of golden syrup
1 cup of chopped apri­cot (you could use peaches or some other fruit, too)
3/4 cups of fresh bread crumbs
2 tbsp. lemon juice
Pre­heat oven to 375. Press 2/3 of the chilled crust into the bot­tom and sides of a pan (can use a 9 inch tart pan or a 9x12 bak­ing pan). Cover with parch­ment and weight down with pie weights or dried beans. Bake for 20–25 min­utes, until slightly golden and dry to the touch. Remove from oven and let cool.
Lower oven tem­per­a­ture to 350. Com­bine the tofu, syrup and apri­cots in a food proces­sor and mix until smooth. Add the bread­crumbs and lemon juice to com­bine. Pour the fill­ing into the cooled crust. Roll out the remain­ing dough and cut into strips for the lat­tice top (not nec­es­sary, you can use the left­over pie crust for some Pump­kin Pasties, if you'd like!).
For bars, bake for 30–25 min­utes, until fill­ing is set and crust is browned. For a tart, bake for 45–50 min­utes. The edges might be slightly bub­bling, but that's okay. Let tart cool on a cool­ing rack for 30 min­utes to set before serving.
While I'm sad to see this day, I'm delighted to remem­ber that the books are 10x bet­ter than the movies and I can read them any­time I'd like.
'Til next time, Mr. Potter.