It's (Harry Pot­ter!) Christ­mas in July!
Well, maybe you like fudge all year round, but I usu­ally think of it as a hol­i­day treat. And who wouldn't love a hol­i­day pack­age of good­ies from Mrs. Weasley? Seri­ously, I want to be a mom just like her when I grow up…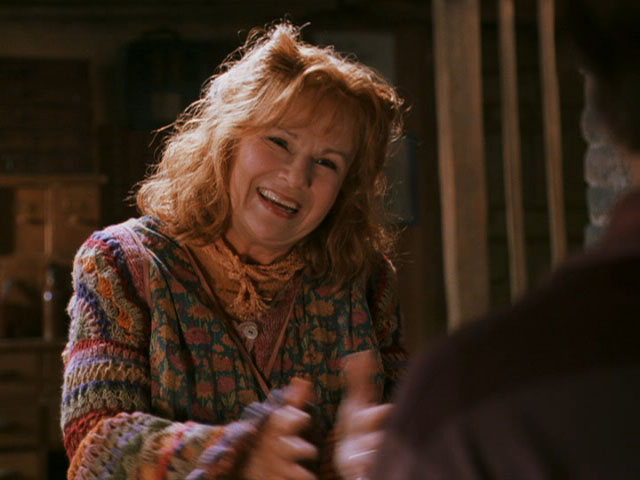 Any­way, you can enjoy a lit­tle taste of Mama Weasley's love with this week's Treat of the Week, a super easy fudge recipe, which is also gluten-free. It seri­ously takes about 10 min­utes to whip up, all you need is a cou­ple of ingre­di­ents, your caul­dron and wand. Er, I mean pot and whisk.
Mrs. Weasley's Mag­i­cally Easy Fudge
Because we are addicts, I added a bit of peanut but­ter to this batch, but you can add nuts or just go au naturel. I make this fudge in a lit­tle 6x8 pan and the pieces aren't super thick. If you use a big­ger pan or want thick fudge, I sug­gest mak­ing at least 1 1/2 batches or 2. Darn, don't you just hate hav­ing more fudge?!
1 cup organic sugar (I use raw sugar for a deeper fla­vor)
1/4 cup milk of choice
5 tbsp. mar­garine
1 cup choco­late chips
1/2 teas. vanilla
optional: 2 tbsp. peanut but­ter
optional: sea salt
Line a small pan (see notes in recipe intro) with parch­ment or foil. In a saucepan over medium heat, com­bine the sugar, milk and mar­garine. Whisk­ing con­stantly, bring to a boil. Lower heat to a sim­mer and cook until the sugar is dis­solved com­pletely. Remove from heat and whisk in the choco­late chips and vanilla until smooth. Spread into pre­pared pan. If using peanut but­ter, scat­ter blobs of it around the pan and swirl with a but­ter knife. Sprin­kle salt on top.
Let fudge set in fridge for at least an hour before cut­ting. Because this fudge must stay refrig­er­ated, I do not rec­om­mend send­ing by owl.
For more Harry Pot­ter foodie good­ness, check out my pre­vi­ous recipes here! And don't for­get to stop by Dumbledore's Vegan Army!