It's (Harry Potter!) Christmas in July!
Well, maybe you like fudge all year round, but I usually think of it as a holiday treat. And who wouldn't love a holiday package of goodies from Mrs. Weasley? Seriously, I want to be a mom just like her when I grow up…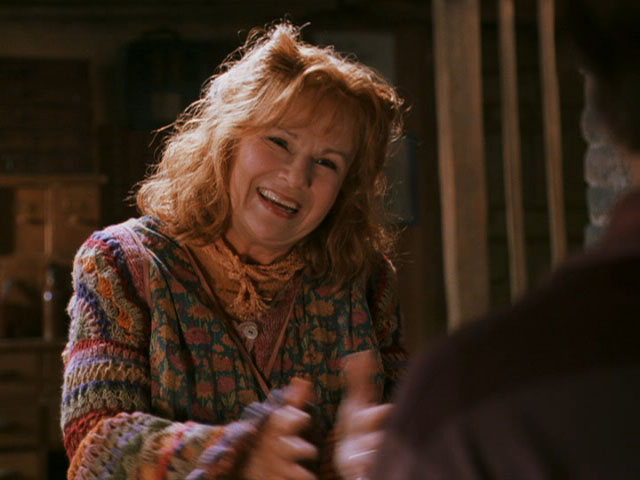 Anyway, you can enjoy a little taste of Mama Weasley's love with this week's Treat of the Week, a super easy fudge recipe, which is also gluten-free. It seriously takes about 10 minutes to whip up, all you need is a couple of ingredients, your cauldron and wand. Er, I mean pot and whisk.
Mrs. Weasley's Magically Easy Fudge
Because we are addicts, I added a bit of peanut butter to this batch, but you can add nuts or just go au naturel. I make this fudge in a little 6×8 pan and the pieces aren't super thick. If you use a bigger pan or want thick fudge, I suggest making at least 1 1/2 batches or 2. Darn, don't you just hate having more fudge?!
1 cup organic sugar (I use raw sugar for a deeper flavor)
1/4 cup milk of choice
5 tbsp. margarine
1 cup chocolate chips
1/2 teas. vanilla
optional: 2 tbsp. peanut butter
optional: sea salt
Line a small pan (see notes in recipe intro) with parchment or foil. In a saucepan over medium heat, combine the sugar, milk and margarine. Whisking constantly, bring to a boil. Lower heat to a simmer and cook until the sugar is dissolved completely. Remove from heat and whisk in the chocolate chips and vanilla until smooth. Spread into prepared pan. If using peanut butter, scatter blobs of it around the pan and swirl with a butter knife. Sprinkle salt on top.
Let fudge set in fridge for at least an hour before cutting. Because this fudge must stay refrigerated, I do not recommend sending by owl.
For more Harry Potter foodie goodness, check out my previous recipes here! And don't forget to stop by Dumbledore's Vegan Army!