That's right, nerdy lovers of all things Hog­warts. It's that spe­cial time of year. I've got my mid­night tick­ets (and didn't take Fri­day off of work!), a new HP-related t-shirt to wear and I'm ready to roll. Well, in a week and a half I will be. Until then…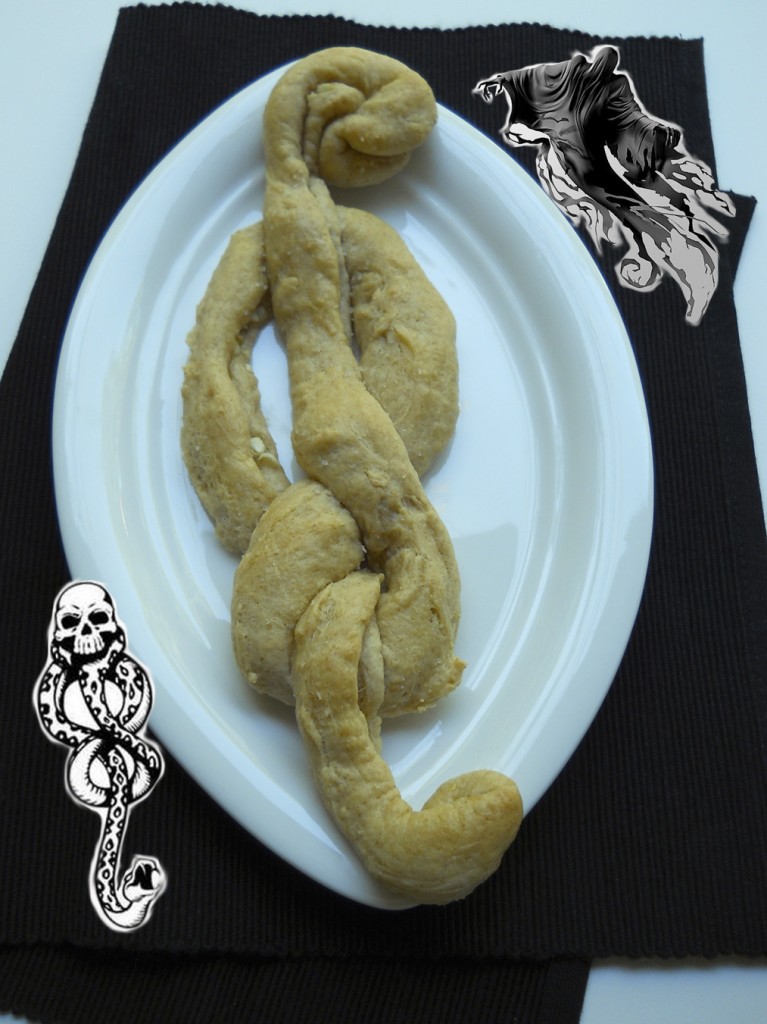 I present to you, Dementor's Kiss Bread Twists, crafted into noth­ing less than the Dark Mark. These bread twists are insanely gar­licky, so you'll want to steer clear of any­one you hope to actu­ally kiss. They sure make Azk­a­ban sound not-too-shabby, though!
It's true, I really am this geeky. You know you love it.

Dementor's Kiss Bread Twists
1/2 packet or 1 1/8 teas. rapid rise yeast
1/4 teas. sugar
1/2 + 1 tbsp warm water
2 teas. olive oil
1 1/2 cups flour
1/2 teas. pow­dered gar­lic
1 head fresh gar­lic, minced
2 tbsp. mar­garine, melted
sea salt to sprinkle
In the bot­tom of a large bowl, com­bine yeast, sugar and warm water. Let sit for a few min­utes until frothy. In another both, com­bine the flour and pow­dered gar­lic. Add the rest of the water and oil to the yeast mix­ture and begin to incor­po­rate the flour a 1/2 cup at a time. Mix until a sticky dough forms. Roll out onto a floured sur­face and knead until a smooth, elas­tic dough forms, adding flour as needed. Dough should be moist, but not sticky. Place dough in an oiled bowl, turn­ing once to coat. Cover and let rise until dou­bled in size, approx­i­mately 45 minutes.
Pre­heat oven to 400 and pre­pare a bak­ing sheet with parch­ment paper. Punch dough to deflate and turn out onto a floured sur­face. Divide dough into three equal parts.* Roll each part into a long rope, about 20–24 inches long. With a rolling pin, flat­ten each rope.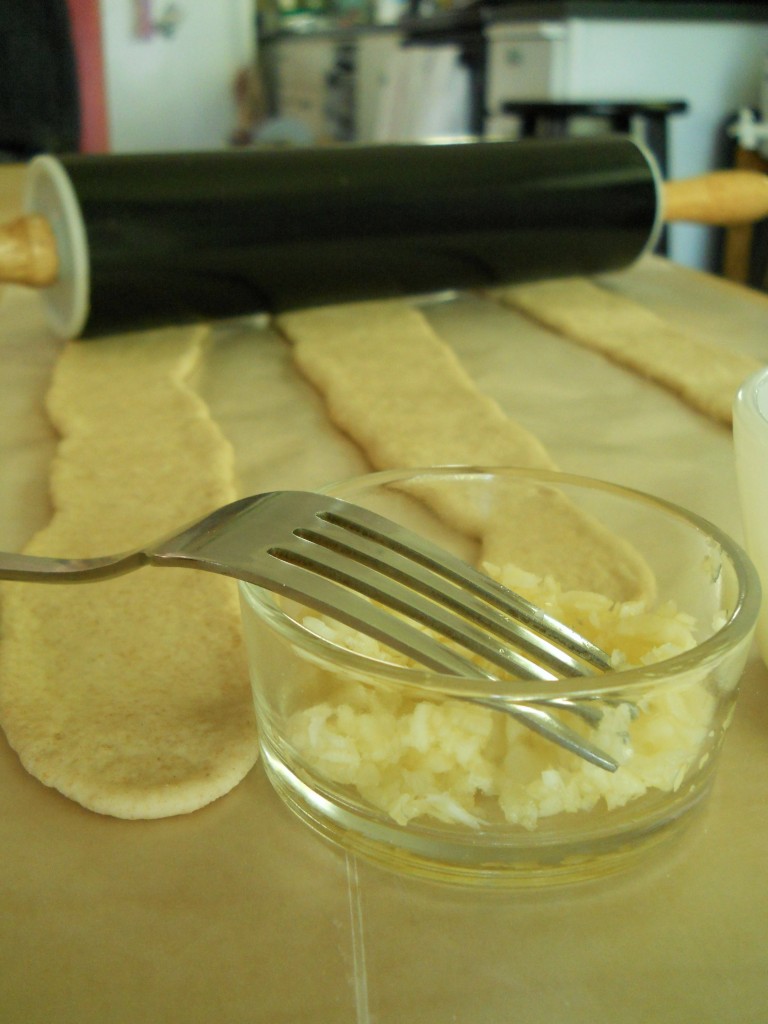 Brush each flat­tened rope with melted mar­garine and sprin­kle evenly with minced gar­lic. Fold over one side of rope to touch the other and seal. Care­fully twist rope into the Dark Mark shape and trans­fer to a parch­ment lined cookie sheet. Repeat, plac­ing about 2 inches apart. Cover with a dish towel and let twists rise in a warm place for about 20 minutes.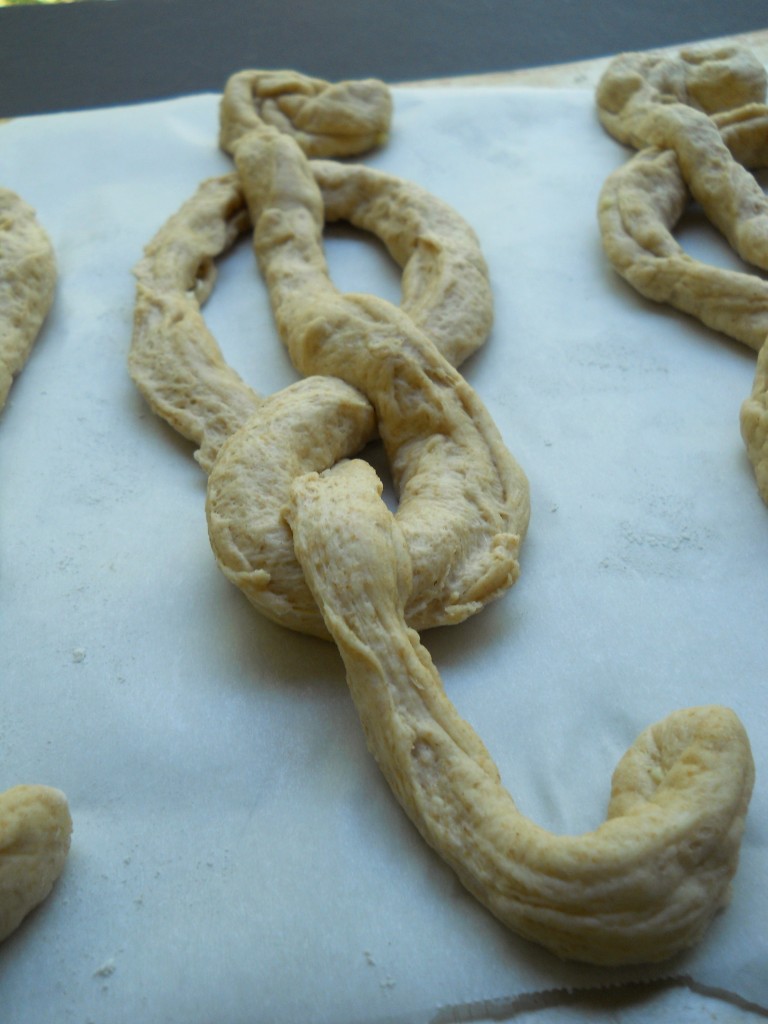 Bake for 12–15 min­utes or until lightly browned. Remove from oven and let cool for a minute or two before brush­ing on remain­ing melted mar­garine. Sprin­kle with sea salt and serve warm.
Makes 3 large Dementor's Kiss Bread Twists. *Can be divided up into 6 parts and rolled out into gar­licky breadsticks.