Happy 4th, party people!
To cel­e­brate, here is a super all-American treat for you with a gluten-free twist– GF short­cake with berries and topped with my mag­i­cal coconut cream!
Harry Pot­ter peo­ple, the recipes begin this week! Woot!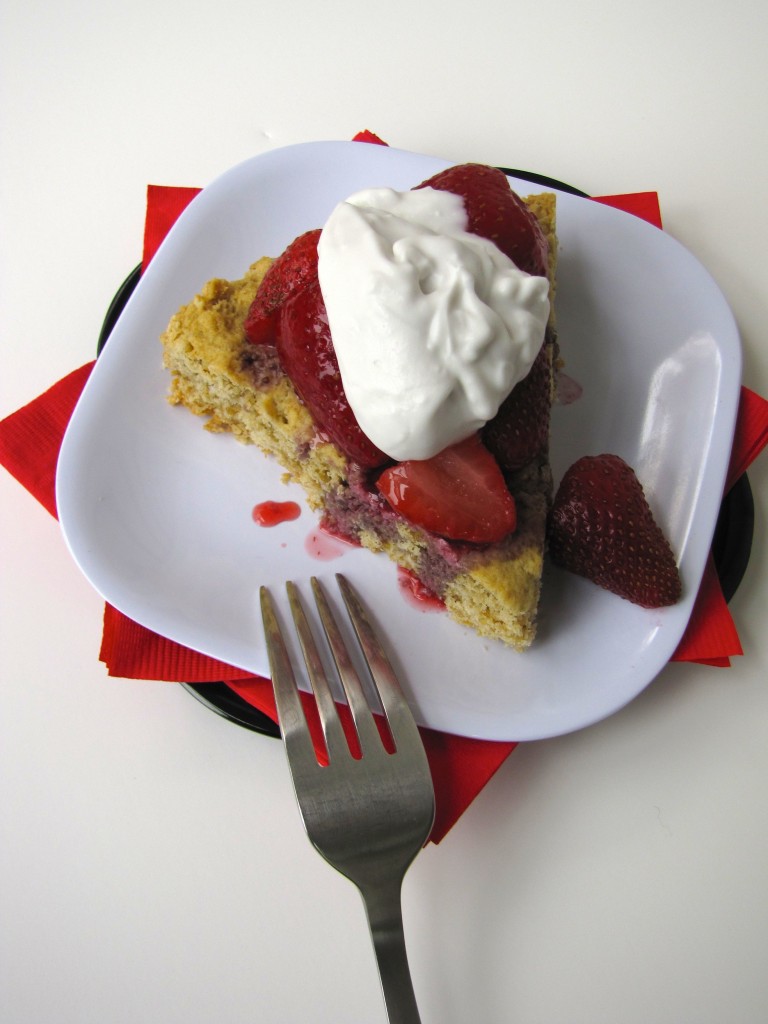 GF Short­cake with Coconut Cream (from Have Your Cake and Vegan Too)
Short­cake:
3 cups chopped fresh berries
1 tbsp. sugar
I cup gluten-free oat­meal, coarsely ground
1 cup brown rice flour
1/4 cup tapi­oca starch
1/4 cup sugar
1 teas. bak­ing pow­der
1 teas. bak­ing soda
1/4 teas. salt
1/2 cup cold mar­garine
1/2 cup milk of choice
Coconut Cream:
1 can reg­u­lar coconut milk (not low­fat), refrig­er­ated for at least 3 hours
1/2 cup pow­dered sugar
1/4 teas. vanilla
In a medium bowl, com­bine the berries and 1 tbsp. sugar. Cover and let sit in fridge for at least one hour to macerate.
Pre­heat oven to 350. Lightly grease and flour (with gluten-free flour) an 8-inch bak­ing round.
In a food proces­sor or bowl com­bine the oats, brown rice flour, tapi­oca starch, sugar, bak­ing pow­der, bak­ing soda and salt. Add the mar­garine in chunks, cut­ting it in with a fork or by puls­ing the flour using the proces­sor, until the mix­ture is course. Add the milk until mix­ture comes together into a sticky batter.
Spread the bat­ter in the pan and bake for 20–25 min­utes, until lightly golden and a tooth­pick comes out clean. Remove and let cool on rack.
Chill bowl and the beat­ers from an elec­tric mixer in the freezer for 15 min­utes. Remove coconut milk from fridge and open can. Scoop out coconut cream from can (do not include the liq­uid) and add to chilled bowl. Add pow­dered sugar and vanilla and whip until creamy. Keep mix­ture chilled in the fridge.
Serve short­cake with berries and coconut cream.