Sorry for being MIA. I should be back to a more nor­mal post­ing sched­ule soon.
Until then– a cake for you to bake in your rice cooker! This cake is from the Not-Baked chap­ter in my new cook­book. It's too darn hot to run your oven, but it's not fair for Mother Nature to expect you to be with­out cake. The easy answer comes in the form of an insanely fluffy cake that will rock your world.
I use the stan­dard white rice set­ting on my rice cooker and this cake is per­fect every time. Just dump it in, set it and you'll be ready to go in no time!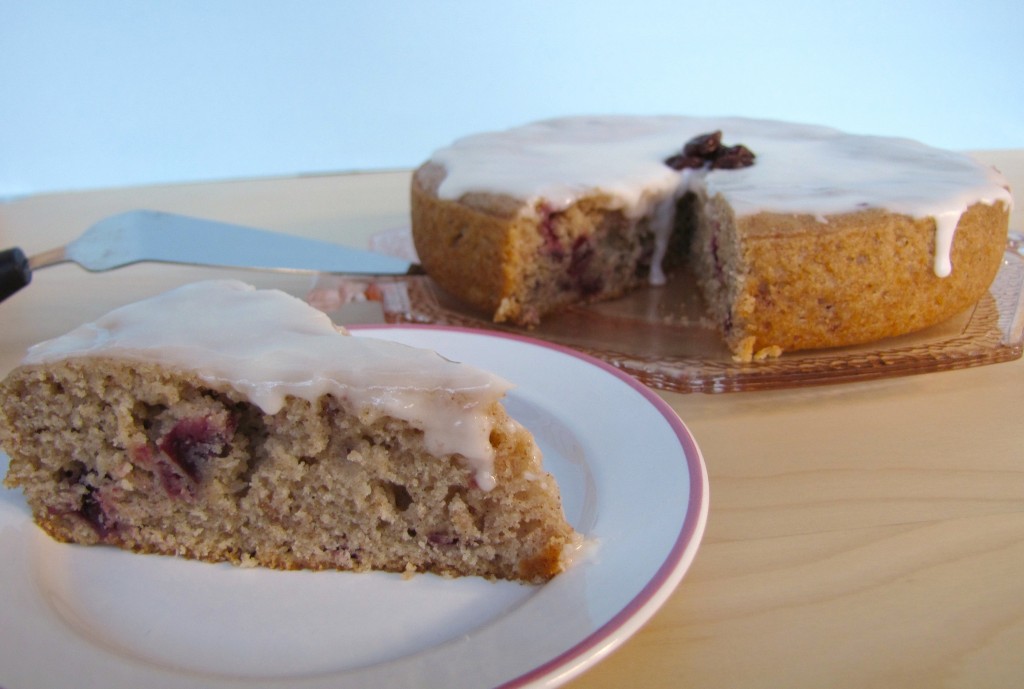 Spiced-Riced Cake
While not con­tain­ing any rice, this is a sim­ple treat straight from the rice cooker and on your table in under 1 hour. This cake holds up beau­ti­fully and the spices really con­tinue to develop, so left­overs are perfect.
1 1/2 cups flour
3/4 cup sugar
2 teas. cin­na­mon
1/2 teas. ground gin­ger
1/4 teas. nut­meg
2 teas. bak­ing pow­der
1/4 teas. salt
1/3 cup apple­sauce
1/4 cup oil
1/2 cup milk
1/2 teas. vanilla
2/3 cup chopped cran­ber­ries (fresh or frozen pre­ferred, only use 1/3 cup if dried)
Lightly grease the inside of your rice cooker pot.
In a small bowl, com­bine the flour, sugar, spices, bak­ing pow­der and salt. In a large bowl, com­bine the apple­sauce and oil. Add the milk and vanilla. Add the wet ingre­di­ents to the dry in batches until just incor­po­rated. Gen­tly add in the cranberries.
Spread the bat­ter into the bot­tom of the rice cooker pot. If your rice cooker is very basic, just select start. If you have more options, cook on the set­ting you would make white rice on. It should cook for approx­i­mately 30–35 min­utes. When the rice cooker alarm sounds that it is done, check with a tooth­pick and remove the pot from the rice cooker and let sit on cool­ing rack. If the tooth­pick doesn't come out clean, let it cook for 5 more min­utes and check again.
Once cake cools, glaze with a the Basic Glaze. Store left­over cake cov­ered loosely at room temperature.
Basic Glaze:
1–2 teas. milk of choice
3/4–1 1/4 cups pow­dered sugar, sifted
Whisk together milk and sugar, start­ing with smaller incre­ments, adding more as needed to make a creamy, lightly spread­able glaze. Spread over cake.