Okay, Treat of the Week is back in full force, folks!
First off, we have a new video. Fresh off the presses, it is part 2 of the cake dec­o­rat­ing piece I'm doing. In this episode we tackle split­ting a cake, fill­ing a pas­try bag, assem­bling a cake and gussy­ing it up.
[vid­dler id-f4dcb163 h-370 w-545]
And I most cer­tainly wasn't going to tease you with all of that cakey good­ness and not give you the recipe! This is the PB Choco­late Dream Cake from Have Your Cake and Vegan Too. It's a nice, moist choco­late cake sam­miched between a creamy PB fill­ing (please note that for the video I dou­bled the amount in the recipe for addi­tional frost­ing for dec­o­rat­ing) and topped with a creamy choco­late ganache. Happy Fri­day, party people!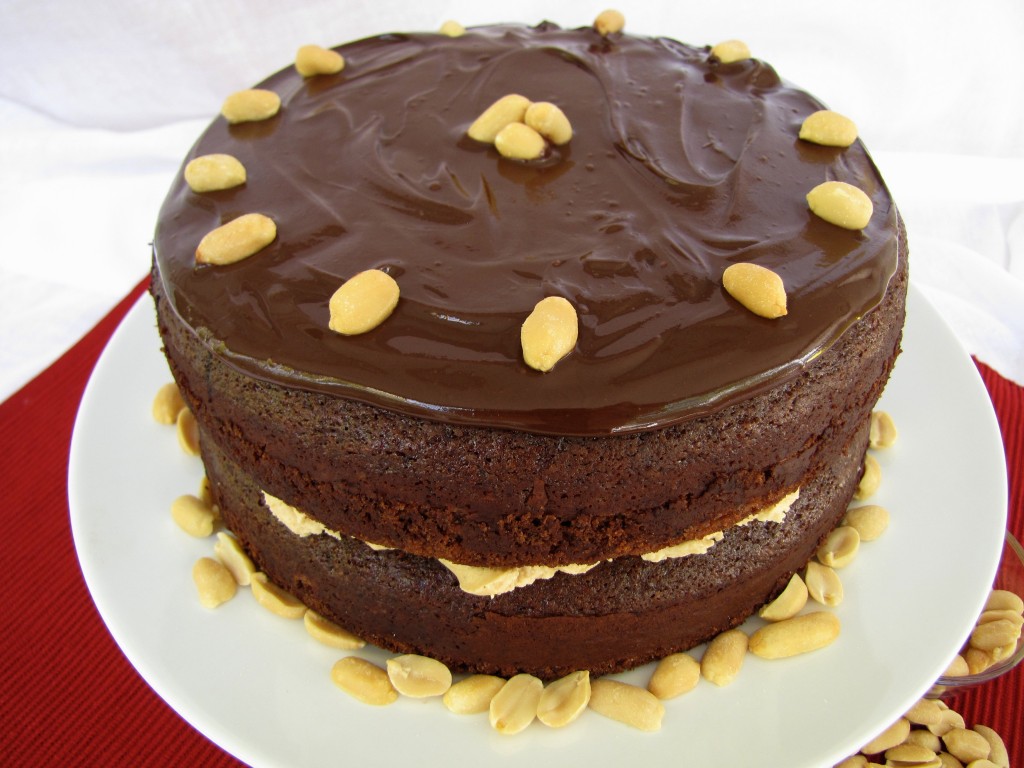 Peanut But­ter Choco­late Dream Cake
Dif­fi­culty: 2 whisks
Deca­dent, but not too rich, this cake will make the PB and choco­late lovers in your life swoon! This is a favorite recipe in our house. Who­ever gets the last piece reigns tri­umphant– but is respon­si­ble for bak­ing the cake next time.
Cake:
1 1/2 cups all-purpose flour
1/4 cup bak­ing cocoa, sifted (Dutch pressed pre­ferred)
1 cup sugar
1 teas. bak­ing pow­der
1/4 teas. salt
1 cup milk of choice, room tem­per­a­ture
1/4 teas. vine­gar
1/4 cup choco­late chips, melted
1/4 cup oil
1 teas. vanilla
PB Fill­ing:
1/3 cup peanut but­ter
2 tbsp. mar­garine, room tem­per­a­ture
1 cup pow­dered sugar
1 teas. milk of choice (if needed)
Ganache Top­ping:
1/3 cup choco­late chips or chopped choco­late
1 tbsp. mar­garine
2 tbsp. milk of choice
1 tbsp. peanut butter
Pre­heat oven to 350. Grease and flour 2 8-inch bak­ing pans and line bot­toms with parch­ment rounds.
In a small bowl, com­bine the flour, cocoa, sugar, bak­ing pow­der, and salt. In a large bowl com­bine the milk and vine­gar and let sit. Add the melted choco­late, oil and vanilla, whisk­ing well. In two batches, incor­po­rate the dry ingre­di­ents into the wet ingre­di­ents, blend­ing until just mixed.
Divide bat­ter into pre­pared pans and spread evenly. Bake for 25–28 min­utes or until a tooth­pick comes out clean. Remove from oven and let cool on cool­ing racks for 15 min­utes before invert­ing and let­ting cool on racks.
To make the fill­ing, in a medium bowl com­bine the peanut but­ter and mar­garine using elec­tric hand­mix­ers. Add pow­dered sugar in batches until fill­ing is sweet­ened to your desire. Add milk, if needed, to make mix­ture spreadable.
Wait until you are almost ready to assem­ble before mak­ing the ganache. Place all ganache ingre­di­ents in a small saucepan and cook over low-medium heat, stir­ring often, until melted. Remove from heat and let cool.
To assem­ble: place the bot­tom layer of cake on your serv­ing plat­ter. Level the top of it, if nec­es­sary. Spread on the peanut but­ter fill­ing and top with the top layer of cake. Care­fully spread on the ganache and let set for about 30 min­utes before serving.
Store left­over cake (if you are so lucky!) in a cov­ered container.
Makes 8 servings