Okay, Treat of the Week is back in full force, folks!
First off, we have a new video. Fresh off the presses, it is part 2 of the cake decorating piece I'm doing. In this episode we tackle splitting a cake, filling a pastry bag, assembling a cake and gussying it up.
[viddler id-f4dcb163 h-370 w-545]
And I most certainly wasn't going to tease you with all of that cakey goodness and not give you the recipe! This is the PB Chocolate Dream Cake from Have Your Cake and Vegan Too. It's a nice, moist chocolate cake sammiched between a creamy PB filling (please note that for the video I doubled the amount in the recipe for additional frosting for decorating) and topped with a creamy chocolate ganache. Happy Friday, party people!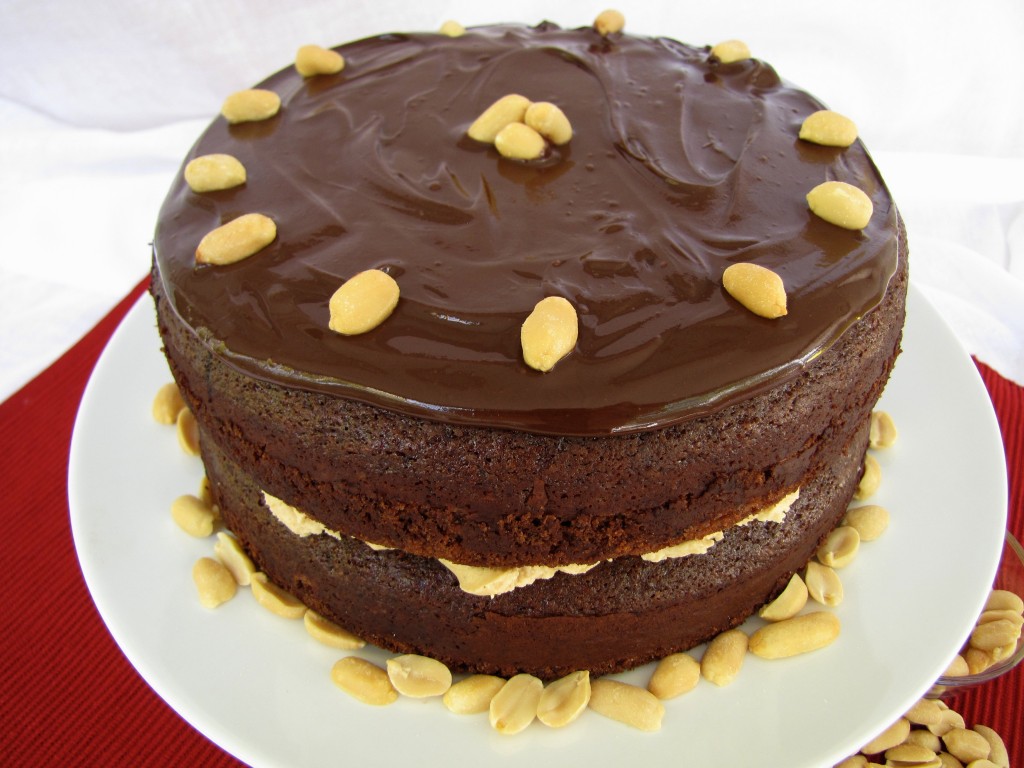 Peanut Butter Chocolate Dream Cake
Difficulty: 2 whisks
Decadent, but not too rich, this cake will make the PB and chocolate lovers in your life swoon! This is a favorite recipe in our house. Whoever gets the last piece reigns triumphant- but is responsible for baking the cake next time.
Cake:
1 1/2 cups all-purpose flour
1/4 cup baking cocoa, sifted (Dutch pressed preferred)
1 cup sugar
1 teas. baking powder
1/4 teas. salt
1 cup milk of choice, room temperature
1/4 teas. vinegar
1/4 cup chocolate chips, melted
1/4 cup oil
1 teas. vanilla
PB Filling:
1/3 cup peanut butter
2 tbsp. margarine, room temperature
1 cup powdered sugar
1 teas. milk of choice (if needed)
Ganache Topping:
1/3 cup chocolate chips or chopped chocolate
1 tbsp. margarine
2 tbsp. milk of choice
1 tbsp. peanut butter
Preheat oven to 350. Grease and flour 2 8-inch baking pans and line bottoms with parchment rounds.
In a small bowl, combine the flour, cocoa, sugar, baking powder, and salt. In a large bowl combine the milk and vinegar and let sit. Add the melted chocolate, oil and vanilla, whisking well. In two batches, incorporate the dry ingredients into the wet ingredients, blending until just mixed.
Divide batter into prepared pans and spread evenly. Bake for 25-28 minutes or until a toothpick comes out clean. Remove from oven and let cool on cooling racks for 15 minutes before inverting and letting cool on racks.
To make the filling, in a medium bowl combine the peanut butter and margarine using electric handmixers. Add powdered sugar in batches until filling is sweetened to your desire. Add milk, if needed, to make mixture spreadable.
Wait until you are almost ready to assemble before making the ganache. Place all ganache ingredients in a small saucepan and cook over low-medium heat, stirring often, until melted. Remove from heat and let cool.
To assemble: place the bottom layer of cake on your serving platter. Level the top of it, if necessary. Spread on the peanut butter filling and top with the top layer of cake. Carefully spread on the ganache and let set for about 30 minutes before serving.
Store leftover cake (if you are so lucky!) in a covered container.
Makes 8 servings