If you feel like mak­ing a road trip, head out to Eugene for my book sign­ing tomor­row! From 1–5 at Hartwick's. There will be samples!
Some­times I feel like a nut.
Some­times I don't.
Actu­ally, that's a lie. I always feel like a nut. If you know me, you know I love "debris" in my bak­ing so I'm always adding nuts and seeds, dried fruit, what­ever else I can fit in there.
The truth is, some­times I feel like deca­dence. Some­times I need some­thing sweet and mel­low (hence­forth known as S&M). This def­i­nitely falls in the S&M category.

I tend to pre­fer using basic ingre­di­ents, easy stuff to come by, but when I see new and excit­ing ingre­di­ents, I can't help but splurge. When they end up mak­ing my treats health­ier, that's even better.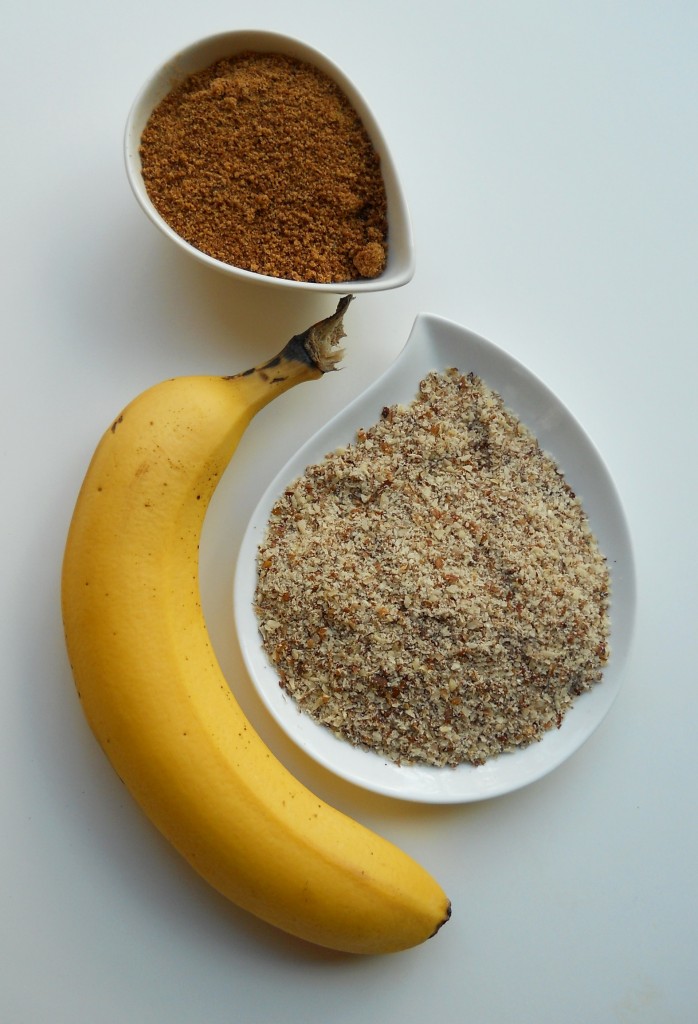 I was recently drawn to two newer items in the bulk sec­tion at my gro­cery store. At the top of the above pic­ture is some coconut sugar, which doesn't taste like coconut, but does have a rich fla­vor that reminds me of molassesy brown sugar. It's made from boiled and crys­tal­lized coconut nec­tar. It's very mildly sweet and has a lovely aroma. Next, is hazel­nut meal. I have been using almond meal for some time, but decided it was due time to exper­i­ment with my friend the fil­bert. And then, of course, we have our old friend banana.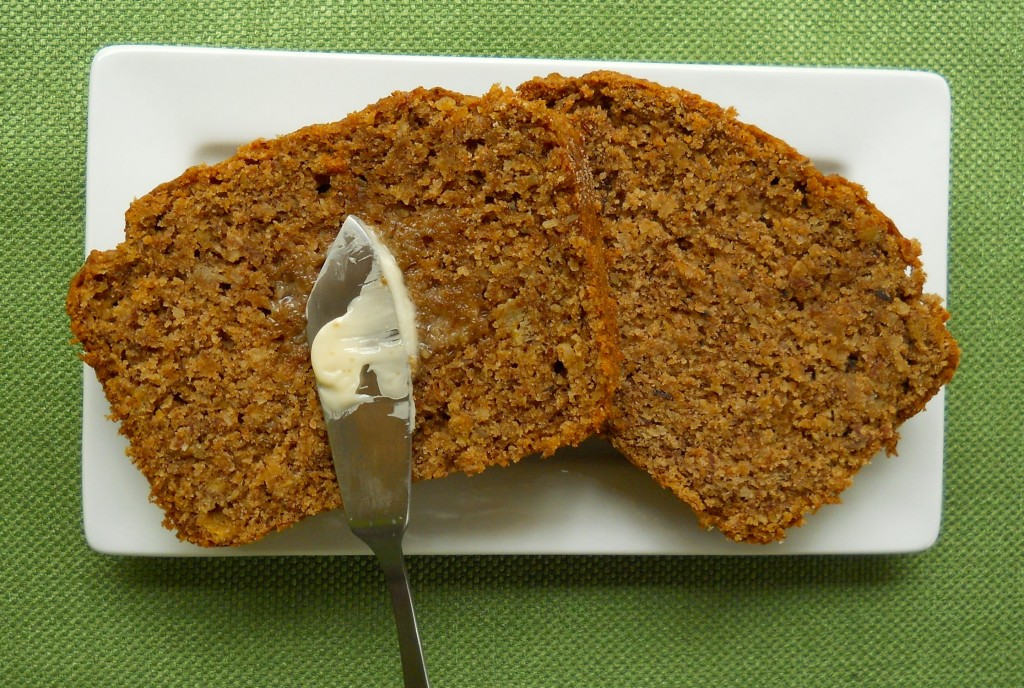 Sugar-free Banana Hazel­nut Bread
Coconut sugar is unadul­ter­ated coconut, mak­ing this bread free of any other sweet­ener. This bread is lightly kissed with sweet­ness, per­fect for break­fast or a snack, but if you want it sweeter, feel free to add 2–3 table­spoons of agave or brown rice syrup to the liq­uid ingre­di­ents and then decrease the amount of milk accord­ingly. The added nut meal increases pro­tein and adds struc­ture to the bread.
1 1/2 cups unbleached all-purpose flour or spelt flour
1 cup hazel­nut meal (can use almond meal)
2 teas. bak­ing pow­der
1 teas. bak­ing soda
1/8 teas. salt
1 cup mashed banana
1/3 cup oil
2/3 cup coconut sugar crys­tals
1/2 cup milk of choice
1/2 teas. vanilla
Pre­heat oven to 350 and lightly grease and flour a 9x5 loaf pan.
In a small bowl com­bine the flour, nut meal, bak­ing pow­der, soda and salt. In a large bowl, mash the banana and add the oil and sugar crys­tals. Com­bine well before adding the milk and vanilla. Add the dry ingre­di­ents to the wet in batches, until just mixed.
Bake for 42–48 min­utes, until a tooth­pick inserted in the cen­ter of the loaf comes out just clean (crumbs may cling to it, but there should be no bat­ter). Let loaf cool on a rack for 20 min­utes before run­ning a knife around the loaf and invert­ing onto the cool­ing rack. Cool, right side up for at least 45 min­utes before serv­ing (if the bread is too warm it will be dif­fi­cult to cut with­out mak­ing a mess of crumbs).
Store left­over bread loosely cov­ered at room temperature.
Yields: 12 slices