I have a dirty little secret.
I love Laura's Wholesome Junk Food. Like, a little too much. Have you ever tried them? They were the first store-bought vegan cookie I ever tried and all these years later I still love coming back for more. They are a treat, but made with whole foods ingredients you can feel good about eating. I always buy them with well-intentioned moderation in mind, but those plans quickly go down the tubes when I eat them all within 2-3 sittings.
Oops.
They are truly delicious, but one of the things that makes my lack of self control a real kick in the chickpeas (ouch!) is the cost. I'm happy to pay good $ for good quality food, there are no complaints there, but the cost makes these more of an occasional treat for me.
Loving the quality of ingredients, the taste and perfect size, I decided that I had to figure out a solution, which in my house naturally means experimental baking.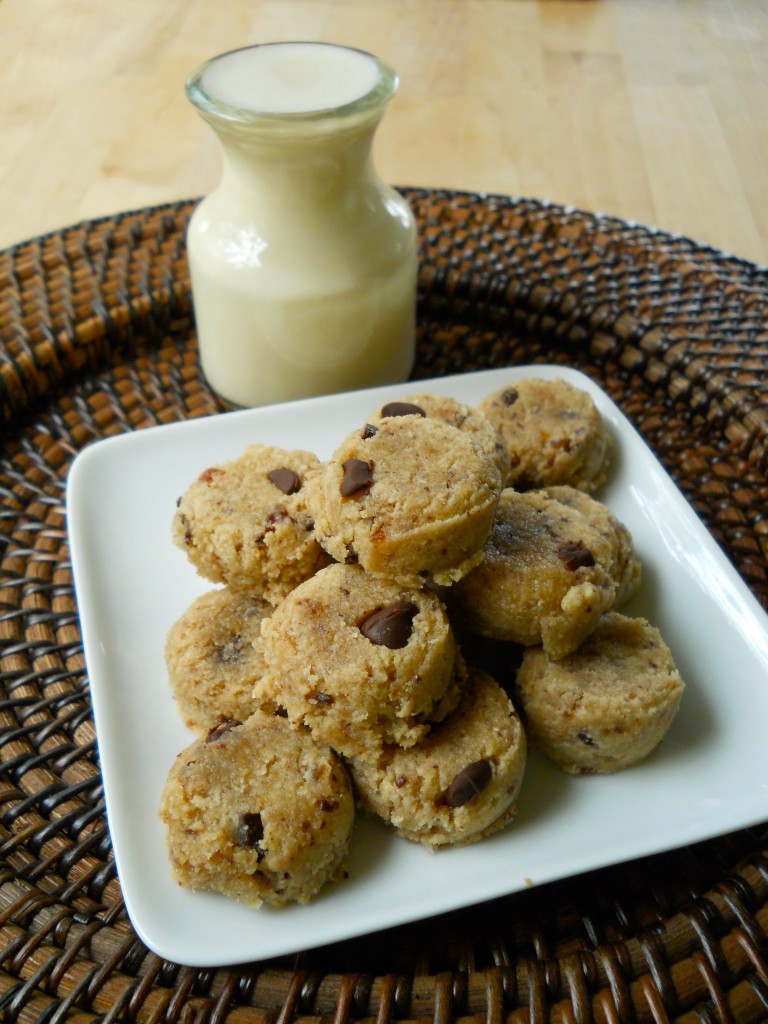 This week's Treat of the Week is my homemade version of Cole's Cashew Bite-lettes. They are gluten-free and awesome. While some of these ingredients cost a bit, you will get many batches of cookies out of them, so that initial investment is well worth it!
Krissy's Cashew Niblets
I cup plus 1 tbsp. brown rice flour
2 tbsp. organic sugar
1 tbsp. tapioca starch or potato starch
1/2 teas. baking powder
1/8 teas. salt
1 cup of raw cashews*
5 Medjool dates, pitted (I have also used 7-8 of those smaller, shinier dates, but I'm not sure what they are called)
2 tbsp. mild oil
2 tbsp. brown rice syrup or agave
1/4 teas. vanilla
1/4- 1/3 cup chopped chocolate or chopped chocolate chips
In a small bowl, place cashews and pour warm water over them. Do the same with the dates, in a separate bowl. Let sit for about a hour to soften. In a small bowl, combine the flour, sugar, starch, baking powder and salt.
Preheat oven to 325 and line a baking sheet with parchment. Drain cashews and place in the bowl of a food processor. Process for about 1-2 minutes, until mealy. Add the drained dates and process to a paste. There might be flecks of date skin, but that's okay. Add the oil, rice syrup or agave and vanilla and mix until incorporated. Add the flour mixture in 2 batches, until a soft dough comes together. Scoop out into a different bowl and add the chopped chocolate chips.
Using a smaller cookie scoop or a teaspoon, scoop out rounded bits of dough and place them 1/2-3/4 inches apart on the prepared cookie sheet (they don't expand very much). Press down on the top of the cookies with the back of a spoon to make them flat on top.
Bake for 8-9 minutes, until they look a little golden and feel set on the edges. Remove cookie sheet from oven and let cool for 5 minutes before transferring cookies to a cooling rack. Store leftover cookies in a loosely covered container at room temperature.
Yields: 50 Niblets
*You can use cashew butter in place of the cashews, if you choose, but reduce volume to 3/4 cup and reduce oil to 1 tbsp.