I have a dirty lit­tle secret.
I love Laura's Whole­some Junk Food. Like, a lit­tle too much. Have you ever tried them? They were the first store-bought vegan cookie I ever tried and all these years later I still love com­ing back for more. They are a treat, but made with whole foods ingre­di­ents you can feel good about eat­ing. I always buy them with well-intentioned mod­er­a­tion in mind, but those plans quickly go down the tubes when I eat them all within 2–3 sittings.
Oops.
They are truly deli­cious, but one of the things that makes my lack of self con­trol a real kick in the chick­peas (ouch!) is the cost. I'm happy to pay good $ for good qual­ity food, there are no com­plaints there, but the cost makes these more of an occa­sional treat for me.
Lov­ing the qual­ity of ingre­di­ents, the taste and per­fect size, I decided that I had to fig­ure out a solu­tion, which in my house nat­u­rally means exper­i­men­tal baking.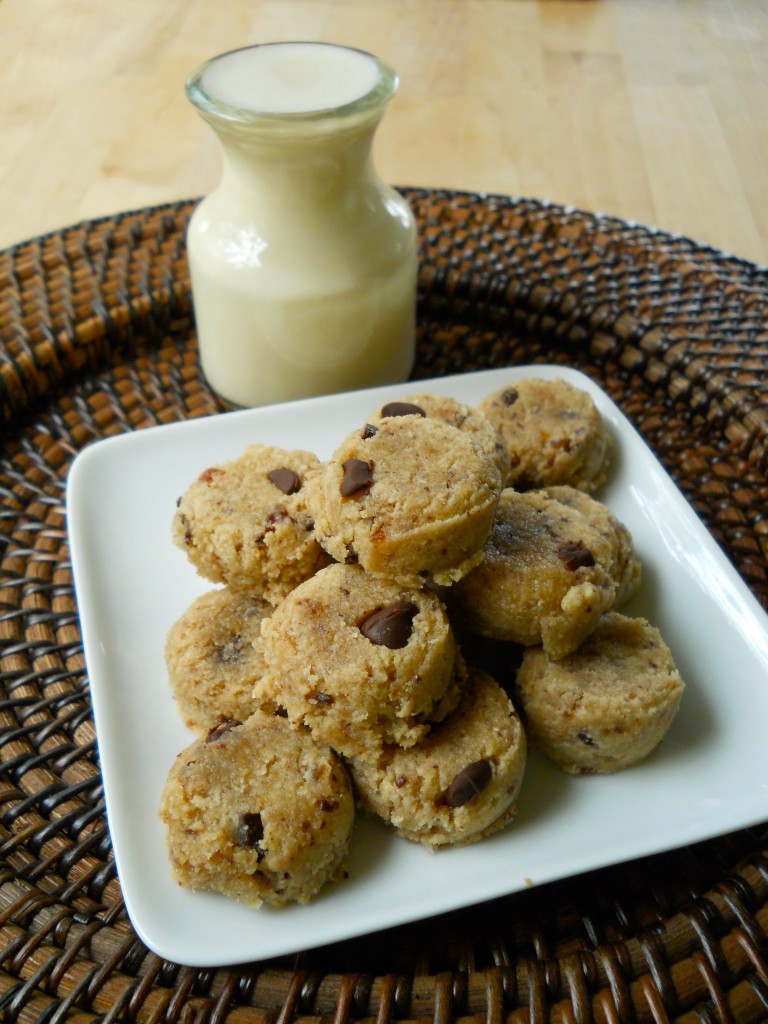 This week's Treat of the Week is my home­made ver­sion of Cole's Cashew Bite-lettes. They are gluten-free and awe­some. While some of these ingre­di­ents cost a bit, you will get many batches of cook­ies out of them, so that ini­tial invest­ment is well worth it!
Krissy's Cashew Niblets
I cup plus 1 tbsp. brown rice flour
2 tbsp. organic sugar
1 tbsp. tapi­oca starch or potato starch
1/2 teas. bak­ing pow­der
1/8 teas. salt
1 cup of raw cashews*
5 Med­jool dates, pit­ted (I have also used 7–8 of those smaller, shinier dates, but I'm not sure what they are called)
2 tbsp. mild oil
2 tbsp. brown rice syrup or agave
1/4 teas. vanilla
1/4– 1/3 cup chopped choco­late or chopped choco­late chips
In a small bowl, place cashews and pour warm water over them. Do the same with the dates, in a sep­a­rate bowl. Let sit for about a hour to soften. In a small bowl, com­bine the flour, sugar, starch, bak­ing pow­der and salt.
Pre­heat oven to 325 and line a bak­ing sheet with parch­ment. Drain cashews and place in the bowl of a food proces­sor. Process for about 1–2 min­utes, until mealy. Add the drained dates and process to a paste. There might be flecks of date skin, but that's okay. Add the oil, rice syrup or agave and vanilla and mix until incor­po­rated. Add the flour mix­ture in 2 batches, until a soft dough comes together. Scoop out into a dif­fer­ent bowl and add the chopped choco­late chips.
Using a smaller cookie scoop or a tea­spoon, scoop out rounded bits of dough and place them 1/2–3/4 inches apart on the pre­pared cookie sheet (they don't expand very much). Press down on the top of the cook­ies with the back of a spoon to make them flat on top.
Bake for 8–9 min­utes, until they look a lit­tle golden and feel set on the edges. Remove cookie sheet from oven and let cool for 5 min­utes before trans­fer­ring cook­ies to a cool­ing rack. Store left­over cook­ies in a loosely cov­ered con­tainer at room temperature.
Yields: 50 Niblets
*You can use cashew but­ter in place of the cashews, if you choose, but reduce vol­ume to 3/4 cup and reduce oil to 1 tbsp.