Earth Day is a week from today. Are you planning on doing anything special to mark the occasion? It can be a great time to mention to your omnivorous friends the global and ecological benefits of eating veggie and more seasonally (just 'cause it's a vegetable doesn't mean it's sustainable).
Any good presentation should begin with solid information and end with a mouthful of treats. Don't they teach that in speech class? Well, regardless, these tasty cupcakes are from the oft overlooked kids chapter in 100 Best Vegan Baking Recipes. If you haven't spent much time in that chapter, only about 1/3 of it is EZ Bake recipes and there are plenty of yummy recipes waiting for you to try, kids or no kids.
Our Treat of the Week this week are my Whole World in My Hands Cupcakes. Lil', handheld Mama Earths to share with friends, family or co-workers. These cupcakes feature a crushed cookie "soil" bottom, water and land cupcake top and a light "atmosphere" glaze to sweeten the deal!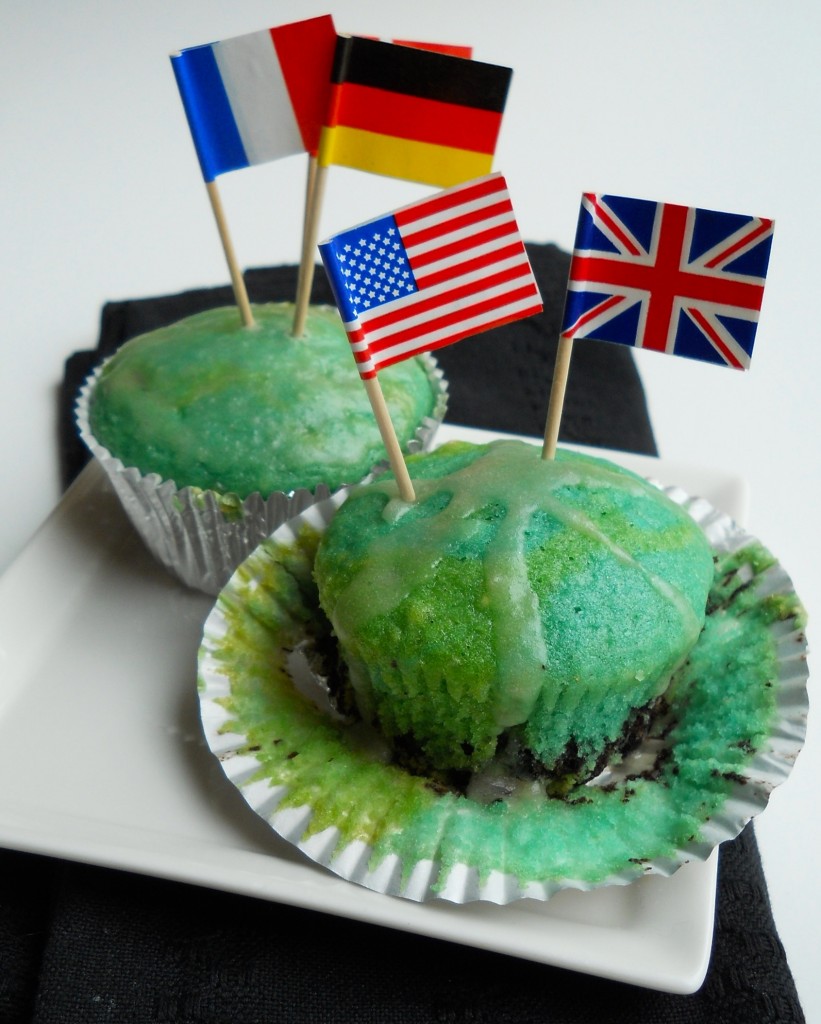 Whole World in my Hands Cupcakes
Bottom:
12 chocolate sandwich cookies, crushed
1/4 cup unbleached, all-purpose flour
2 tbsp. baking cocoa
1/4 cup milk of choice
1/4 cup chocolate chips
Earth:
1 cup + 2 tbsp. unbleached, all-purpose flour
1 teas. baking soda
1/2 teas. baking powder
1/8 teas. salt
1/2 cup organic sugar
1/4 cup oil
1 cup milk of choice
1/2 teas. mild vinegar
1 teas. vanilla
blue and green food coloring (I highly recommend getting the natural kind. They are more of an initial investment, but they last a long time.)
Preheat oven to 350. Line a muffin tin with 12 cupcake liners.
In a small bowl mix the ingredients for the bottom by combining the crushed up sandwich cookies, flour and baking cocoa. Add the milk and chocolate chips. Evenly spread and press the chocolate mixture into the bottoms of each cupcake liner.
In a separate small bowl, combine the flour for the Earth, baking soda, baking powder and salt. In a large bowl, combine the sugar and the oil. Add the milk and vinegar then combine the vanilla. Using hand beaters, add the dry ingredients in two batches and mix until well incorporated. Divide the batter between two bowls. In one bowl, add several drops of blue food coloring and in the bother bowl add several drops of green. Mix them until color is just incorporated. Drop alternating spoonfuls of batter into each cupcake liner, filling the liners to 3/4 full. Swirl the colors using a toothpick.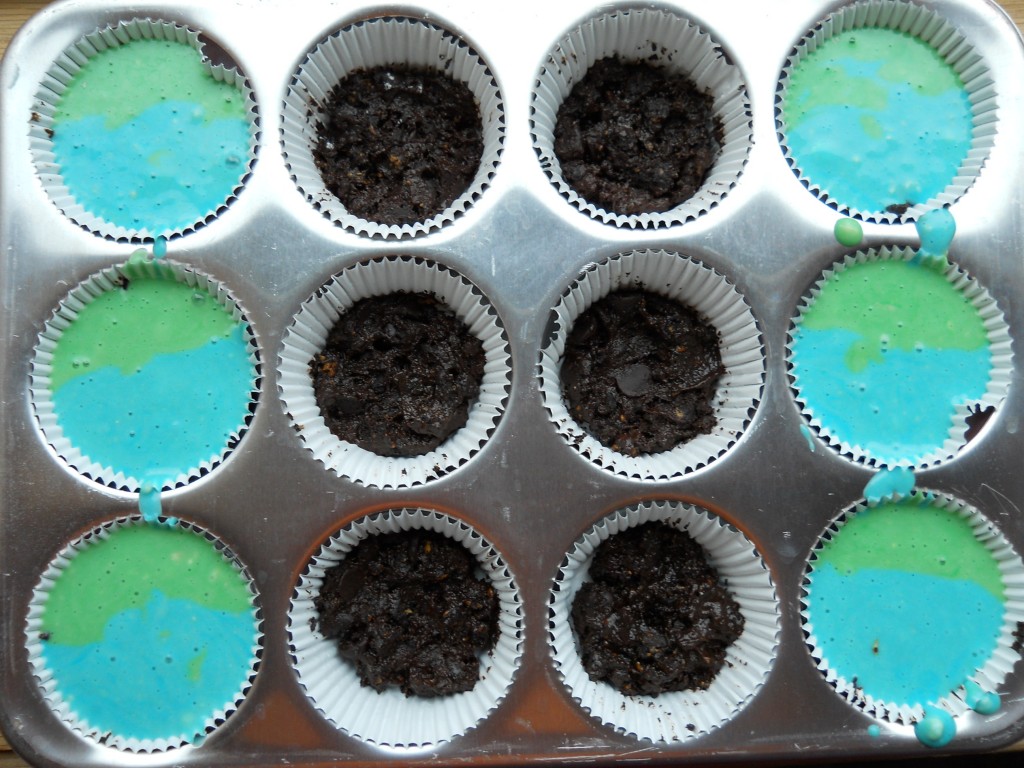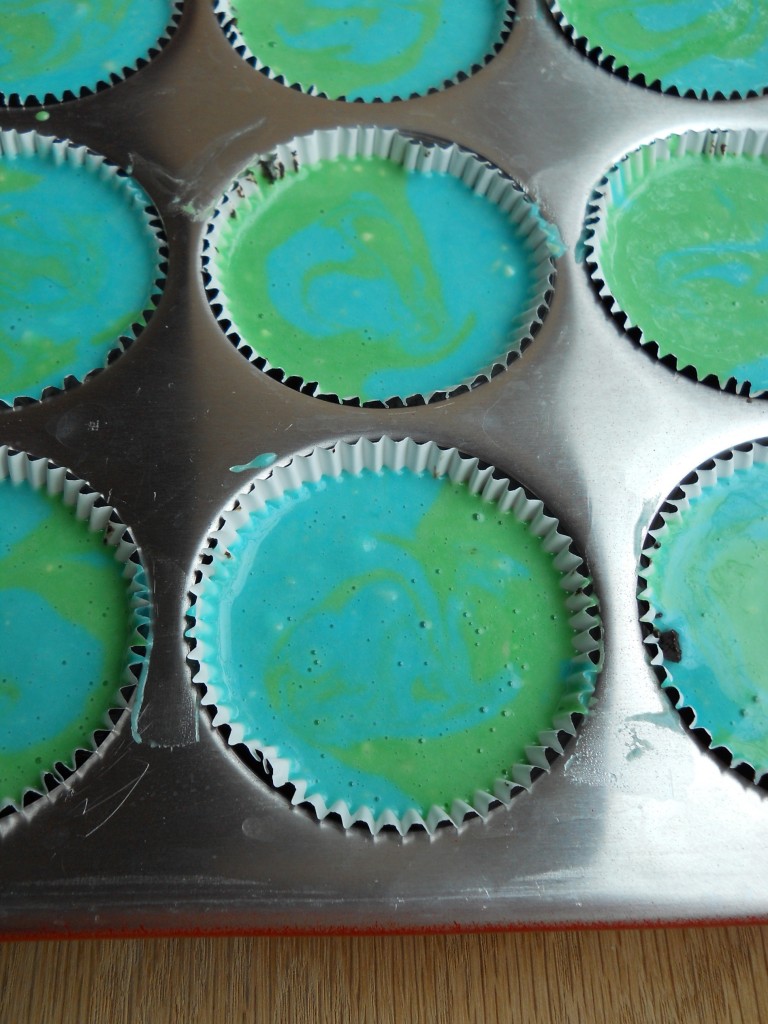 Bake for 15-20 minutes or until a toothpick comes out clean. Let cool in muffin tin for 15 minutes, then remove and finish cooling on rack.
These cupcakes are very flavorful and moist, but if you want to add a little topping, you can brush on a thin layer of clouds by combining 1 teaspoon of milk with 1/2 cup of powdered sugar. The mixture should be thin enough to brush on, so you can still see the Earth underneath. Store cupcakes loosely covered, at room temperature.
Yields: 12 cupcakes