Earth Day is a week from today. Are you plan­ning on doing any­thing spe­cial to mark the occa­sion? It can be a great time to men­tion to your omniv­o­rous friends the global and eco­log­i­cal ben­e­fits of eat­ing veg­gie and more sea­son­ally (just 'cause it's a veg­etable doesn't mean it's sustainable).
Any good pre­sen­ta­tion should begin with solid infor­ma­tion and end with a mouth­ful of treats. Don't they teach that in speech class? Well, regard­less, these tasty cup­cakes are from the oft over­looked kids chap­ter in 100 Best Vegan Bak­ing Recipes. If you haven't spent much time in that chap­ter, only about 1/3 of it is EZ Bake recipes and there are plenty of yummy recipes wait­ing for you to try, kids or no kids.
Our Treat of the Week this week are my Whole World in My Hands Cup­cakes. Lil', hand­held Mama Earths to share with friends, fam­ily or co-workers. These cup­cakes fea­ture a crushed cookie "soil" bot­tom, water and land cup­cake top and a light "atmos­phere" glaze to sweeten the deal!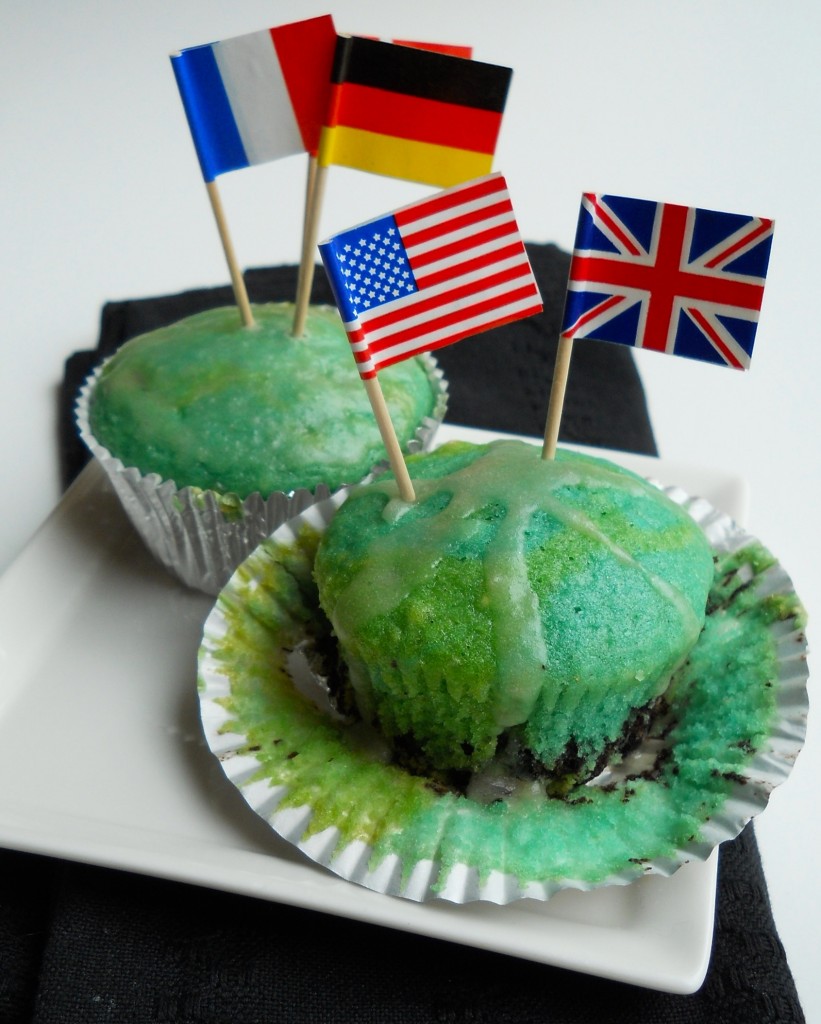 Whole World in my Hands Cupcakes
Bot­tom:
12 choco­late sand­wich cook­ies, crushed
1/4 cup unbleached, all-purpose flour
2 tbsp. bak­ing cocoa
1/4 cup milk of choice
1/4 cup choco­late chips
Earth:
1 cup + 2 tbsp. unbleached, all-purpose flour
1 teas. bak­ing soda
1/2 teas. bak­ing pow­der
1/8 teas. salt
1/2 cup organic sugar
1/4 cup oil
1 cup milk of choice
1/2 teas. mild vine­gar
1 teas. vanilla
blue and green food col­or­ing (I highly rec­om­mend get­ting the nat­ural kind. They are more of an ini­tial invest­ment, but they last a long time.)
Pre­heat oven to 350. Line a muf­fin tin with 12 cup­cake liners.
In a small bowl mix the ingre­di­ents for the bot­tom by com­bin­ing the crushed up sand­wich cook­ies, flour and bak­ing cocoa. Add the milk and choco­late chips. Evenly spread and press the choco­late mix­ture into the bot­toms of each cup­cake liner.
In a sep­a­rate small bowl, com­bine the flour for the Earth, bak­ing soda, bak­ing pow­der and salt. In a large bowl, com­bine the sugar and the oil. Add the milk and vine­gar then com­bine the vanilla. Using hand beat­ers, add the dry ingre­di­ents in two batches and mix until well incor­po­rated. Divide the bat­ter between two bowls. In one bowl, add sev­eral drops of blue food col­or­ing and in the bother bowl add sev­eral drops of green. Mix them until color is just incor­po­rated. Drop alter­nat­ing spoon­fuls of bat­ter into each cup­cake liner, fill­ing the lin­ers to 3/4 full. Swirl the col­ors using a toothpick.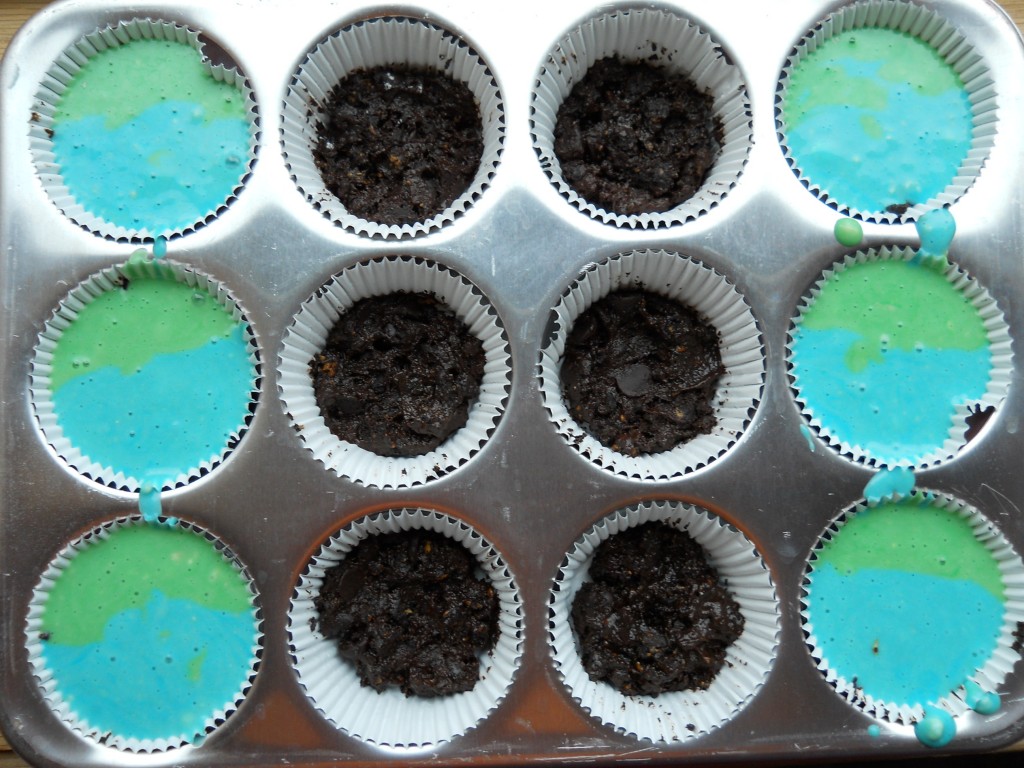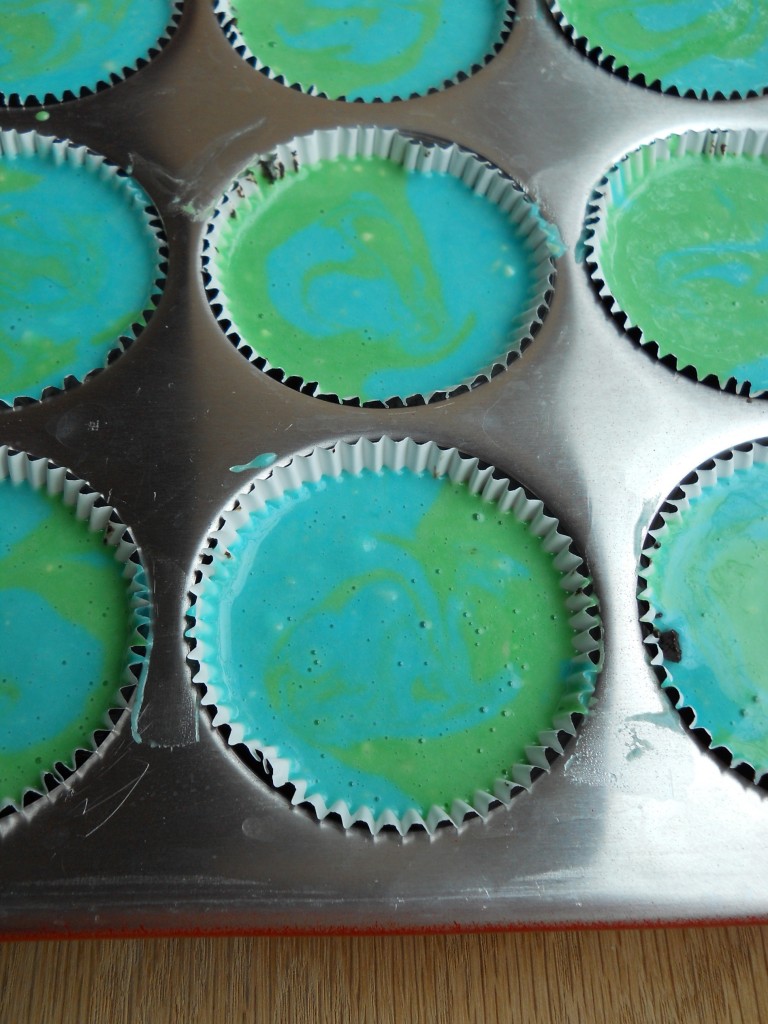 Bake for 15–20 min­utes or until a tooth­pick comes out clean. Let cool in muf­fin tin for 15 min­utes, then remove and fin­ish cool­ing on rack.
These cup­cakes are very fla­vor­ful and moist, but if you want to add a lit­tle top­ping, you can brush on a thin layer of clouds by com­bin­ing 1 tea­spoon of milk with 1/2 cup of pow­dered sugar. The mix­ture should be thin enough to brush on, so you can still see the Earth under­neath. Store cup­cakes loosely cov­ered, at room temperature.
Yields: 12 cupcakes