Last summer I ended up inheriting a set of cast iron cake pans. They had been in the family for several generations and are in the shape of 3-D lambs. I wasn't familiar with this tradition and a little internet research brought me to learn more about these sought-after lamb cake molds.
The tradition of lamb-shaped cakes at Easter is strong in various communities, especially the Chicago area, and mainly attributed to the Polish community, although everyone enjoys the lamb cakes (and butter and whatever else can be shoved into a mold) this time of year. It seems that the history is rooted in Eastern European culture and has been thriving here in the US for as long as our ancestors have been setting up shop. While you can get more modern lamb cake molds, the older cast iron ones are highly sought after. I've even read stories about older European bakeries going out of business and actual physical fights between other bakers in town to get dibs on their lamb molds!
Given my Polish Catholic roots, I jumped at the opportunity to inherit this piece of baking history.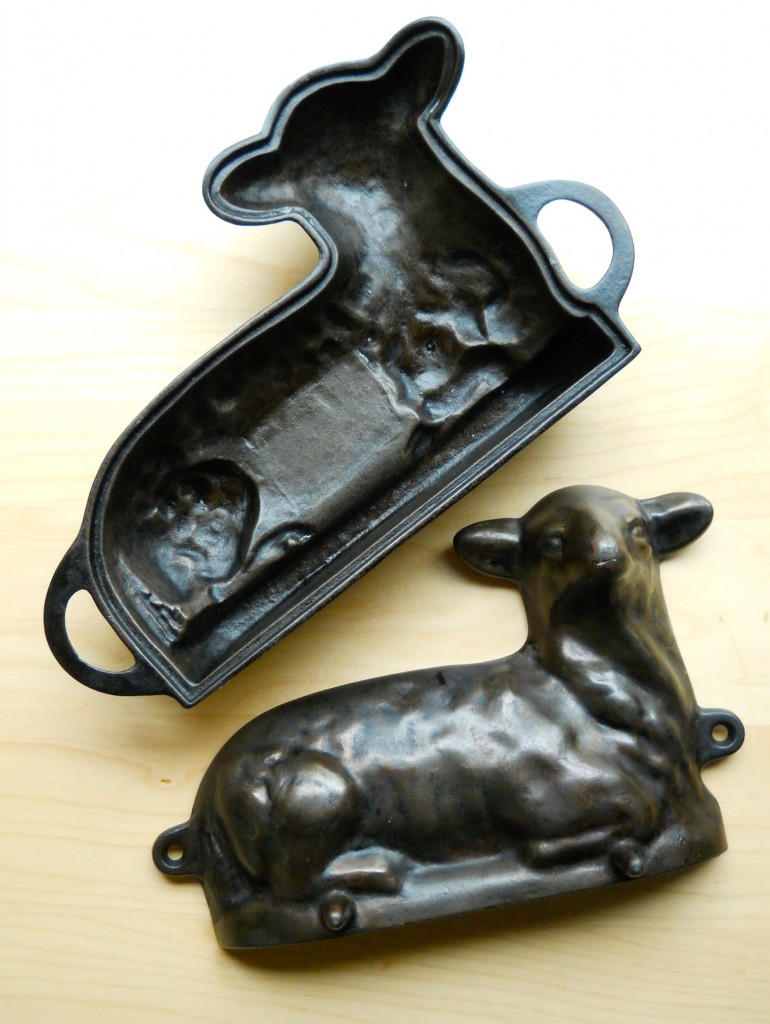 I made a lemony pound cake to fill the mold with and then frosted it with a coconut cream cheese frosting. Traditionally, the frosting hack job would be masked with a layer of fluffy coconut "wool", but I hate the texture of shredded coconut, so rather I made some coconut grass and just settled with my lackluster frosting job. I think it gives him character.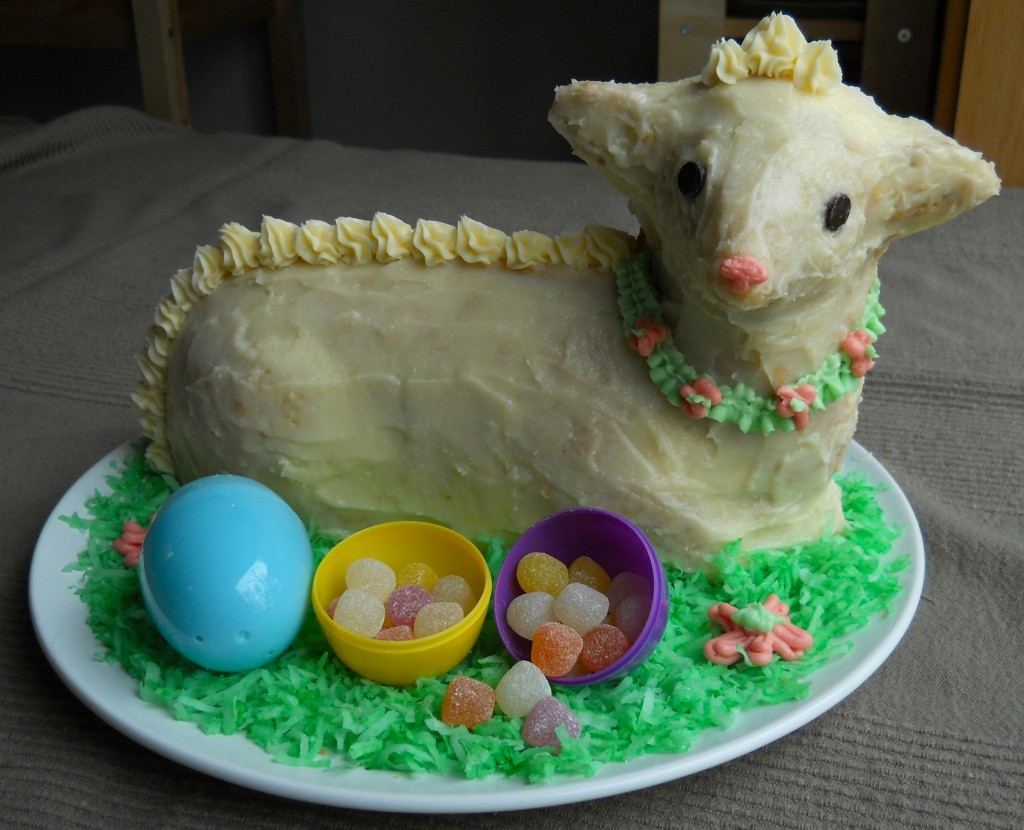 This recipe can easily be made in a 10-12 cup capacity Bundt pan. I found the gumdrops at Trader Joe's- vegan and both naturally flavored and colored!
Lemony Lamb Cake
Cake:
3 1/2 cups unbleached all-purpose flour
1 tbsp. baking powder
2 teas. baking soda
1/2 teas. salt
1 cup margarine, room temperature
1 1/2 cups organic sugar
1/4 cup applesauce
juice of 2 Meyer lemons + zest plus milk of choice equal to 1 3/4 cups (if using regular lemons, do not exceed 1/4 cup juice)
2 teas. vanilla
Frosting:
1- 8 oz. container of soy cream cheese, room temperature
2 tablespoons coconut oil, slightly melted (can just use margarine if not using coconut oil)
1 tbsp. margarine, room temperature
2-3 cups sifted organic powdered sugar
Additional:
Coconut, food coloring, chocolate chips, gum drops, etc. to decorate
Preheat oven to 350 and lightly grease and flour the Bundt pan. If using a cast iron lamb cake pan, you should have seasoned it before getting to this step.
For the cake, in a medium sized bowl, combine the flour, baking powder, baking soda and salt. In a large bowl, cream together the margarine, sugar and applesauce. Add the lemon juice/milk combo and vanilla and combine well. Add the flour mixture in batches until just mixed. Divide batter between sides of the lamb mold or spread into the Bundt pan.
Bake cake for 35-45 minutes for the lamb cakes (depending on the size of your pans) or 45-50 minutes in the Bundt pan, until a toothpick comes out clean and the top of the cake is lightly browned. Remove pans from oven and let cool completely in pan, on a cooling rack, before unmolding.
To make the frosting- cream together the cream cheese, coconut oil and margarine until smooth. Add the powdered sugar and mix until smooth and sweetened to your liking. Refrigerate for at least 30 minutes to firm up coconut oil.
To assemble the lamb cake- level the sides of the lamb cake so they will match up and spread frosting on one side to "attach". Carefully sit lamb upright on the serving platter and continue frosting. For the Bundt, spread the frosting over the top of the cooled and inverted cake. Store leftover cake in loosely covered container in fridge.
Yields: 10-12 servings