Last sum­mer I ended up inher­it­ing a set of cast iron cake pans. They had been in the fam­ily for sev­eral gen­er­a­tions and are in the shape of 3-D lambs. I wasn't famil­iar with this tra­di­tion and a lit­tle inter­net research brought me to learn more about these sought-after lamb cake molds.
The tra­di­tion of lamb-shaped cakes at Easter is strong in var­i­ous com­mu­ni­ties, espe­cially the Chicago area, and mainly attrib­uted to the Pol­ish com­mu­nity, although every­one enjoys the lamb cakes (and but­ter and what­ever else can be shoved into a mold) this time of year. It seems that the his­tory is rooted in East­ern Euro­pean cul­ture and has been thriv­ing here in the US for as long as our ances­tors have been set­ting up shop. While you can get more mod­ern lamb cake molds, the older cast iron ones are highly sought after. I've even read sto­ries about older Euro­pean bak­eries going out of busi­ness and actual phys­i­cal fights between other bak­ers in town to get dibs on their lamb molds!
Given my Pol­ish Catholic roots, I jumped at the oppor­tu­nity to inherit this piece of bak­ing history.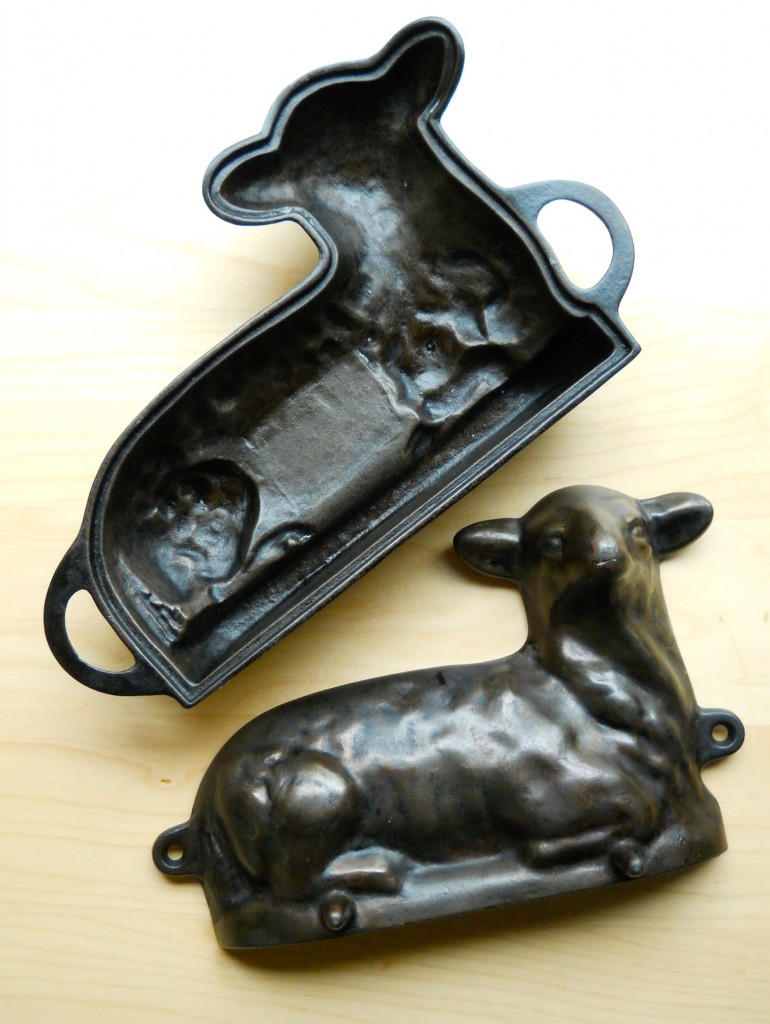 I made a lemony pound cake to fill the mold with and then frosted it with a coconut cream cheese frost­ing. Tra­di­tion­ally, the frost­ing hack job would be masked with a layer of fluffy coconut "wool", but I hate the tex­ture of shred­ded coconut, so rather I made some coconut grass and just set­tled with my lack­lus­ter frost­ing job. I think it gives him character.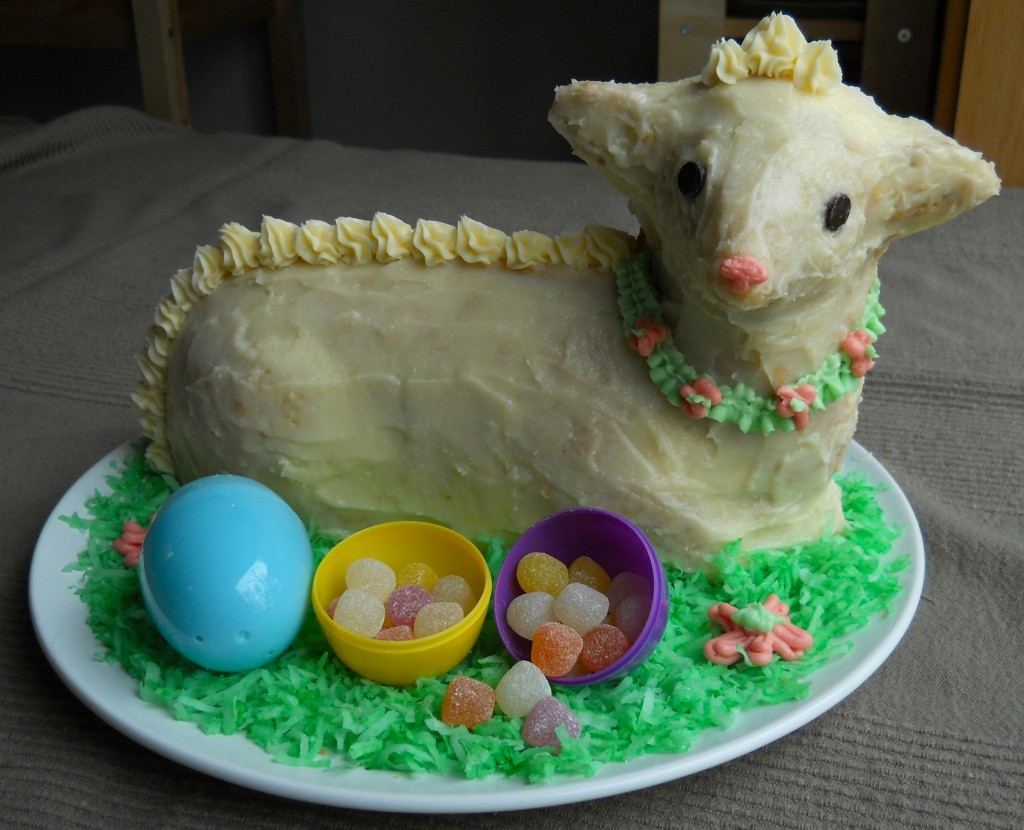 This recipe can eas­ily be made in a 10–12 cup capac­ity Bundt pan. I found the gum­drops at Trader Joe's– vegan and both nat­u­rally fla­vored and colored!
Lemony Lamb Cake
Cake:
3 1/2 cups unbleached all-purpose flour
1 tbsp. bak­ing pow­der
2 teas. bak­ing soda
1/2 teas. salt
1 cup mar­garine, room tem­per­a­ture
1 1/2 cups organic sugar
1/4 cup apple­sauce
juice of 2 Meyer lemons + zest plus milk of choice equal to 1 3/4 cups (if using reg­u­lar lemons, do not exceed 1/4 cup juice)
2 teas. vanilla
Frost­ing:
1– 8 oz. con­tainer of soy cream cheese, room tem­per­a­ture
2 table­spoons coconut oil, slightly melted (can just use mar­garine if not using coconut oil)
1 tbsp. mar­garine, room tem­per­a­ture
2–3 cups sifted organic pow­dered sugar
Addi­tional:
Coconut, food col­or­ing, choco­late chips, gum drops, etc. to decorate
Pre­heat oven to 350 and lightly grease and flour the Bundt pan. If using a cast iron lamb cake pan, you should have sea­soned it before get­ting to this step.
For the cake, in a medium sized bowl, com­bine the flour, bak­ing pow­der, bak­ing soda and salt. In a large bowl, cream together the mar­garine, sugar and apple­sauce. Add the lemon juice/milk combo and vanilla and com­bine well. Add the flour mix­ture in batches until just mixed. Divide bat­ter between sides of the lamb mold or spread into the Bundt pan.
Bake cake for 35–45 min­utes for the lamb cakes (depend­ing on the size of your pans) or 45–50 min­utes in the Bundt pan, until a tooth­pick comes out clean and the top of the cake is lightly browned. Remove pans from oven and let cool com­pletely in pan, on a cool­ing rack, before unmolding.
To make the frost­ing– cream together the cream cheese, coconut oil and mar­garine until smooth. Add the pow­dered sugar and mix until smooth and sweet­ened to your lik­ing. Refrig­er­ate for at least 30 min­utes to firm up coconut oil.
To assem­ble the lamb cake– level the sides of the lamb cake so they will match up and spread frost­ing on one side to "attach". Care­fully sit lamb upright on the serv­ing plat­ter and con­tinue frost­ing. For the Bundt, spread the frost­ing over the top of the cooled and inverted cake. Store left­over cake in loosely cov­ered con­tainer in fridge.
Yields: 10–12 servings