The win­ner of my Have Your Cake and Vegan Too draw­ing was lucky #12– Jodie! Rest assured there will be more draw­ings to come!
One my favorite cakes grow­ing up was a Mid­west­ern clas­sic– a box of this, a tub of that. Noth­ing fresh, all chem­i­cal. Amer­i­cana at it's finest.

It was a boxed yel­low cake mix with a can of man­darin oranges pureed into it, topped with Cool-Whip mixed with crushed pineap­ple and vanilla instant pud­ding. Oh yeah, baby. We're talk­ing potluck to the max. I even loved it more than the sum­mer­time clas­sic "Bet­ter Than Sex Cake". It was serious.
While the idea of it now makes me shud­der to think of the chem­i­cal com­pounds involved, the fla­vors of it still evoke mem­o­ries of sum­mer, swim­ming in my aunt's swim­ming pool (Maple Grove, 4ever!), and being eaten alive by mos­qui­toes. *insert nos­tal­gic, wavy mem­ory inter­lude here*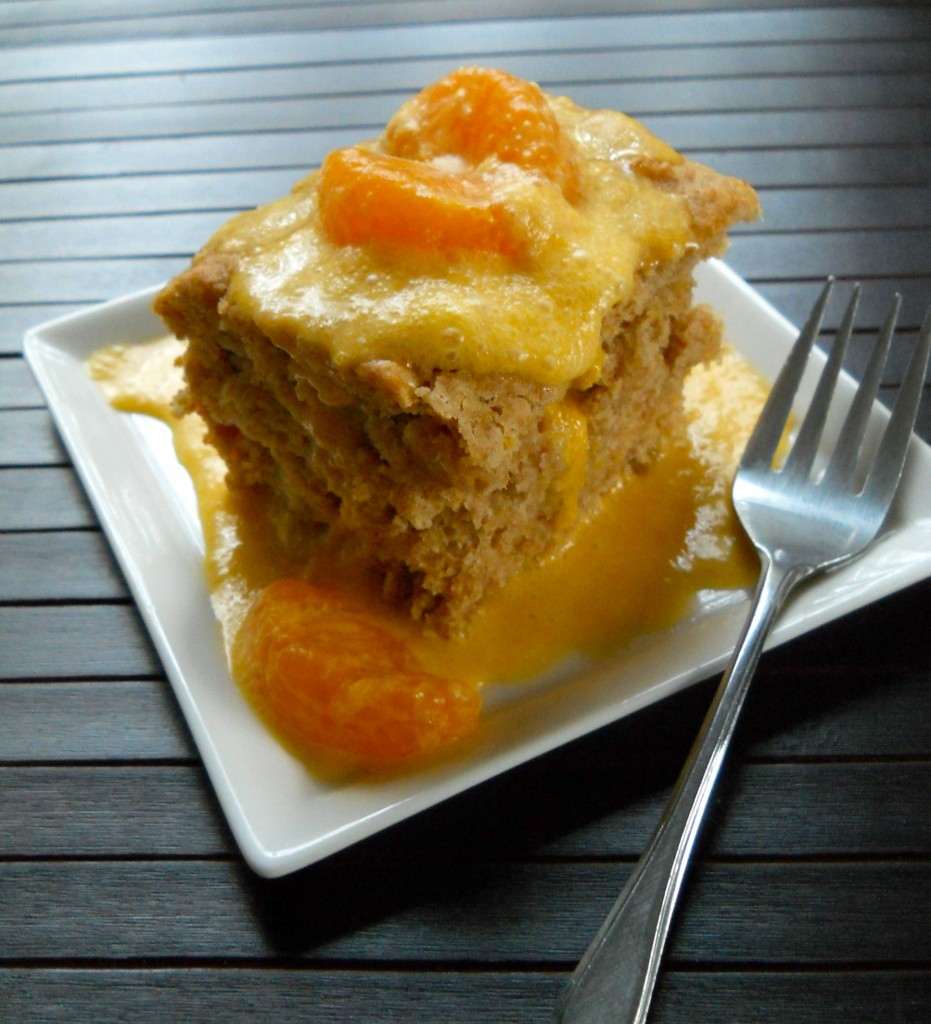 This ver­sion of that clas­sic cake is deli­cious and light, sun-kissed with sweet­ness and retains those same fla­vors of pineap­ple and man­darin oranges. Only it's from scratch, has whole grains in it and has no con­ven­tional sugar. It is solely sweet­ened with fruit and agave. Sum­mer FTW!
Mid­west in My Mouf Cake
Cake:
1 1/2 cups white whole wheat or spelt flour
1 cup all-purpose flour
2 teas. bak­ing pow­der
1/2 teas. bak­ing soda
1/8 teas. salt
1– 20 oz. can of crushed pineap­ple, with the juice (in pineap­ple juice, none of that syrupy junk!)
1/3 cup plus 1 tbsp. agave (or brown rice syrup)
1/4 cup mild veg­etable oil
2 teas. vanilla
Top­ping:
2 cans of man­darin oranges (10 or 11 oz. cans)
2 tbsp. coconut cream (eas­ily scooped from the top of a can of full-fat coconut milk)
Pre­heat oven to 350. Lightly grease a 9 x 12 pan (or 8 x 8 for a taller cake) or line with parch­ment paper.
In a small bowl, com­bine the flours, bak­ing pow­der, soda and salt. Reserve 3/4 cup of the crushed pineap­ple. In a food proces­sor, blend remain­ing pineap­ple, with juice, until smooth. In a large bowl, com­bine the pineap­ple puree, crushed pineap­ple, oil, agave and vanilla. Mix well. In batches, add the dry ingre­di­ents to the wet until just mixed.
Spread the bat­ter into the pre­pared pan and bake for 30–35 min­utes for the 9 x 12 pan or 35–40 for the 8 x 8 pan, until golden and a tooth­pick comes out clean.
To make the top­ping– drain the man­darin oranges. Place 1 can of man­darin oranges and the coconut cream in a food proces­sor and puree until smooth and frothy. Remove mix­ture to a bowl and add the other oranges. Chill until slightly thick­ened, about a hour.
Serve slices of cake topped with man­darin cream sauce. Store left­over sauce in the fridge, and left­over cake loosely cov­ered at room temperature.
Yields: 12–16 slices of cake