april fools'! it's a cupcake, no it's a soda- wait, it's both!
Happy April Fools'! My pride and joy, Have Your Cake and Vegan Too, is upon us and should be shipping any minute. And that's no joke!

In the spirit of tom-foolery and things not being what they seem, this weeks' Treat of the Week is a very fun cupcake recipe, which relies on root beer concentrate for it's flavor. Root beer concentrate is made by many of the main, commercial extract companies and can be found at many "regular" grocery stores.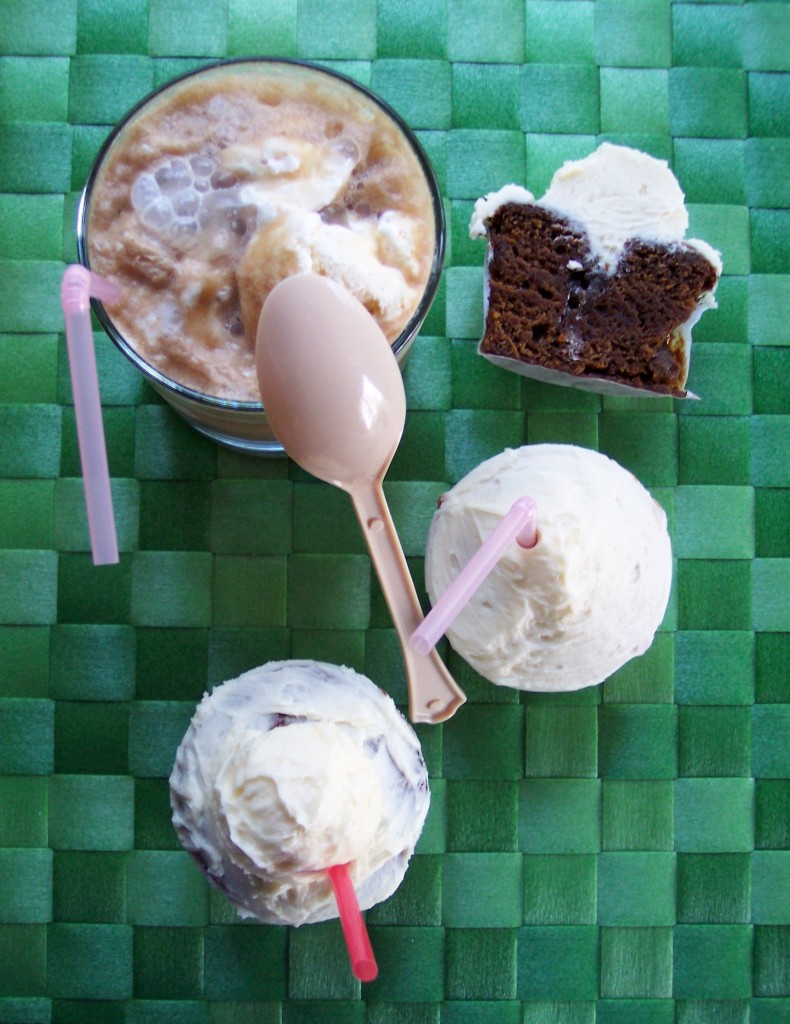 These root beer float cupcakes are delicious and fun with deep, complex flavors in the cake and sweet, vanilla buttercream "float" icing.
Cupcakes:
1 1/2 cups all-purpose flour
1 teas. baking powder
1/4 teas. salt
1/4 cup mild vegetable oil
1 cup of organic sugar
1 cup milk of choice
1/2 teas. mild vinegar
1 1/2 teas. root beer concentrate
1 teas. vanilla extract
Frosting:
1/4 cup margarine, room temp
1/4 cup shortening, room temp
1 teas. vanilla
1-2 cups powdered sugar, sifted
splash of milk of choice
Preheat oven 350. Line a muffin tin with cupcake liners.
In a small bowl combine the flour, baking powder and salt. In a large bowl, cream together the oil and sugar. Add the milk and vinegar and let sit for a minute. Add vanilla and root beer concentrate and mix to combine. Using electric hand beaters or a whisk, add the flour mixture to the wet mixture until just mixed.
Fill cupcake liners 3/4 of the way full. Bake for 20-24 minutes, until a toothpick comes out clean. Let cupcakes cool in pan, on a cooling rack for 15 minutes before removing to allow to finish cooling on rack.
To make the frosting: Using electric hand mixers, cream the margarine and shortening together. Add vanilla and powdered sugar 1/2 cup at a time and beat well, until fluffy, to desired sweetness. If the butter cream is not as smooth as you would like, add the splash of milk.
Top cooled cupcakes with frosting. Store leftover cupcakes at room temperature, in a loosely covered container.
Yields: 1 dozen cupcakes