april fools'! it's a cupcake, no it's a soda– wait, it's both!
Happy April Fools'!  My pride and joy, Have Your Cake and Vegan Too, is upon us and should be ship­ping any minute.  And that's no joke! 

In the spirit of tom-foolery and things not being what they seem, this weeks' Treat of the Week is a very fun cup­cake recipe, which relies on root beer con­cen­trate for it's fla­vor. Root beer con­cen­trate is made by many of the main, com­mer­cial extract com­pa­nies and can be found at many "reg­u­lar" gro­cery stores.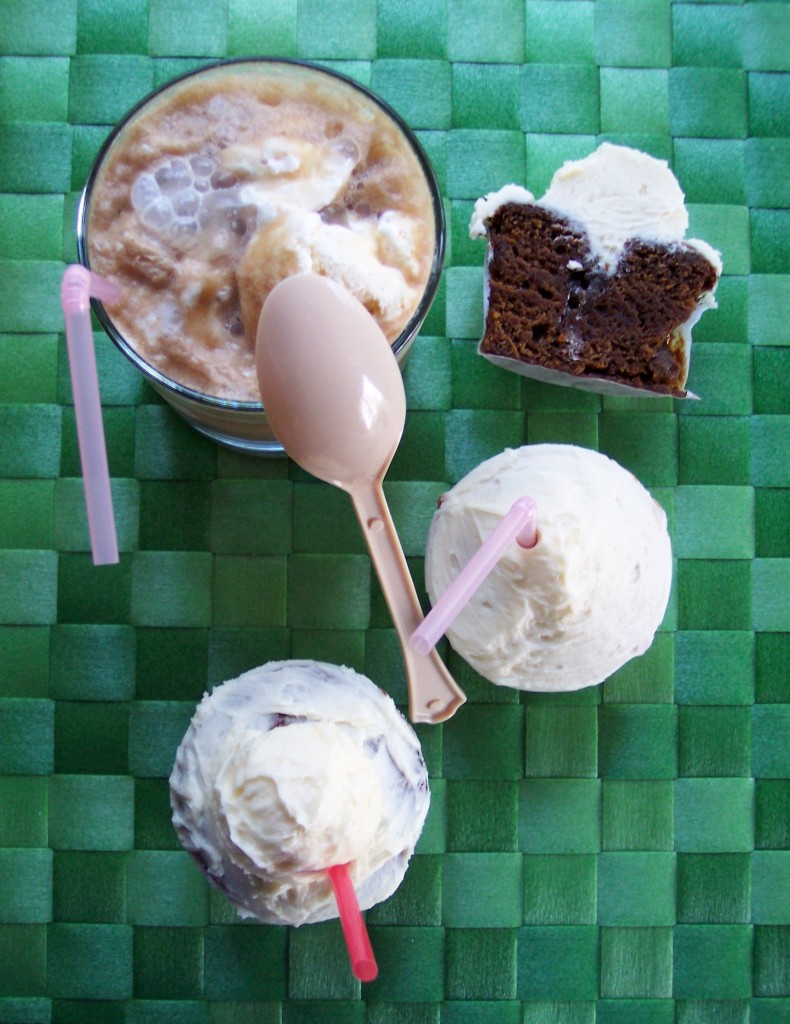 These root beer float cup­cakes are deli­cious and fun with deep, com­plex fla­vors in the cake and sweet, vanilla but­ter­cream "float" icing.
Cup­cakes:
1 1/2 cups all-purpose flour
1 teas. bak­ing pow­der
1/4 teas. salt
1/4 cup mild veg­etable oil
1 cup of organic sugar
1 cup milk of choice
1/2 teas. mild vine­gar
1 1/2 teas. root beer con­cen­trate
1 teas. vanilla extract
Frost­ing:
1/4 cup mar­garine, room temp
1/4 cup short­en­ing, room temp
1 teas. vanilla
1–2 cups pow­dered sugar, sifted
splash of milk of choice
Pre­heat oven 350. Line a muf­fin tin with cup­cake liners.
In a small bowl com­bine the flour, bak­ing pow­der and salt. In a large bowl, cream together the oil and sugar. Add the milk and vine­gar and let sit for a minute. Add vanilla and root beer con­cen­trate and mix to com­bine. Using elec­tric hand beat­ers or a whisk, add the flour mix­ture to the wet mix­ture until just mixed.
Fill cup­cake lin­ers 3/4 of the way full. Bake for 20–24 min­utes, until a tooth­pick comes out clean. Let cup­cakes cool in pan, on a cool­ing rack for 15 min­utes before remov­ing to allow to fin­ish cool­ing on rack.
To make the frost­ing: Using elec­tric hand mix­ers, cream the mar­garine and short­en­ing together. Add vanilla and pow­dered sugar 1/2 cup at a time and beat well, until fluffy, to desired sweet­ness. If the but­ter cream is not as smooth as you would like, add the splash of milk.
Top cooled cup­cakes with frost­ing. Store left­over cup­cakes at room tem­per­a­ture, in a loosely cov­ered container.
Yields: 1 dozen cupcakes