This week con­cludes my series on nutri­tion. If you haven't seen the other videos, I highly rec­om­mend at least watch­ing this one. This week I cover food label­ing, how to read the nutri­tion facts, FDA guide­lines on some things that can and can't be said on food pack­ag­ing, the food pyra­mid and more!
Again, I am now up in iTunes as a video pod­cast, so just search for "nom blog" and you'll find all 3 nutri­tion videos, plus 3 older cook­ing show videos and what­ever else is to come.
Here are some links for fur­ther info related to the show:
*A link to read­ing nutri­tion facts on food labels.
*A link on fast food marketing.
*A link to the "Clean 15″ and the "Dirty Dozen", use­ful to have with you at the gro­cery store.
Oh, yes, and wait, a give­away!
Noth­ing too big, as I have some awe­some sur­prises and con­tests com­ing up in the very near future, but I will pick 2 peo­ple who leave com­ments related to this week's video to receive a copy of one of my very favorite stickers: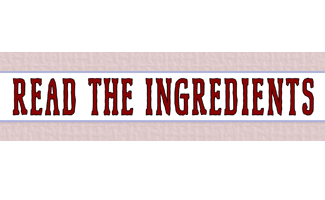 And now, on to the show!