Dairy cheese in Amer­ica can really be split into two cat­e­gories– actual cheese and then cheese "food prod­uct". I remem­ber grow­ing up and think­ing that peo­ple who could afford the spray cheese in the can were really liv­ing large because that, my friends, showed both class and success.
From the minds of babes. Blorch.
One cheese-like food we never ate grow­ing up was Velveeta. It was too expen­sive, so instead I con­sumed end­less amounts of generic pow­dered cheese with elbow mac­a­roni. When I moved out and went to col­lege, I made sev­eral pur­chases to mark my inde­pen­dence and to break away into adult­hood– I bought a car (stu­pid deci­sion, col­lege fresh­man Kris), I bought name brand cereal and I started eat­ing copi­ous amounts of Velveeta.
Note to those under the age of 18– Fruity Peb­bles plus pasta cov­ered in faux cheese is the recipes for your fresh­man 15. Just the thought of it makes me feel sick.
That all aside, recently I was rem­i­nisc­ing about those good ol' col­lege days and that intensely orange cheese and decided to remake it into some­thing both vegan and healthy. I'd love to have the food sci­en­tists at Kraft take a gan­der at this orange beauty: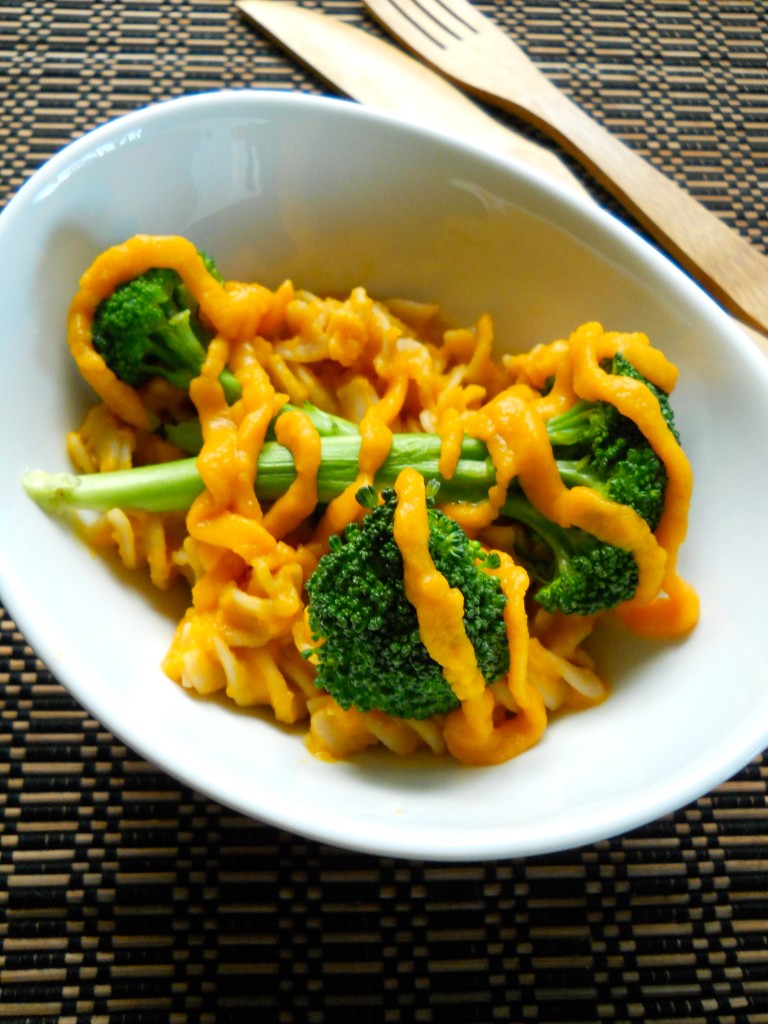 But­ter­nut Squasheeta
1 medium but­ter­nut squash, roasted
2 tbsp. olive oil
1/4 cup nutri­tional yeast
1/2– 1 teas. lemon juice
1 teas. pow­dered onion
1/2 teas. pow­dered gar­lic
1/4 teas. salt
optional, but makes it much cheesier– 2 teas.- 1 tbsp. mild miso (depend­ing on pref­er­ence)
3/4– 1 cup water (to desired consistency)
Pre­heat oven to 375 and cut squash in half. Scoop out seeds and use 1 tbsp. of the oil to coat exposed flesh. Place cut side down on a bak­ing sheet with edges and bake for 45 min to 1 hour, until tender.
Let squash cool for at least 20 min­utes before remov­ing skin from flesh. Place squash in food proces­sor with all other ingre­di­ents except water and process for 30 sec­onds– 1 minute, until smooth. Add water 1/4 cup at a time, until desired con­sis­tency is reached. Keep sauce warm on stove, in a sauce pan, until use.
Serve warm over noo­dles or veg­gies. Store left­over sauce in a cov­ered con­tainer in the fridge for up to a week.
Makes 4–6 serv­ings, depend­ing on size.