Dairy cheese in America can really be split into two categories- actual cheese and then cheese "food product". I remember growing up and thinking that people who could afford the spray cheese in the can were really living large because that, my friends, showed both class and success.
From the minds of babes. Blorch.
One cheese-like food we never ate growing up was Velveeta. It was too expensive, so instead I consumed endless amounts of generic powdered cheese with elbow macaroni. When I moved out and went to college, I made several purchases to mark my independence and to break away into adulthood- I bought a car (stupid decision, college freshman Kris), I bought name brand cereal and I started eating copious amounts of Velveeta.
Note to those under the age of 18- Fruity Pebbles plus pasta covered in faux cheese is the recipes for your freshman 15. Just the thought of it makes me feel sick.
That all aside, recently I was reminiscing about those good ol' college days and that intensely orange cheese and decided to remake it into something both vegan and healthy. I'd love to have the food scientists at Kraft take a gander at this orange beauty: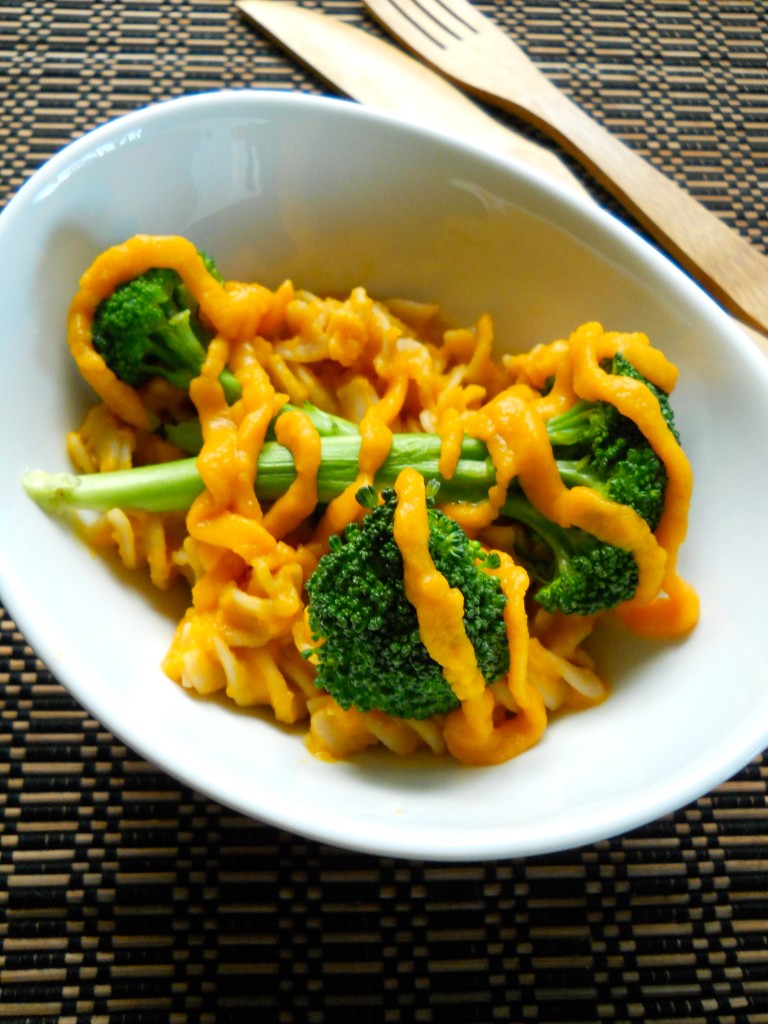 Butternut Squasheeta
1 medium butternut squash, roasted
2 tbsp. olive oil
1/4 cup nutritional yeast
1/2- 1 teas. lemon juice
1 teas. powdered onion
1/2 teas. powdered garlic
1/4 teas. salt
optional, but makes it much cheesier- 2 teas.- 1 tbsp. mild miso (depending on preference)
3/4- 1 cup water (to desired consistency)
Preheat oven to 375 and cut squash in half. Scoop out seeds and use 1 tbsp. of the oil to coat exposed flesh. Place cut side down on a baking sheet with edges and bake for 45 min to 1 hour, until tender.
Let squash cool for at least 20 minutes before removing skin from flesh. Place squash in food processor with all other ingredients except water and process for 30 seconds- 1 minute, until smooth. Add water 1/4 cup at a time, until desired consistency is reached. Keep sauce warm on stove, in a sauce pan, until use.
Serve warm over noodles or veggies. Store leftover sauce in a covered container in the fridge for up to a week.
Makes 4-6 servings, depending on size.