My nutri­tion videos, along with other cook­ing show videos, are now avail­able in iTunes as a video pod­cast! Just search for "nom blog" and there they are! Higher res­o­lu­tion videos are always avail­able here on the blog.
I live and cre­ate recipes by 2 rules:
1. Recipes need to be acces­si­ble.  I work hard to min­i­mize the unique ingre­di­ents I call for so peo­ple who don't have access to co-ops or health food stores and must rely on big box stores like Wal-Mart can still make good vegan food.
2. Eat­ing cruelty-free is a jour­ney, not a des­ti­na­tion.  Some­times, you have to be com­fort­able with good-enough being okay.  For exam­ple, while eat­ing Crisco is not some­thing I rec­om­mend, if you need vegan short­en­ing and have no other option and don't mind using it, knock your­self out because it's vegan and you can find it everywhere.
Case in point, one of the ingre­di­ents that I use in today's recipe: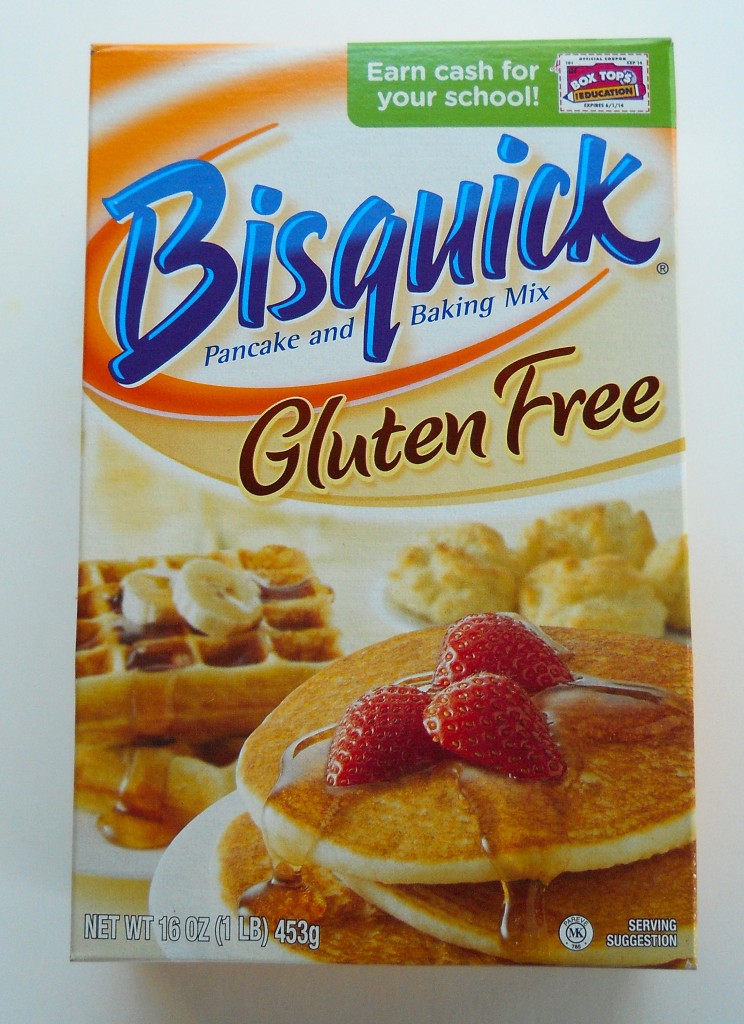 Rea­sons why I like this: It's Bisquick, which means that it's every­where.  If you don't have access to a plethora of gluten-free flours to make fancy flour blends or if you're in a pinch, it's all here, wait­ing for you.
Rea­sons I don't like it: It con­tains bak­ing pow­der with alu­minum in it, which I under­stand why they use it (it's highly reac­tive, so great for shelf life), but is some­thing that I usu­ally rec­om­mend against.
Rea­sons for get­ting cited by the vegan police: In my cor­re­spon­dence with Gen­eral Mills, they can nei­ther con­firm nor deny the source of the sugar that is included in the mix.  Hence, mak­ing it ques­tion­ably "vegan" by definition.
Assume what you will, but oth­er­wise the mix is vegan and for sake of my own style of exper­i­men­ta­tion, I'm going with it.  You can always use another tried-and-true flour blend in this recipe, if you're gluten-free, or just use all-purpose flour if not.
Okay, tech­ni­cal­i­ties aside, let's make our Treat of the Week- Rich and Fudgy GF Brownies!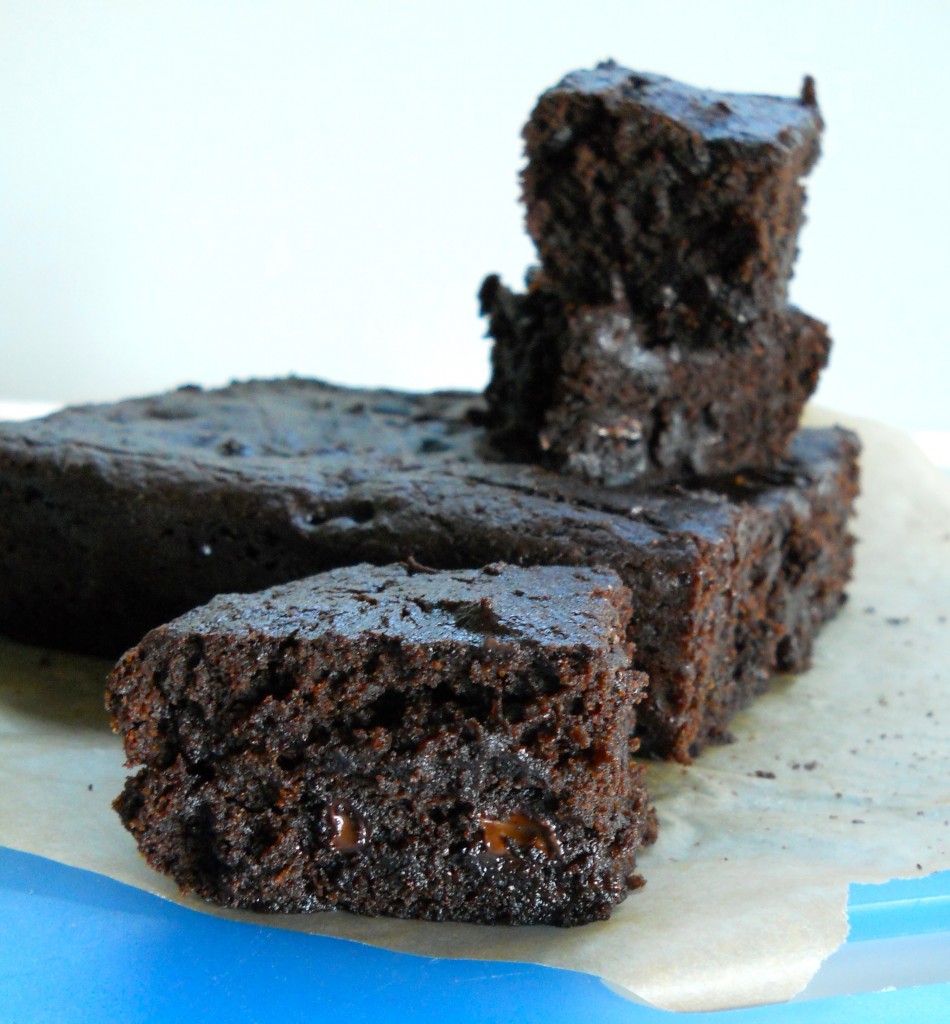 Rich and Fudgy GF Brownies
Nobody would believe me that these brown­ies were gluten-free and I have to say I was pretty darn pleased. The jam in them adds to the rich and fudgy tex­ture, but is not detectable, so use what­ever fla­vor you'd like (I use blue­berry). These brown­ies are cer­tainly not health food, but are an excel­lent indul­gent treat that will ensure no one feels like they are liv­ing "without".
1/2 cup organic gran­u­lated sugar (increase to 2/3 cup if using other flour blend with­out added sugar)
3/4 cup Bisquick Bak­ing Blend (OR other GF flour blend OR all-purpose flour)
1/3 cup bak­ing cocoa, sifted
1/2 teas. bak­ing soda
1/8 teas. salt
1/3 cup mar­garine, room tem­per­a­ture
1 6-oz con­tainer soy or coconut yogurt
1/4 cup jam of choice
1/4 cup choco­late chips
Pre­heat oven to 350. Lightly grease or line an 8x8 pan with parch­ment paper.
In a small bowl, com­bine the sugar, flour blend, cocoa, bak­ing soda and salt. In a large bowl, cream together the mar­garine, yogurt and jam. Add the flour blend in batches until just mixed, then add the choco­late chips.
Spread into the pre­pared pan and bake for 35–40 min­utes, until a tooth­pick comes out clean (there may be some slight crumbs, but there shouldn't be batter).
Let brown­ies cool on the rack for 30 min­utes before cut­ting and serving.
Yields: 9–12 brownies