Eng­lish muffins are some­thing I have taken a lik­ing to more recently than the more pop­u­lar Amer­i­can break­fast sta­ple, the bagel. Yet they are lovely on their own account, ten­der with a hint of yeast, and I find them much more fun to dress up.
Even bet­ter, they are far eas­ier to make at home than their bagel brethren and the dough can be started the night before. Seri­ously, greet­ing some break­fast guests with fresh, home­made Eng­lish muffins? I don't know if it's pos­si­ble to look like a big­ger badass, unless it's because you topped them with some from-scratch grape­fruit curd. A dol­lop of coconut cream and you are golden.
Don't be fright­ened by the inclu­sion or yeast or the lengthy direc­tions– I like to give detailed direc­tions for using yeast so it's less scary. 

  Work­ing with yeast is deli­cious and easy, I can't encour­age you enough to give it a try!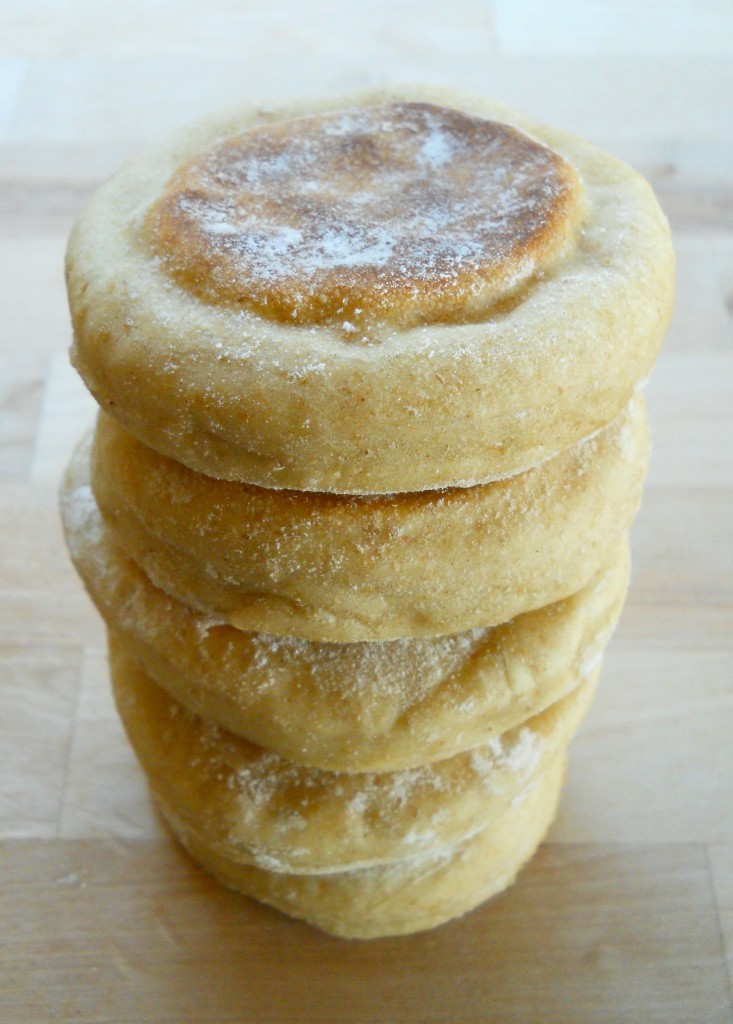 Eng­lish Muffins
1/2 cup warm water
sprin­kle of sugar
1 packet yeast
1/2 cup warm milk of choice
2 tbsp. melted mar­garine (could use olive oil)
1 cup white wheat flour
2 cups all-purpose flour
Optional: corn­meal for dusting
In a large bowl, com­bine the warm water, sugar and yeast. Let sit for 5 min­utes to proof (the yeast will absorb the water and expand and it will become cloudy). In a small bowl, com­bine the flours. To the yeast mix­ture, add the milk and mar­garine and mix to com­bine. 1/2 cup at a time, begin adding the flour to the liq­uid mix­ture, incor­po­rat­ing it as you go, until a dough comes together. Turn dough out onto a clean sur­face and knead the dough until smooth and elas­tic, about 5 min­utes, adding flour as needed.
Place dough in an oiled bowl and cover. If mak­ing the dough the night before, this is your stop­ping place. Cover with plas­tic wrap and place in fridge.* If con­tin­u­ing on, cover with a clean kitchen towel and let rise in a warm place until dou­bled, about 1 1/2 hours.
Once dough has dou­bled, punch down dough to deflate it and turn out onto a clean sur­face. Knead lightly and roll dough out to a 1/2 inch thick­ness. Cut out 3″ cir­cles of dough using a clean, empty can or bis­cuit cut­ter and dust both sides in corn­meal or flour. Place cut out Eng­lish muffins on waxed paper or a lined bak­ing sheet and allow to rise again, about 45 min– 1 hour, until they are the height you desire.
Heat a grid­dle on medium heat with a lit­tle oil, until a drop of water siz­zles on it. Care­fully trans­port the Eng­lish muffins to the hot grid­dle, fit­ting as many as is suit­able. Cook on each side for 2–4 min­utes, until golden brown, then remove to a cool­ing rack or platter.
To serve muffins, split using the tongs of a fork, then serve with jam, coconut cream and tea, for full effect.
Quick coconut cream: Dur­ing the sec­ond rise of the muffins, place a small can of full-fat coconut milk in the freezer for 15 min­utes. Open can and remove coconut cream, dis­card­ing remain­ing milk. In a small bowl, mix the cream with 1/4–1/2 cup of organic pow­dered sugar and a splash of vanilla, until desired sweet­ness and con­sis­tency are achieved. Keep refrig­er­ated until use.
Yields: 2 1/2 dozen Eng­lish muffins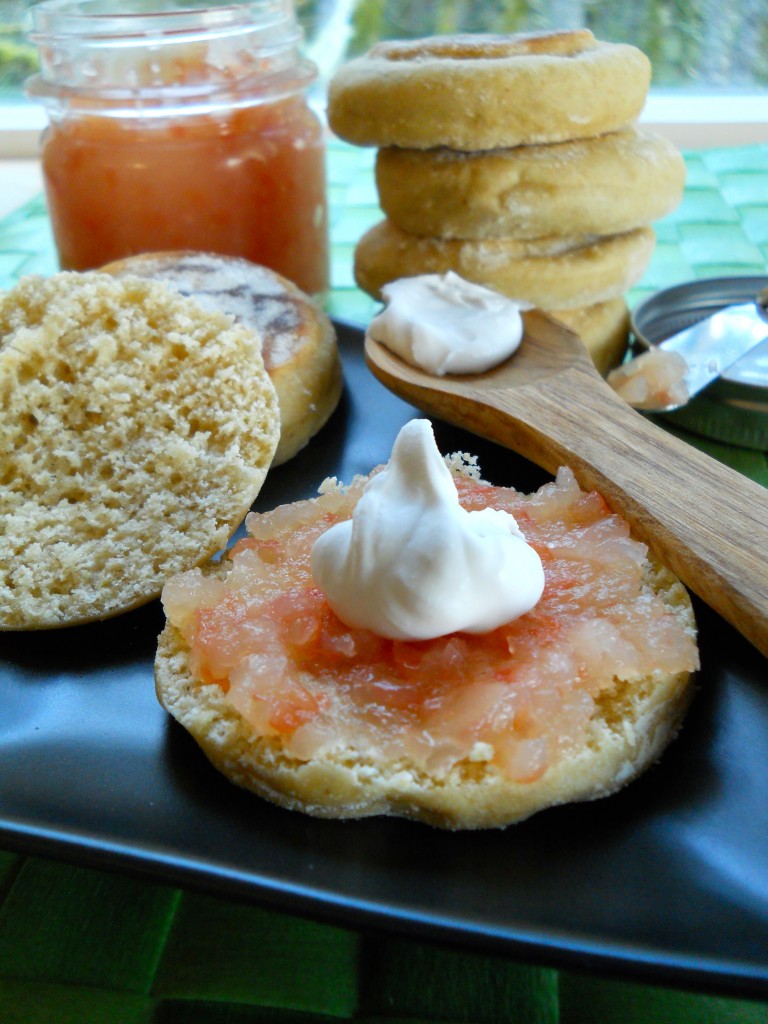 *If mak­ing the dough the night before, remove from fridge for at least 1 hour (to allow the dough to come to room tem­per­a­ture) before resum­ing instructions.