English muffins are something I have taken a liking to more recently than the more popular American breakfast staple, the bagel. Yet they are lovely on their own account, tender with a hint of yeast, and I find them much more fun to dress up.
Even better, they are far easier to make at home than their bagel brethren and the dough can be started the night before. Seriously, greeting some breakfast guests with fresh, homemade English muffins? I don't know if it's possible to look like a bigger badass, unless it's because you topped them with some from-scratch grapefruit curd. A dollop of coconut cream and you are golden.
Don't be frightened by the inclusion or yeast or the lengthy directions- I like to give detailed directions for using yeast so it's less scary.

Working with yeast is delicious and easy, I can't encourage you enough to give it a try!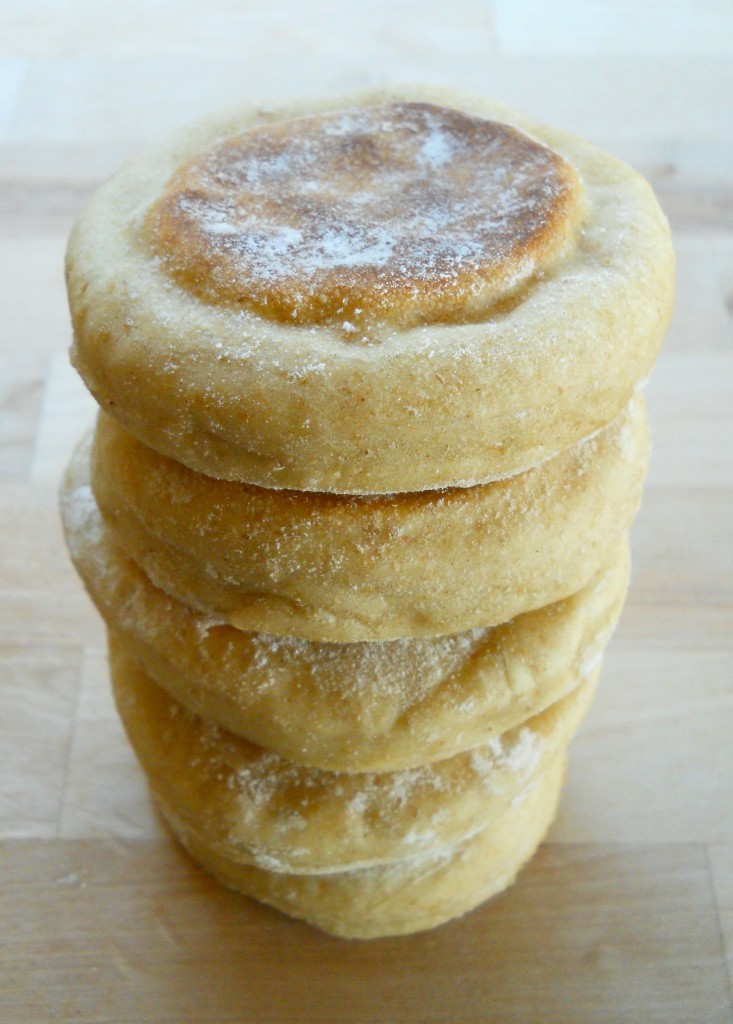 English Muffins
1/2 cup warm water
sprinkle of sugar
1 packet yeast
1/2 cup warm milk of choice
2 tbsp. melted margarine (could use olive oil)
1 cup white wheat flour
2 cups all-purpose flour
Optional: cornmeal for dusting
In a large bowl, combine the warm water, sugar and yeast. Let sit for 5 minutes to proof (the yeast will absorb the water and expand and it will become cloudy). In a small bowl, combine the flours. To the yeast mixture, add the milk and margarine and mix to combine. 1/2 cup at a time, begin adding the flour to the liquid mixture, incorporating it as you go, until a dough comes together. Turn dough out onto a clean surface and knead the dough until smooth and elastic, about 5 minutes, adding flour as needed.
Place dough in an oiled bowl and cover. If making the dough the night before, this is your stopping place. Cover with plastic wrap and place in fridge.* If continuing on, cover with a clean kitchen towel and let rise in a warm place until doubled, about 1 1/2 hours.
Once dough has doubled, punch down dough to deflate it and turn out onto a clean surface. Knead lightly and roll dough out to a 1/2 inch thickness. Cut out 3″ circles of dough using a clean, empty can or biscuit cutter and dust both sides in cornmeal or flour. Place cut out English muffins on waxed paper or a lined baking sheet and allow to rise again, about 45 min- 1 hour, until they are the height you desire.
Heat a griddle on medium heat with a little oil, until a drop of water sizzles on it. Carefully transport the English muffins to the hot griddle, fitting as many as is suitable. Cook on each side for 2-4 minutes, until golden brown, then remove to a cooling rack or platter.
To serve muffins, split using the tongs of a fork, then serve with jam, coconut cream and tea, for full effect.
Quick coconut cream: During the second rise of the muffins, place a small can of full-fat coconut milk in the freezer for 15 minutes. Open can and remove coconut cream, discarding remaining milk. In a small bowl, mix the cream with 1/4-1/2 cup of organic powdered sugar and a splash of vanilla, until desired sweetness and consistency are achieved. Keep refrigerated until use.
Yields: 2 1/2 dozen English muffins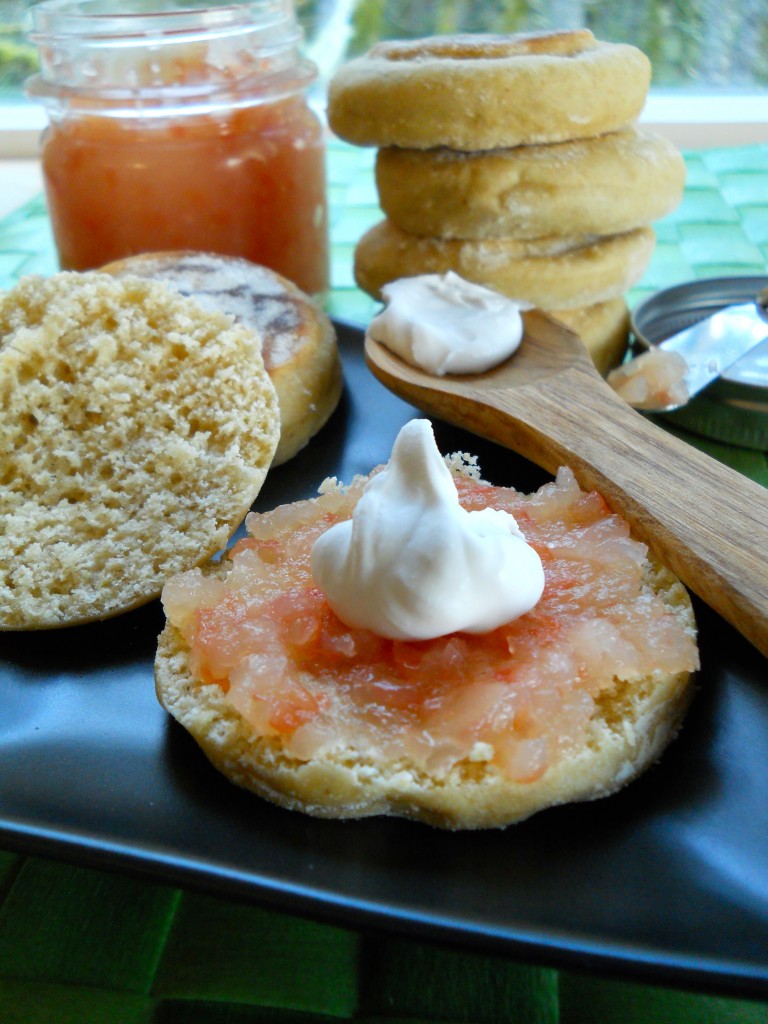 *If making the dough the night before, remove from fridge for at least 1 hour (to allow the dough to come to room temperature) before resuming instructions.