Inter­ested in par­tic­i­pat­ing in a bake sale to ben­e­fit Japan? Check out this thread to see if there's one near you or to start one yourself!
Hor­ray! Yes­ter­day was the first day of spring. Here in Ore­gon the cherry blos­som trees have been bloom­ing for a cou­ple of weeks and all of their other friends in arbor are sport­ing lit­tle green buds of promise. Warmer days will soon be ours!
In the mean­time, this bright lit­tle num­ber does just the trick to perk up your senses and please your taste­buds. This curd is per­fect for folks who love tang, but per­haps not the sharp­ness of mar­malade. Later this week I'll post an accom­pa­ny­ing recipe that pairs beau­ti­fully with this tasty vegan curd.
In the mean­time, get segementing!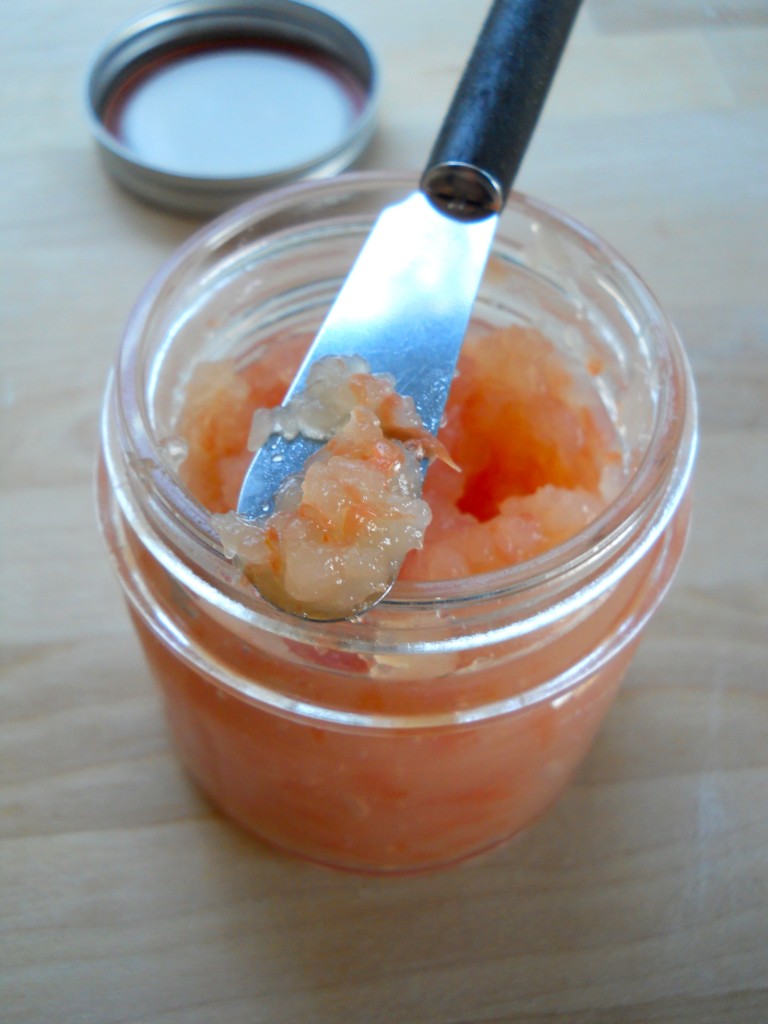 Sunny Grape­fruit Curd
1/4–1/3 cup sugar (depend­ing on desired sweet­ness)
2 tbsp. corn­starch
1 1/4 cup grape­fruit juice (approx­i­mately 2 medium sized grape­fruit)
1/4 cup grape­fruit seg­ments, roughly chopped
In a small pot, com­bine the sugar and corn­starch and mix until corn­starch has no clumps. Add the grape­fruit juice and mix to com­bine. Stir­ring often, bring mix­ture to a boil and add the grape­fruit seg­ments. Lower heat to medium-low and stir in grape­fruit seg­ments, stir­ring con­tin­u­ously. Cook until mix­ture begins to thicken and coats the back of a spoon, about 5–10 min­utes. Remove from heat and let cool completely.
Store curd in cov­ered jars in the fridge for up to 1 month. It will become very thick when cold, so stir well before using.
Yields: 1 1/2 cups