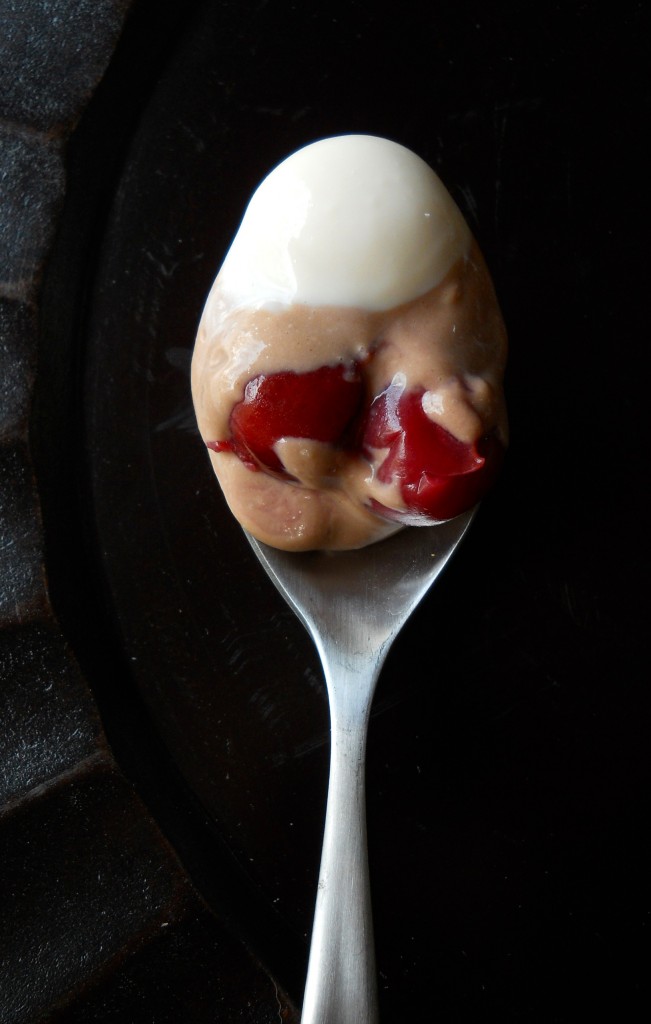 Isn't sac­ri­fice just the pits?
Sup­pose you need some­thing gluten-free, dairy-free and egg-free… how are you sup­posed to live? I mean, what are you sup­posed to eat?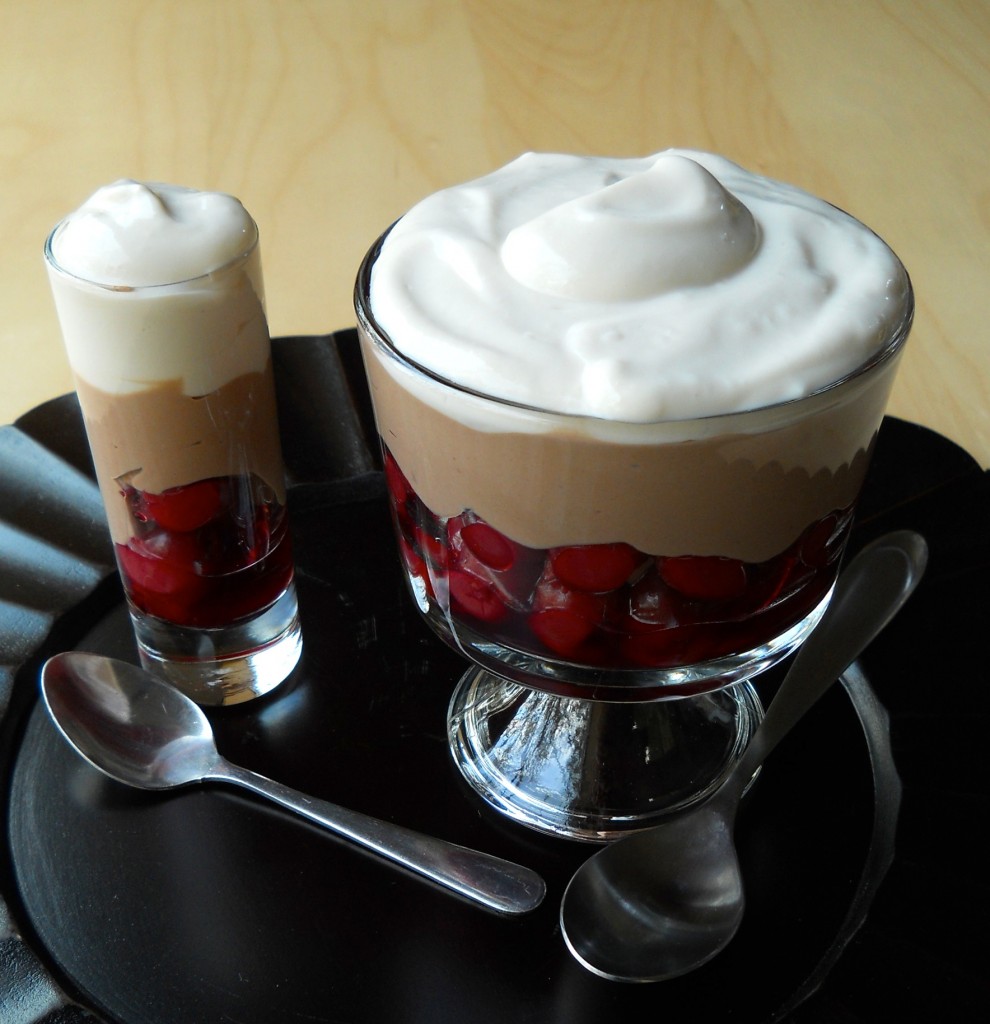 Hmm… it's not look­ing so shabby, actually.

This week's Treat of the Week is:
Creamy Coconut Black For­est Parfait
This treat is def­i­nitely indul­gent. It fea­tures full-fat coconut milk, choco­late, vanilla and silken tofu. For those who are adverse to silken tofu, rest assured that when com­bined with the coconut milk, it has absolutely no resem­blance to any tofu pud­dings or creams that you have had before. It's just pure decadence.
There are a cou­ple of "wait­ing" steps to this incred­i­bly sim­ple treat. Make the ele­ments before it's time for dessert so you can quickly assem­ble these impres­sive lit­tle gems. They are fairly rich, so small serv­ing sizes are optimal.
1– 15 oz. can of full-fat coconut milk
1– 12.3oz aspec­tic con­tainer of firm silken tofu
1/3 cup organic gran­u­lated sugar
2 teas. vanilla
1/3 cup plus 2 tbsp. choco­late chips, melted
2–3 cups of dark, sweet cher­ries (if frozen, thawed; if canned or jarred, drained; if fresh, pit­ted and mascer­ated in 1 tbsp. sugar for at least 1 hour before serving)
Place the can of coconut milk in the fridge for at least an hour, so the coconut cream can sep­a­rate. Open can and scoop out cream into a bowl. Set cream aside and allow to come back to room tem­per­a­ture. Dis­card remain­ing coconut milk*.
Once coconut cream is room tem­per­a­ture, open tofu, drain any water, and place in the bowl of a food proces­sor along with the sugar. Process until smooth, scrap­ing down as nec­es­sary, about a minute. Care­fully melt the choco­late and set aside. Add the coconut cream and vanilla to the tofu and process until well com­bined. Remove half of the cream mix­ture and place in one con­tainer. To the remain­ing coconut cream, add the melted choco­late and process until well com­bined. Scrape out choco­late mix­ture into a sep­a­rate container.
Refrig­er­ate the creams at least an hour before serv­ing. Spoon out cher­ries into the bot­tom of serv­ing dish, then layer the choco­late and vanilla creams.  Store left­overs in the fridge and eat within 3–4 days.
Yields: 5–10 serv­ings, depend­ing on size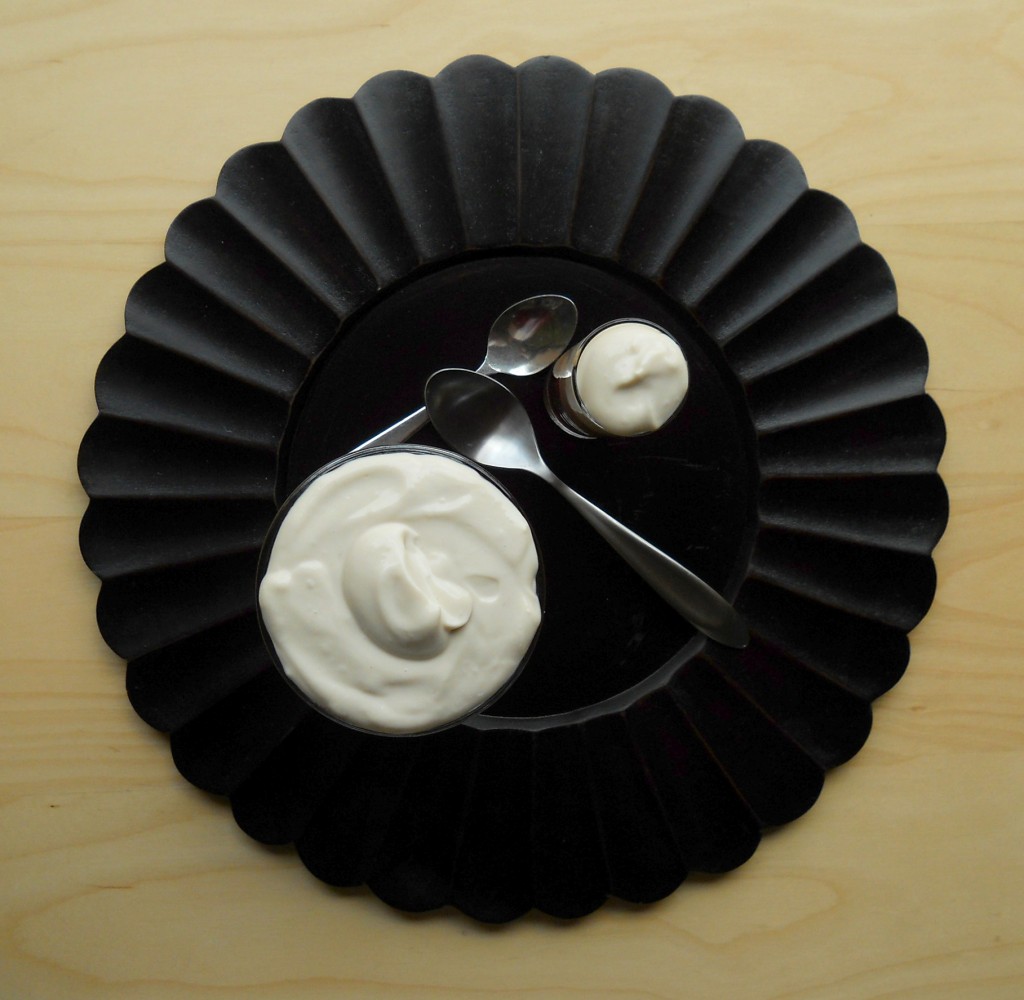 *If you ever end up with extra coconut milk, freeze it in ice cube trays for per­fect 1 tbsp. pro­por­tions. Add it to smooth­ies or iced cof­fee drinks for an added yum factor.