Grow­ing up in sub­ur­ban Min­nesota, my ideas of cit­rus were lim­ited to the occa­sional (and elu­sive) man­darin, grape­fruit and the ever-present navel orange. With its thick skin and impos­si­ble pith, oranges were my least favorite fruit so I just assumed that I didn't really like citrus.
So, when we moved to Ari­zona and Jim told me, "Just wait until you see the cit­rus!" I couldn't have been less enthused. Between mem­o­ries of my eye get­ting assaulted by a spray of orange oil mist to my grand­fa­ther always try­ing to push his morn­ing grape­fruit on me, I wasn't feel­ing the love. Sum­mer turned to fall turned to win­ter and one day I decided to see what a desert farmer's mar­ket was like.
And I fell in love with citrus.
Diverse vari­eties of cit­rus are read­ily avail­able around the coun­try now, in con­ven­tional gro­cery stores and co-ops alike. Here's a high­light of some of my favorites kinds, two of which hap­pen to be cit­rus hybrids (you have to love that trees can mate!). Spring is on our heels, so check out some US grown cit­rus now while it's still around!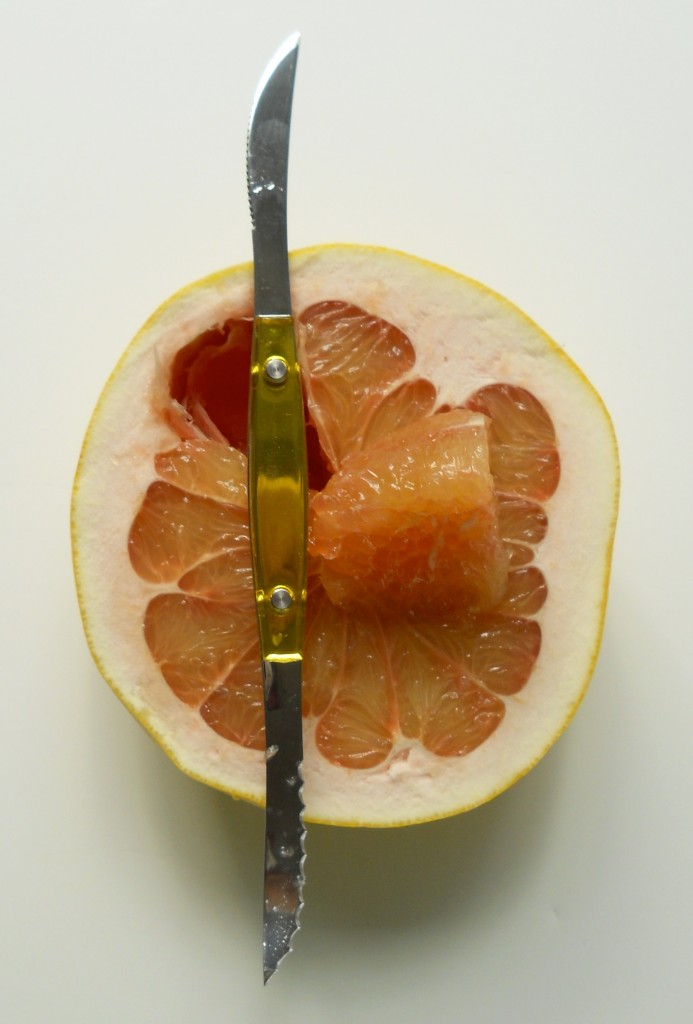 What is it? A Pomelo, native to South­east Asia
What does it taste like? They taste very cit­rusy and sweet, with­out the bit­ter­ness nor­mally asso­ci­ated with grapefruit.
Pome­los tend to be much larger than your aver­age grape­fruit (think the size of a can­taloupe). They are often green on the out­side, but depend­ing on the vari­ety may be lime-colored or yel­low. Despite their size, they are quite light, due to much of their size being the very soft pith sur­round­ing the fruit. Because of this, deter­min­ing the ripeness is a bit tricker, as you want it to feel soft yet firm. Even with all that pith, with the help of a knife it's not hard to peel a pomelo, although I like to rely on my grape­fruit tools. The flesh is a very light, dusty pink and the pieces are very irreg­u­larly sized.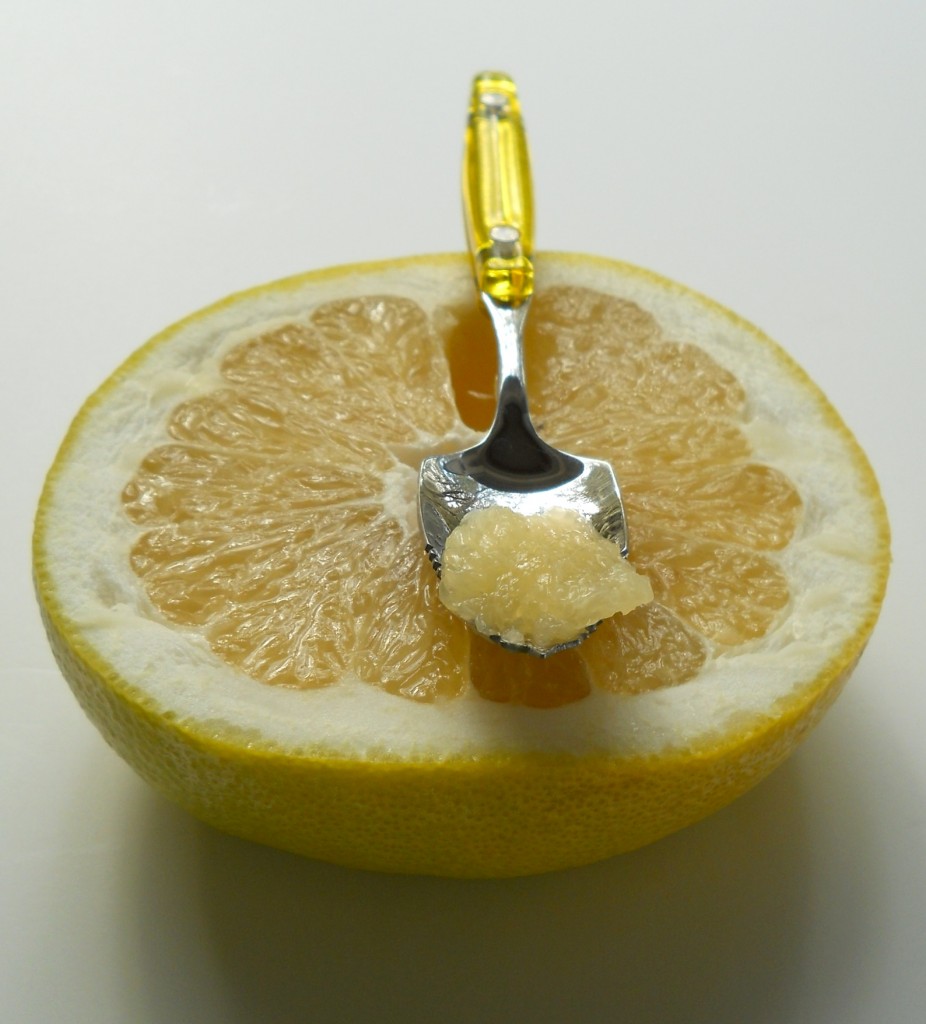 What is it? An Oro Blanco, which is a grapefruit/polemo hybrid
What does it taste like? Remem­ber when you ate your first grape­fruit and sprin­kled on 2 tbsp. of sugar to cut the bit­ter­ness down? With the Oro Blanco, you won't need the sugar to get that flavor.
Show­cas­ing the thick pith of its par­ent the pumelo, the Oro Blanco looks like a large grape­fruit and has a beau­ti­ful, soft yel­low flesh. Again, like the pumelo, they might have less resistence to the touch as the pith is thick, but not very dense. Flat­ness on the bot­tom or sides is not uncom­mon. This is a great fruit for peo­ple who can't quite tol­er­ate the bit­ter­ness of grapefruit.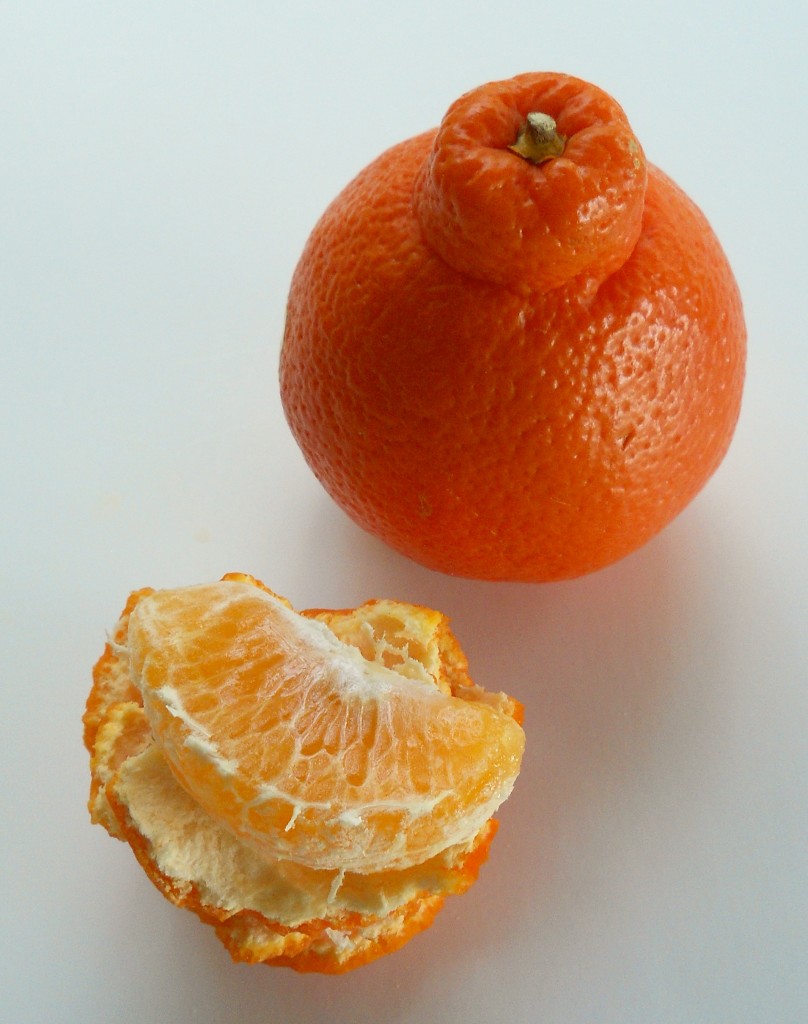 What is it? A Min­neola Tan­gelo, a hybrid of a tan­ger­ine and either pomelo or grape­fruit
What does it taste like? A very juicy orange with a bit of tan­ger­ine tang
Tan­ge­los win on sev­eral accounts of awe­some­ness: 1. They are incred­i­bly easy to peel, sim­ply push or twist off their sig­na­ture "outie" and they peel as eas­ily as a Clemen­tine. 2. They are incred­i­bly juicy, so grab a nap­kin. 3. They are being grown more and more domes­ti­cally so not only are they easy to track down, the price is afford­able, too.
Les­son learned– never judge a cat­e­gory of food based on a cou­ple of duds. Imag­ine if the end­less years of cafe­te­ria Red Deli­cious (deli­cious? yuck!) apples had soured me on apples, how sad would that be?