Okay, so tech­ni­cally quick bread was the win­ner of my sprouted wheat poll, but after con­sid­er­ing it I thought I'd take cook­ies for a spin with this first batch. I really wanted some­thing that would bake for a shorter amount of time to really show­case the fla­vor of the flour. The fresh flour has a sweet grassy fra­grance that I was wor­ried would bake out of it.
Plus, I now have an excuse to sprout more flour and give it a go with bread.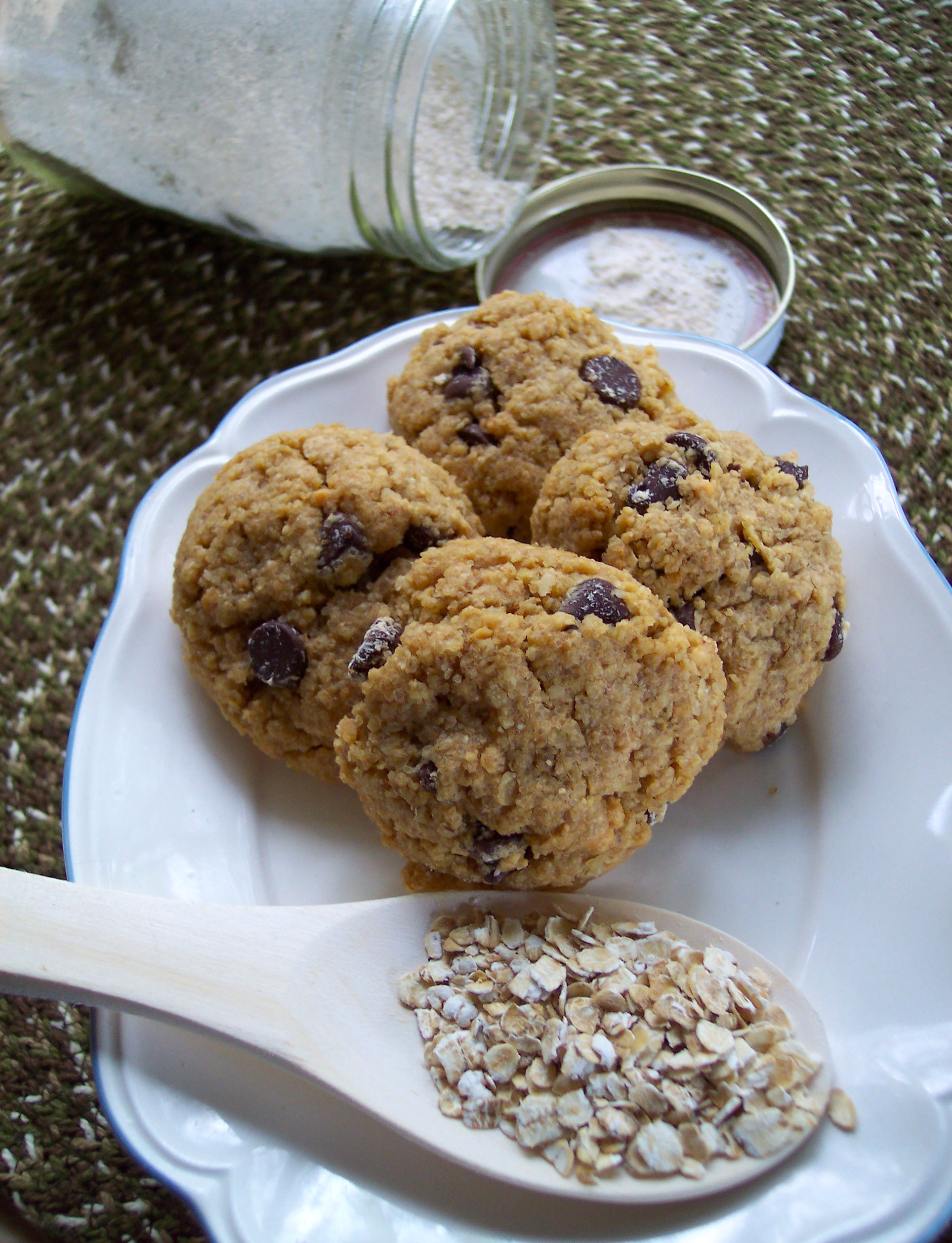 Giddy-Up Janes
These cook­ies can eas­ily be made with white whole wheat or an all-purpose flour rather than the sprouted wheat. They are a sweet oat­meal cookie with a kiss of peanut but­ter. Plus choco­late, they are nomtastic!
1 1/4 cup sprouted wheat flour (or white whole wheat or all-purpose)
1/2 teas. bak­ing soda
1/4 teas. cin­na­mon
1/4 teas. salt
1/2 cup mar­garine, room tem­per­a­ture
1 cup organic gran­u­lated sugar
1/4 cup nat­ural peanut but­ter
1/2 teas. vanilla
1 cup quick cook­ing oats
1/2 cup choco­late chips
Pre­heat oven to 350. Line a bak­ing sheet with parchment.
In a small bowl, com­bine the flour, bak­ing soda, cin­na­mon and salt. In a large bowl cream together the mar­garine and sugar. Add the peanut but­ter and vanilla mix well. Add the flour mix­ture to the mar­garine mix­ture and mix until incor­po­rated. Add the oat­meal in two batches, adding the choco­late chips with the sec­ond batch. The dough might be loose, but should be moist.
For dough into table­spoon sized balls and place on 2 inches apart on bak­ing sheet. Bake for 10 min­utes, until cook­ies puff up a bit and look golden. Let cool on cool­ing rack for 5 min­utes before mov­ing from bak­ing sheet to fin­ish cool­ing on rack.
Yields: 2 dozen cookies