Things that make me happy: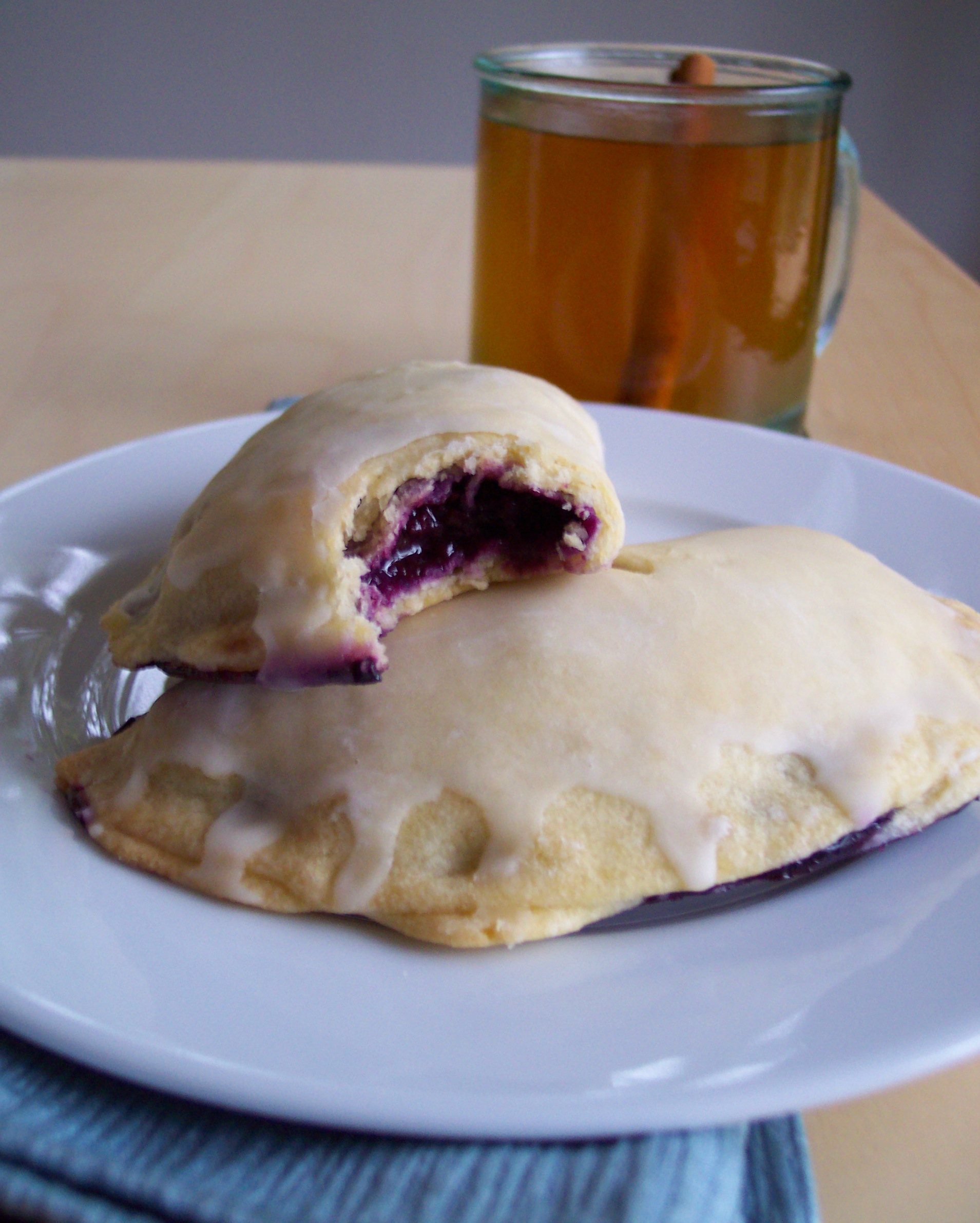 The Pear Cin­na­mon Cider from Trader Joe's is off-the-hook amaz­ing. I'm afraid it will dis­ap­pear right after the hol­i­days, as many of the good­ies they have this time of year do, so I've stock­piled sev­eral con­tain­ers of it. SO FREAKING GOOD.
What makes it bet­ter? Drink­ing it with a nice lil' Blue­berry Gas Sta­tion Pie. Nom.
Blue­berry Gas Sta­tion Pie
1/2 recipe Basic Pie Crust
1/4 cup organic gran­u­lated sugar
2 tbsp. corn­starch
1 1/2 cups frozen blue­ber­ries
2 tbsp. water
1 teas. vanilla
Pre­pare pie crust per direc­tions and let chill in fridge for at least 45 min­utes before using.
To pre­pare the blue­berry fill­ing, in a small sauce pan, com­bine the sugar and corn­starch. Mix until com­bined and no clumps exist in the corn­starch. Add the blue­ber­ries and water and cook over a medium heat, stir­ring often, until mix­ture becomes bub­bly and berries begin to release their juices, about 10 min­utes. Once bub­bling, add the vanilla and lower heat to medium-low and con­tinue stir­ring until mix­ture begins to thicken and can coat the back of a spoon well. Trans­fer blue­berry mix­ture to a sep­a­rate bowl and let cool, stir­ring occasionally.
Pre­heat oven to 350. Remove crust from fridge and divide into 6 equal por­tions. Roll out each por­tion into a round disc, approx­i­mately 5–6 inches in diam­e­ter. Evenly divide the fill­ing between the dough discs, scoop­ing it onto one side of the dough. Fold dough over and pinch to seal (you may need to moisten the edges of the dough slightly to ensure a good seal). Using the tip of a knife, make a small air vent on the top of each pie. Care­fully trans­fer the pies to a bak­ing sheet lined with parchment.
Bake pies for 18–23 min­utes, or until they look lightly golden and slightly browned on the edges. Remove from oven and let cool before brush­ing on a light glaze, made from a mix­ture of pow­dered sugar and a splash of your milk of choice, com­bined to your desired thickness.
Makes: 6 pies