Well, slowly but surely we're get­ting set­tled into our new space (hence my absence from the end of MoFo. FAIL). My new kitchen is HUGE, with tons of counter space and nat­ural light, two things I have been sorely lack­ing for years, so I'm very excited to start churn­ing out hol­i­day good­ies in this lovely new space. Of course, my best kitchen helper is right by my side, per the usual.
All I can think of is hol­i­day bak­ing, it makes my heart swoon. What is bet­ter than the smell of fresh baked goods, waft­ing from a warm oven and the eager antic­i­pa­tion of what is to come? I say to heck with the presents and other tra­di­tions of Gift­mas, gimme the cookies/brownies/pie/cake!
Which brings me to an impor­tant issue, near and dear to my heart. Cocoa.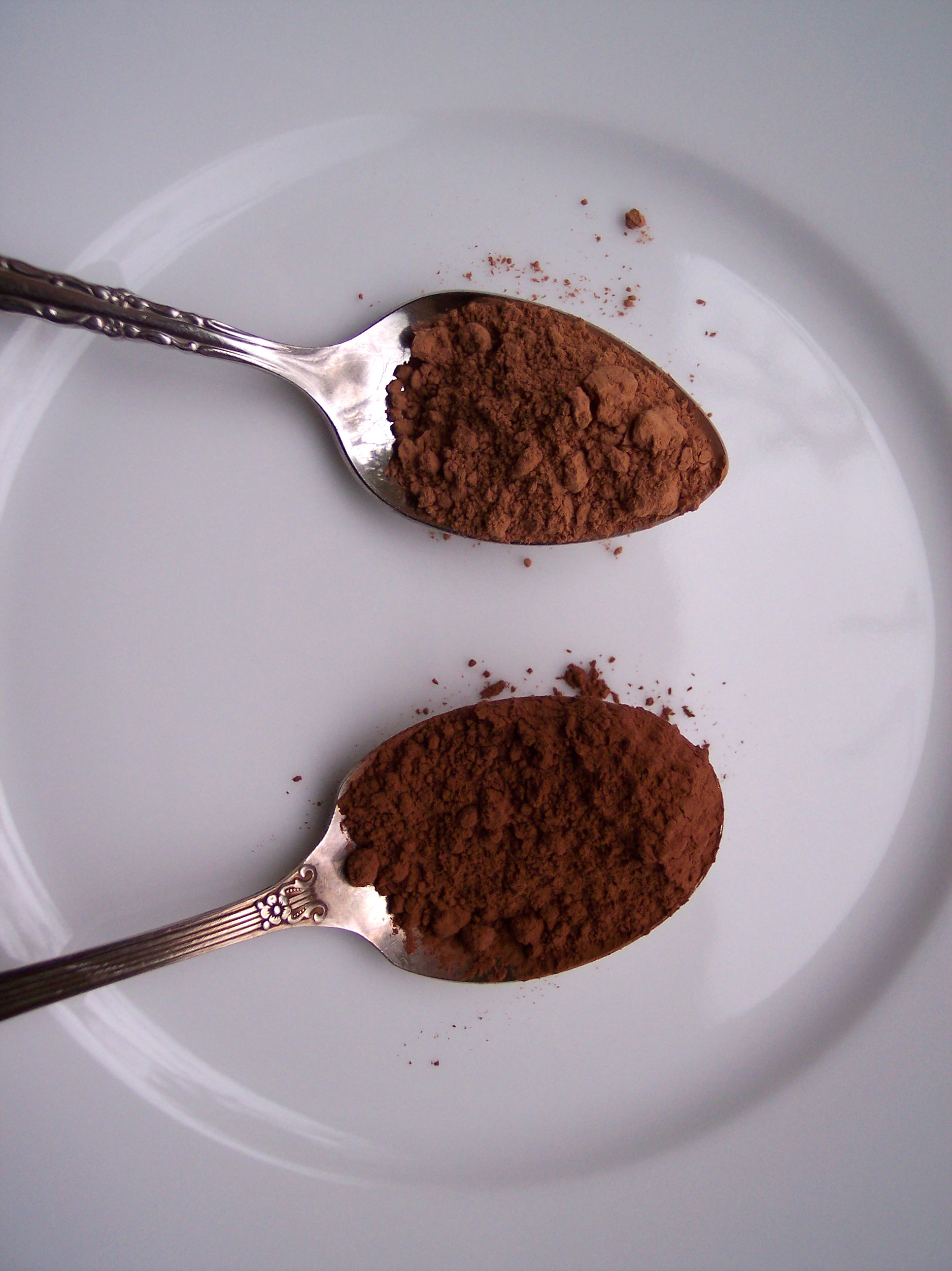 There are two main types of cocoa pow­der for bak­ing: reg­u­lar and Dutch-processed. In the pic­ture above, the lighter cocoa on top is stan­dard bak­ing cocoa, while the darker, red­der pow­der on the bot­tom is Dutch-processed. When I men­tion Dutch-processed to folks, I am often met with a blank stare, so I thought a lit­tle cocoa les­son might be in order.
Dutch-processed cocoa is cocoa that has been alka­lized to reduce the acid­ity of the cocoa. In doing this, the nat­ural slight bit­ter­ness (appar­ent stan­dard in bak­ing cocoa) is reduced, mak­ing for a richer choco­late fla­vor. I per­son­ally LOVE Dutch-processed cocoa and use it almost exclu­sively in my bak­ing because of that fla­vor. Before dis­cov­er­ing Dutch-pressed cocoa, I always used to add melted choco­late to almost every recipe that called for solely cocoa and no other kind of choco­late, because I felt con­tin­u­ally let down by the lack of choco­late fla­vor. With the Dutch-pressed cocoa, my choco­late hound taste buds are far more sat­is­fied (although a gen­er­ous sprin­kle of choco­late chips never hurt any­one). There is a depth of fla­vor that's price­less in the fin­ished product.
Tech­ni­cally using Dutch-processed cocoa, being more acid neu­tral, could require more chem­i­cal leav­ener to com­pen­sate (another pinch of bak­ing pow­der), but I haven't really noticed any dif­fer­ence swap­ping between them and leav­ing the recipe as is.
Dutch-processed cocoa can be harder to find in some areas, but it's worth look­ing for. Like any­thing, the price can fluc­tu­ate dra­mat­i­cally (I've seen pack­ages range from $3-$20) so check around for the best deal.
*Post amended to state the obvi­ous– please buy fair trade when you can! Yes, it costs more, but you are help­ing to pay liv­ing wages for peo­ple who are work­ing for legit­i­mate farms where they are not slaves, but actual employ­ees. The choco­late, cof­fee and dia­mond (and tea and bananas and more!) indus­tries are very dark and dirty busi­nesses to be in. Vote with your dollars!
Choco­late chip pis­ta­chio cook­ies and pump­kin cin­na­mon rolls are in my near future. What hol­i­day bak­ing treats do you see in your bak­ing crys­tal ball?