Or lay-on-the-couch-and-watch-TV-all-day fuel. Or Tofurky-coma-hangover-need-energy-to-tolerate-family-I-only-see-this-time-of-year fuel. What­evs. It works in any scenario.
While you worry about the food for today, let me worry about the food for tomor­row. Use some of the left­over ele­ments of Thanks­giv­ing that will be lurk­ing in your fridge, des­tined to mold (ah, we all have such good inten­tions, don't we?), and turn them into a hearty, deli­cious post-Thanksgiving break­fast. Creamy yet chewy steel cut oats join forces with that last lit­tle scrap of pump­kin puree, some spices and maple syrup to make an ulti­mate break­fast. And with left­over cran­ber­ries on top? Ooh yeah, that's what I'm talkin' 'bout.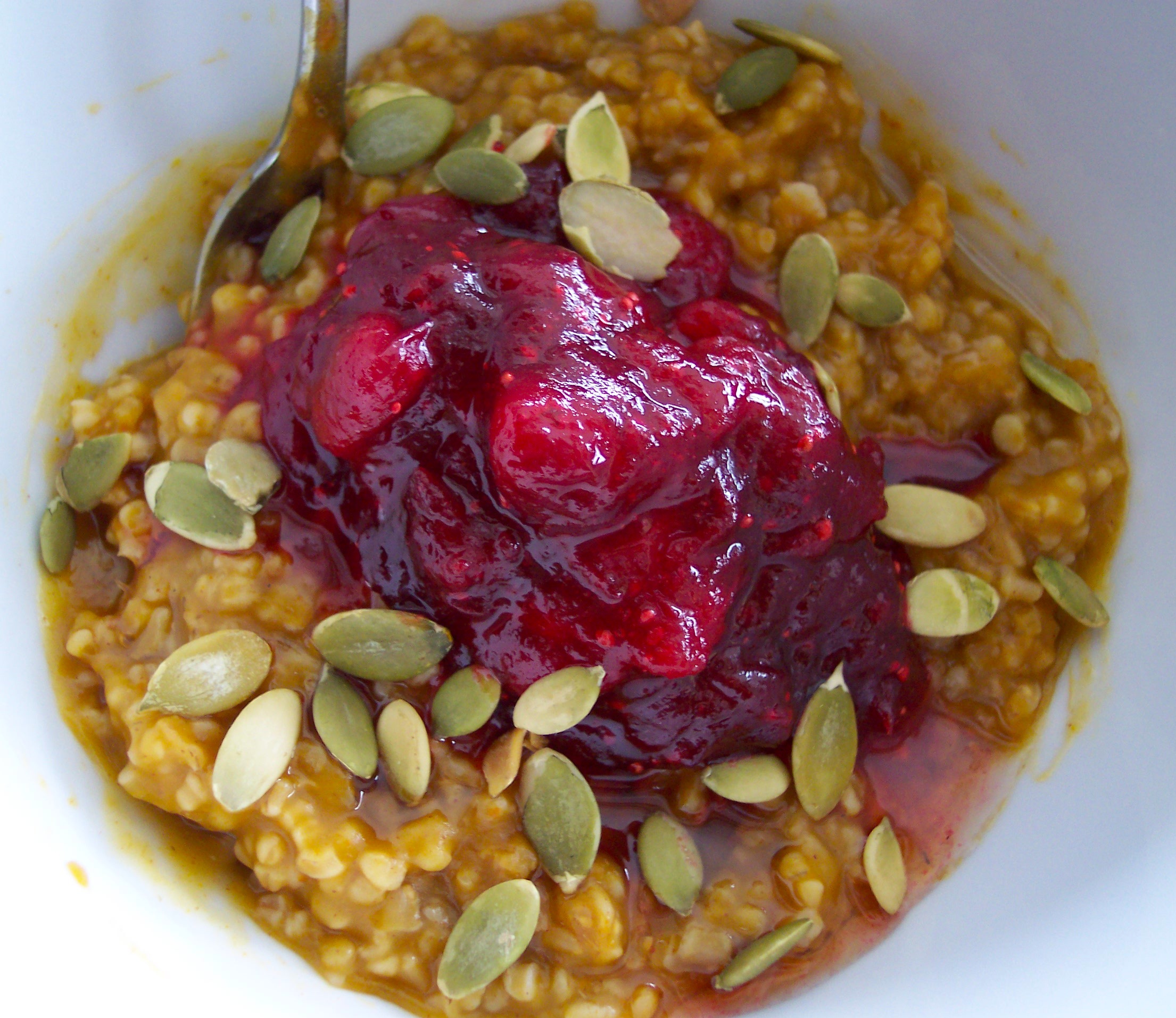 T-Day Oats
Serves 2
2 cups water
1/2 cup steel cut oats
1/4– 1/3 cup pump­kin puree (depend­ing on taste)
2 tbsp. maple syrup
1/8 teas. pump­kin pie spice
1/8 teas cin­na­mon
cran­berry sauce (optional)
In a pot, bring the water to a boil. Add the oats and lower the tem­per­a­ture to a sim­mer. Let cook until oats absorb most of the water, about 15 min­utes. Add the pump­kin puree, maple syrup and spices and mix well. Let cook until oat­meal is bub­bly and cooked to desired consistency.
Serve with a driz­zle of maple syrup and some cran­berry sauce, if using.