I like to think that I have a very well-equipped kitchen. From uten­sils and gad­gets to pans and hard­ware, I have a lot of really solid tools for my trade. Some might say I have too many kitchen toys… The things is, as you all know, find­ing places to put all this stuff. Stor­age! That is the one thing you can never have too much of.*
Thank­fully, tech­nol­ogy is my friend and helps me find more ways to save time and space in the kitchen!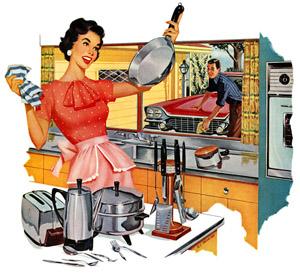 Okay, but seri­ously. I used to own this:
and this:
and this:
Whew! Large and in charge, all three of these items took up a ton of space. A few months ago, I was look­ing at get­ting a newer, nicer rice cooker and stum­bled across this beast:
I imme­di­ate busted out my phone and did what I always do when I'm con­sid­er­ing an unknown pur­chase– look at reviews on Ama­zon. It was look­ing pretty promis­ing and the price was totally right, so we decided to take the plunge and get it. It has since taken the place of all three of the above, which I was lib­er­at­ing by releas­ing into the wild (of other people's kitchens).
After sev­eral months of using it, here is my assessment:
Pros:
–Replaces 3 large kitchen appli­ances.
–Pres­sure cook­ing done on the counter top now, rather than tak­ing up the stove!
–Rice/quinoa is cooked under pres­sure and cooks in just 6 min­utes once the unit reaches pres­sure (so total time is about 10 min­utes). I only need to run it for 2 cycles for wild rice! Nice.
–Rice tex­ture is fluffy and great plus no more brown­ing on the bot­tom of the pot when left on "warm".
–Much qui­eter when pres­sure cook­ing than the stove top model.
–Beans are ten­der.
–Slow cooks per­fectly.

Cons:
–Because there is only one way to release the pres­sure (valve), can't employ the "quick release" method we were used to on the stove top. It's not really a con, but has taken some get­ting used to in our bean prepa­ra­tion times based on our old habits. We haven't ruined a batch yet, though, and we're get­ting a bet­ter feel for it each time.
–The only option for slow cook­ing is the low set­ting, no high set­ting. This works fine for us because I never use the high set­ting, but could be a draw­back for some­one else.
So, you can see the pros out­weigh the cons sig­nif­i­cantly. I've been incred­i­bly happy with this pur­chase and keep rec­om­mend­ing it to peo­ple, so I fig­ured I should blog about it! The cost of a really good rice cooker alone is usu­ally close to dou­ble the cost of the this unit. And, for the record, I am writ­ing this review on my own accord. Cool com­pa­nies never offer me swag. Alas, I buy my own gad­gets.



What kitchen appli­ance or tool do you most love?
*This is a totally unre­lated side note but what­ever, I love tan­gents. I know there are a lot of gram­mar­i­ans and Eng­lish majors who read this blog. As I was proof­read­ing this entry, I noticed the above sen­tence, which I ended with a prepo­si­tion. "Eeek!" I could col­lec­tively hear you say­ing. "You should never end a sen­tence with a prepo­si­tion!" Lit­tle known fact, I used to be a Lin­guis­tics major in col­lege, so here's a story about the his­tory of Eng­lish and that silly rule.
Cen­turies ago, when more and more books and pam­phlets were being put to print, gram­mar­i­ans were con­cerned about the degra­da­tion of the Eng­lish lan­guage (when aren't they con­cerned?). They decided it was time to put more rules and para­me­ters around Eng­lish. Latin was revered as the true, "edu­cated" lan­guage to which we should aspire to emu­late. It was nat­ural to them that they decided in order to speak proper Eng­lish, they would apply rules of Latin to it. In Latin, there is a rule which says you can­not end a sen­tence with a prepo­si­tion because you lit­er­ally can­not. Your sen­tence would not make sense because within the struc­ture of Latin because it would not be reflect­ing back onto a noun, it would just hang there and be nonsense.
Now, being that we aren't speak­ing Latin and that you can under­stand most Eng­lish sen­tences with the prepo­si­tion falling at the end of the sen­tence, it's not actu­ally nec­es­sary. Sure, some­times a restruc­ture of a sen­tence makes it sound bet­ter, but some­times it sounds worse. As I always say, do what feels right to your ear. And if you're inter­ested in read­ing more about this mis­guided rule, click here or here.