I am a big fan of day­light sav­ings so when we go off of it for the win­ter, it's hard not to get a lit­tle sad. Here in the PacNW, it's lit­er­ally pitch black by 5 p.m. We're in our rainy sea­son, which means that even when it's not rain­ing we are in for pri­mar­ily over­cast days for sev­eral months to come. This isn't a major com­plaint, so much as I'm set­ting the scene.
My dark com­mute home from work yes­ter­day was accom­pa­nied by a tor­ren­tial down­pour. As I bar­reled along­side the other com­muters, whose only goal was to get home in one piece, I began to day­dream of a lit­tle bite of sun­shine. Some­thing bright and cheery to off­set all of the heavy, pumpkin-laden treats we've been enjoy­ing as of late. When I got home, I started pulling out ingre­di­ents only to dis­cover that I had a scant amount of flour lin­ger­ing in the bot­tom of the can­is­ter. I was in no mood to ven­ture back out into the madness.
Time to impro­vise! Light and bright and requir­ing lit­tle flour… My mind wan­dered and landed on the deli­ciously sim­ple clafoutis. In 100 Best, I have a clafoutis recipe that I love to whip up on a whim, as I always have silken tofu in my fridge and cher­ries in my freezer. I decided to go with some lit­tle, sin­gle serv­ing clafoutis with some frozen mixed berries.
If you haven't had clafoutis before, you're in for a real treat. These lit­tle morsels hold up well (great for nosh­ing with one hand and typ­ing with the other!), but remain ten­der and custard-like. If you're afraid of bak­ing with tofu, get over it already! You're miss­ing out! Also, you can make this with brown rice flour instead of the all-purpose and you've got clafoutis, gluten-free.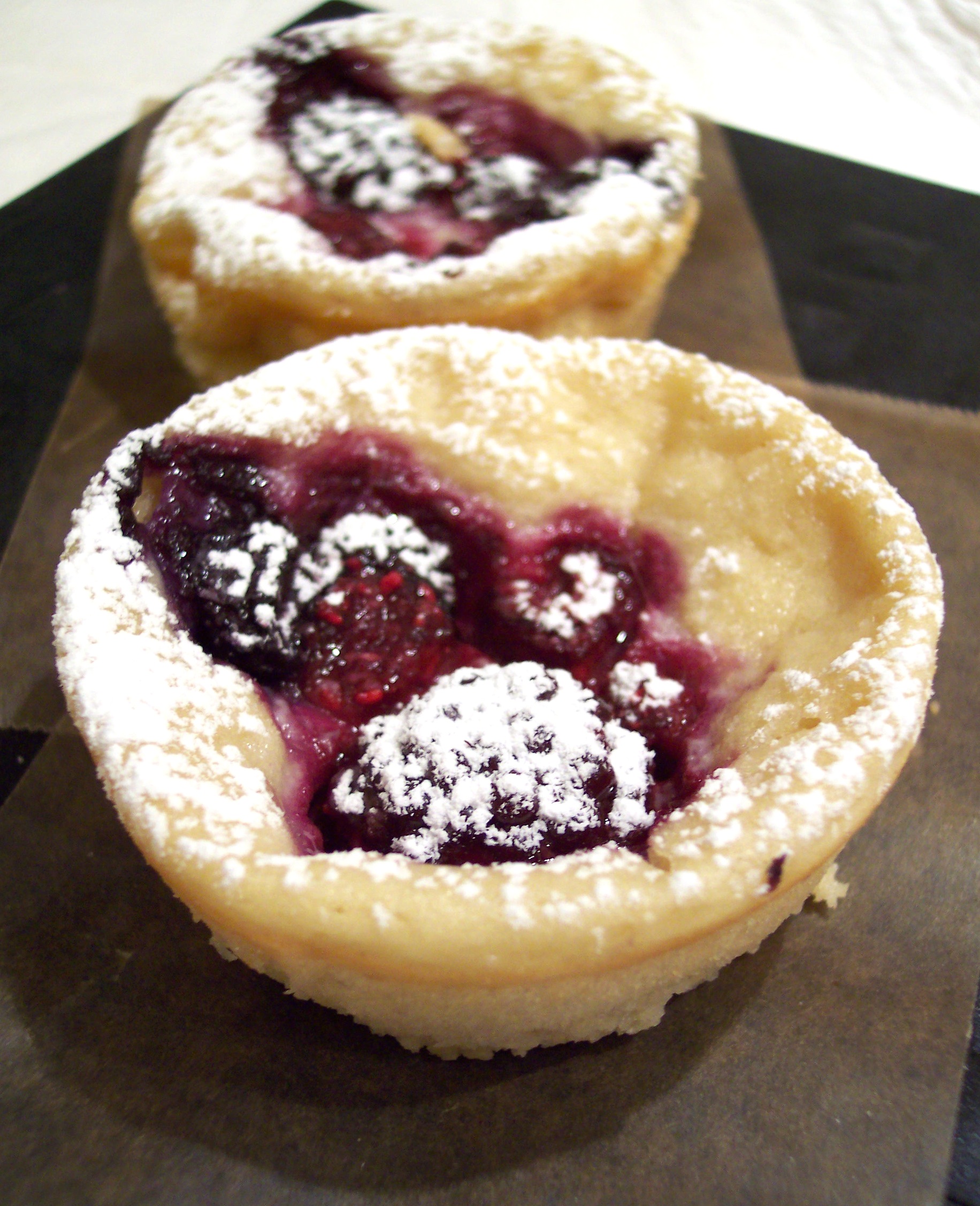 Une Bouchée de Clafoutis*
1 (12.3 oz.) con­tainer of firm silken tofu
1/2 cup organic sugar
3/4 cup unbleached all-purpose flour
3/4 cup milk of choice
1 1/2 teas. bak­ing pow­der
1 teas. vanilla
sprin­kle salt
1 cup berries, thawed and drained
pow­dered sugar to dust
Pre­heat oven to 375. Lightly grease a 12 cup muf­fin tin.
In the bowl of a food proces­sor com­bine the tofu and sugar and blend until mixed. Add the flour, milk, bak­ing pow­der, vanilla and salt and mix until creamy and smooth, scrap­ing down the sides of the bowl as needed.
Fill each cup 2/3 of the way with bat­ter. Sprin­kle berries on top of each cup; do not mix.
Bake for 20 min­utes, until clafoutis are puffy and lightly golden. Remove from oven and let cool com­pletely before loos­en­ing with a but­ter knife and serv­ing. Clafoutis is deli­cious warm, but will fall apart if you try to take them out too soon, so feel free to reheat in the microwave or toaster oven. Dust with pow­dered sugar before serv­ing. Store left­overs cov­ered, in the fridge.
Makes 12 servings.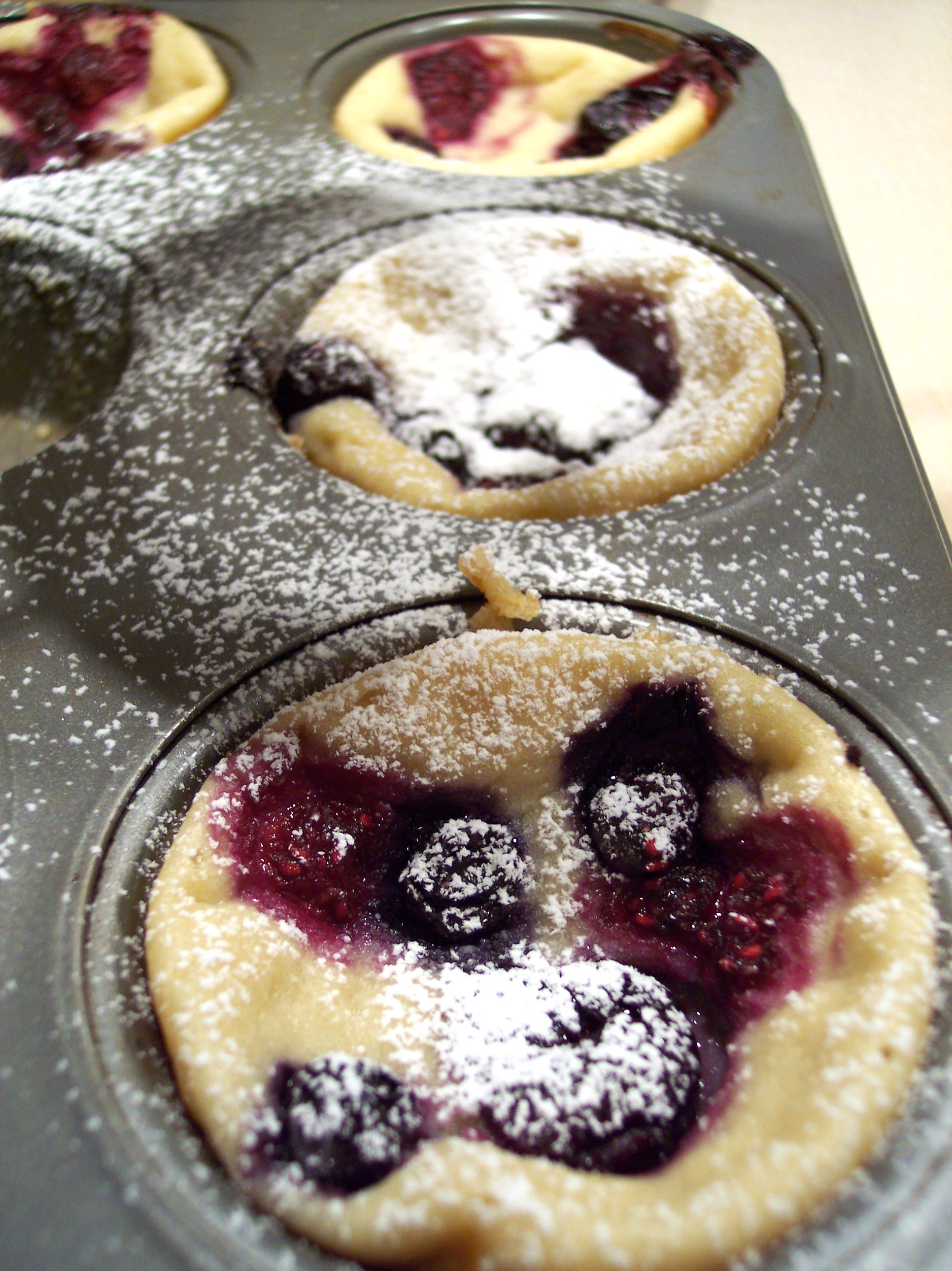 *(Josiane, I'm rely­ing on you to tell me if I butchered the title, I haven't stud­ied French in over 12 years!)