Port­land is known as the land of food carts. You lit­er­ally can't pass an unused park­ing lot or street cor­ner with­out trip­ping over one. You think it would get old– I think it's heaven.
For most peo­ple from other parts of the coun­try, the idea of eat­ing out of an old airstream, a ren­o­vated Roach Coach or a bus sounds unap­peal­ing. That is, until you eat food made by amaz­ing chefs with good sense– the over­head is low, they are still held to the same health code stan­dards as stan­dard restau­rants and they are much eas­ier to start up, and from there decide if they really want to have a restau­rant. The food carts in Port­land are so amaz­ing, I lit­er­ally would be con­tent if I never stepped foot in a reg­u­lar restau­rant again (with the excep­tion of my beloved BL, of course).
The food carts I'm fea­tur­ing here aren't necce­sar­ily new to the Port­land scene, quite the con­trary in most cases, but they are some of my favorites and I had pic­tures of their food on my phone. So there.

Best "Dutch bur­rito"- Flavour Spot
Flavour Spot not only wins for hav­ing an awe­some vegan waf­fle sand­wich (a crisp waf­fle stuffed with vegan sausage and schmeared with maple cream), they get extra points for spelling "flavour" with a "u". They have three loca­tions in Port­land, with their Old Town loca­tion hav­ing night time hours. Excellent.
Best tofu from a truck– Los Gordi­tos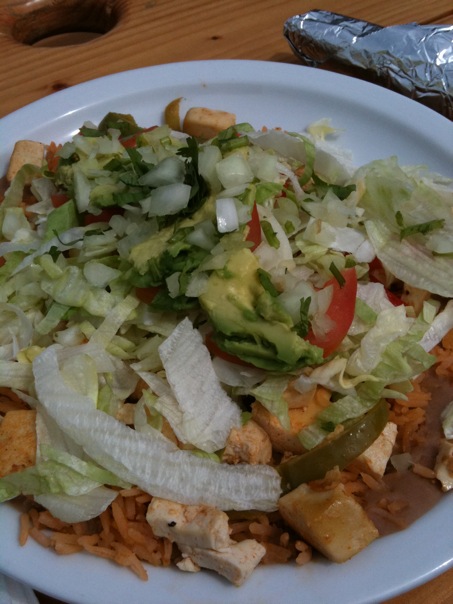 Los Gordi­tos, the famed Port­land Mex­i­can food truck (and now a brick and mor­tar restau­rant as well), with an exhaus­tive vegan menu, has the best Mex­i­can food I've ever had. My favorite item is the Tofu Bowl, which is actu­ally a large plate (go fig­ure), full of sea­soned tofu chunks, creamy refried beans, rice, let­tuce, toma­toes, soy sour cream and avo­cado. It's served with pip­ing hot corn tor­tillas to use to scoop up the magic mix. They also do things with soy curls that make your eyes roll in the back of your head with pleasure.
Most mouth-gasm induc­ing meal– Wolf & Bear's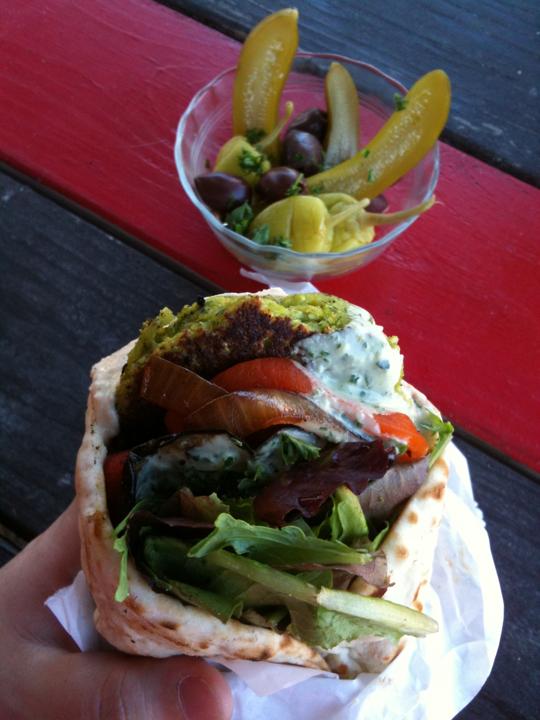 If you think you like falafel, you don't know any­thing until you've had Wolf & Bear's. This cart is run by two folks of Israeli descent. I've never been to the Mid­dle East, but I have heard from many a cred­i­ble source that this falafel is the best they've ever had in the US. Every­thing about it is mind-blowing– from the fla­vor­ful falafel patty (which is flat rather than in round balls, mak­ing it much eas­ier to eat and allow­ing for falafel-maximizing bites), the fresh pita, the hum­mus, the tahini, the caramelized onions and grilled pep­per and egg­plant to the lit­tle mix of olives and Israeli pick­les (cured in salt brine, not vine­gar) on the side. When eat­ing at Wolf & Bear's, I can't even speak, I am so intox­i­cated with my food. Sadly, the cart own­ers close down for the soggy win­ter months, alas, there will be no falafel until next spring. Bum­mer, but worth the wait.
Best health-infused meal from a cheekily-named cart– Lucille's Balls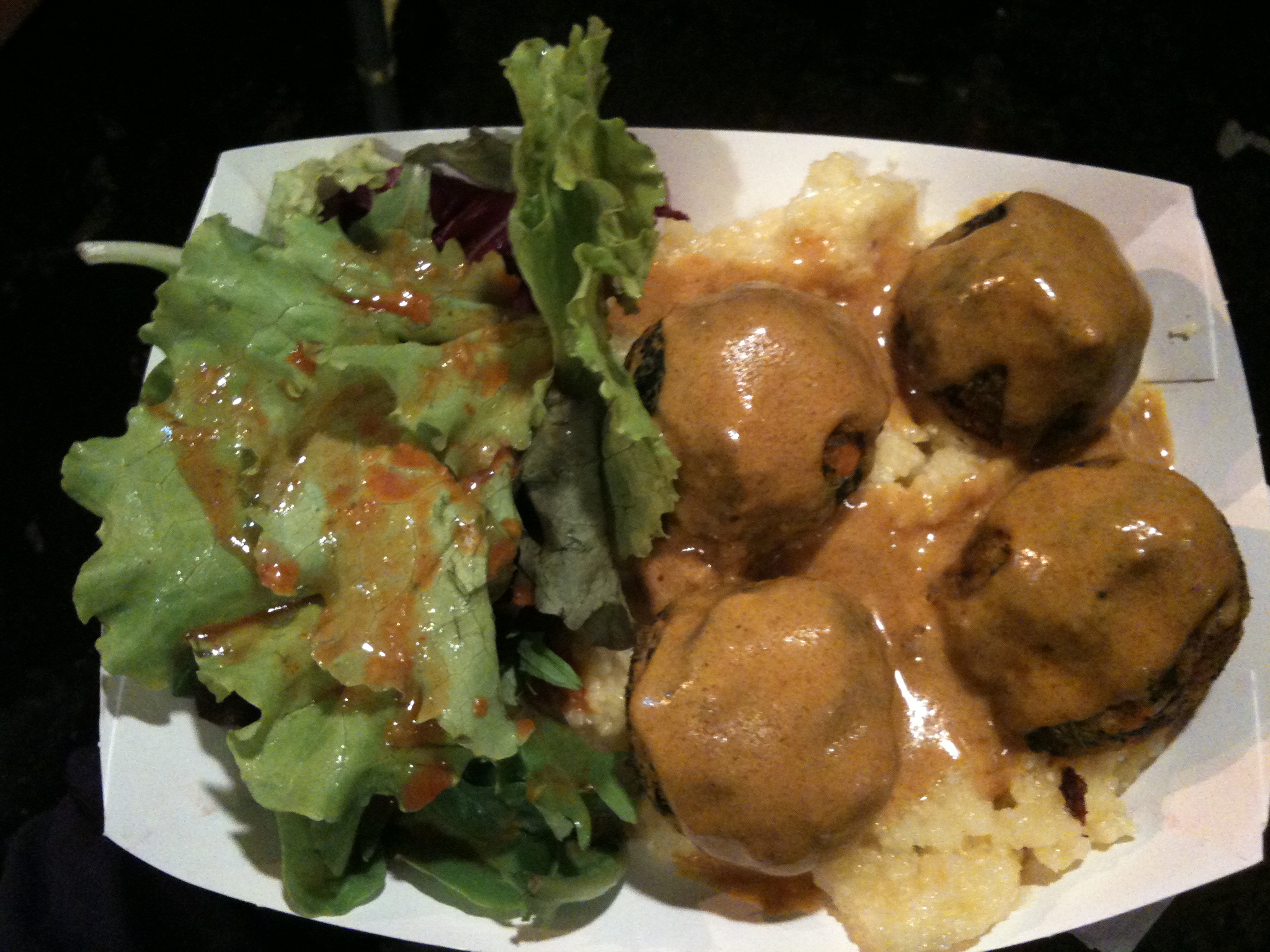 Lucille's is a newer cart in Port­land, in the Good Food Here pod (a pod is a con­gre­ga­tion of carts, like an out­door food court but much more deli­cious). While the vegan options are lim­ited, they are awe­some. This is food cart food you can feel good about eat­ing. The idea is this: pick your balls, pick your sauce, with your base and chow down. I like the sweet potato/spinach balls with coconut curry sauce over polenta. SO GOOD. It's also served up with a lit­tle side salad, which has a tasty vinai­grette with a lit­tle kick to it. Also in the Good Food Here pod is Kitchen Dances, which is run by Piper, for­merly of Proper Eats. They also have great food (includ­ing raw options!), but alas I have no pictures.
What are other people's favorite food carts? I real­ize I didn't add Whiffies or Potato Cham­pion, which are good and enor­mously pop­u­lar, but I'm just not much of a fried food person.
************************************
And now, for this week's MoFo win­ner– the post I picked from was my post on healthy bak­ing and win­ner was lucky com­men­tor #5, Lizzie! Lizzie, in honor of my fun inter­view with the fab­u­lous Celine, you win a copy of 500 Vegan Recipes!
Have a great week­end, everyone!