So, one of my blog­ger BBFs and I decided to swap blog space and inter­view each other. She devised some ques­tions for me to answer, I devised some ques­tions for her, we picked yummy recipes from each other's blogs. (You can read my inter­view here.)
With­out fur­ther ado, let me intro­duce some­one you already know (but cer­tainly want to learn more about) the lovely Celine Steen, author of 500 Vegan Recipes, Vegan Sub­sti­tutes and Hearty Vegan Meals.
1. At home, what do you use for baking/cooking: US or met­ric mea­sure­ments?
I pre­fer using US for liq­uid, met­ric for solids. I chan­nel my inner Meat Loaf and would do any­thing for love, which to me trans­lates into keep­ing the amount of dirty dishes to a min­i­mum, some­thing that weigh­ing stuff instead of mea­sur­ing it helps accom­plish.

2. What fla­vor com­bi­na­tion have you reluc­tantly tried that has pleas­antly sur­prised you?
I actu­ally can't think of any­thing that I reluc­tantly tried, because if it doesn't appeal — I just won't try it. Bor­ing and unad­ven­tur­ous maybe, but hey. There are so many fla­vors out there that I feel it'd be a waste of a per­fect meal to just force some­thing unap­peal­ing in. By golly.

3. If you were rich and could have all your meals deliv­ered, where would you get your food from?
My mom's kitchen!

4. How long have you been vegan? What recipes where the big ones you absolutely had to con­vert imme­di­ately?
I went vegan about 6 years ago. I think in the begin­ning I just went for safe veg­web recipes and the ones found in books, prob­a­bly How it all Vegan. Then I grew some hair on my chest and became more dar­ing, mak­ing stuff from scratch and going from there. Oh now I remem­ber: lasagna was the big thing for me, because my mom's lasagna was the best, and it also was the first meal Chaz made for me when I came to visit him in the States. The vegan ver­sion makes my heart pitter-patter just as much as the other ones did, by the way. (No offense to Chaz or mom.)

5. What has been your worst baking/cooking dis­as­ter? Did you eat it any­way?
There's one of those going on at least once a week over here, because while fail­ure may not be an option, it will laugh in your face and hap­pen to you whether you like it or not. But I almost always refuse to toss stuff out, unless it's beyond vile. Lessee: I think one time, in my early bak­ing days, I tried to mix some tofutti cheese slices into muffins, which resulted in some gooey, swamp crea­ture wor­thy type of hor­ror. Fun times! Trash time, in this case. What was I think­ing?

6. Sur­prise! The coolest vegan restau­rant in the world is, right­fully, madly in love with you. They decide to cre­ate a name­sake meal in your honor. What would that meal be?
Will the restau­rant wine me and dine me first, to see if we are a per­fect match? Flow­ers would be a nice touch, too.
Even though I clearly have to have desserts or the day didn't hap­pen, I can't help but lean toward the one weak­ness I've had all my life: per­fect French fries. Crispy out­side, ten­der inside, salty, not too greasy. Oh yeah, that's the stuff.
7. Nom­nom­nom… you have been a recipe writ­ing machine. What do you do to bal­ance all of cre­ative crazi­ness so you don't have a "The Shin­ing" moment?
I drink red rum.
And I also have to work out, work out, work out. Not only does it make room for more food, but it also helps me clear my head from any unnec­es­sary junk.
8. If you could do a cookie swap with any famous vegan, who would it be? What kind of cook­ies would you make them?
Miss Mo! She's made of 100% kick­as­si­tude, and she also hap­pens to have the same first name as my mom. If I had any cookie icing skills, I'd go for some­thing Whe­do­nesque on a tasty sugar cookie. Maybe a por­trait of Riley Finn, or some­thing.

9. When you are spend­ing a long day in the kitchen, what do you lis­ten to/watch to keep your­self pumped?
I'm really into 12 Rounds, Nine Inch Nails and PJ Har­vey right now. Angsty music makes for per­fectly kneaded bread dough, for real.
As far as the watch­ing bit goes, I just fin­ished the 7th sea­son of Buffy for the [insert crazy num­ber here]th time and am ready to dive right back in. Send help.
10. Are your kit­ties taste-testers? What is the most unusual thing one of you cats has sam­pled?
Dear god no. NO! If they taste-test, I inevitably pay for it later. Enough said.
11. Quick! I'm com­ing over in 1 hour and you're going to make me lunch. Using just what you have on hand, what's on the menu?
Cobb salad and crab cakes. And banana bread. And a que­sadilla for later, if you're good.

12. Okay, it's me (Kris), so some­thing about Trader Joe's has to come up. What's your favorite goodie from TJs?
One of them cute cashiers will do just fine. Or if we really are talk­ing about food, it's tough to choose one: but I really like their "colon blaster" muffins, as Chaz calls them. You know, the ones that are fiber rich and packed with rasp­ber­ries, blue­ber­ries, or mango?

13. When you come to present at Vida Vegan next year, where do you absolutely have to eat while in Port­land?
As far as food goes, I know that any­where will be per­fect because there hasn't been a sin­gle dis­ap­point­ing restau­rant visit when I was there the first time, but the one thing that has been on my mind ever since I left is of the liq­uid courage per­sua­sion: a Bye & Bye* is first on my to-do list. August can't be here soon enough.
++++++++++++++++++++++++++++
*coin­ci­den­tally (or maybe not), The Bye & Bye is where I met Celine IRL for the first time.
While I was tempted to fill a stock­pot with Choco­late PB Syrup and drink it with a straw, I decided to exer­cise some self restraint. I can never get enough choco­late or pump­kin, so I recently whipped up Celine's Pump­kin Choco­late Brownie Cake. It's a super nom-tastic cake you can feel good about eat­ing because Celine is a tasty-treat ninja like that.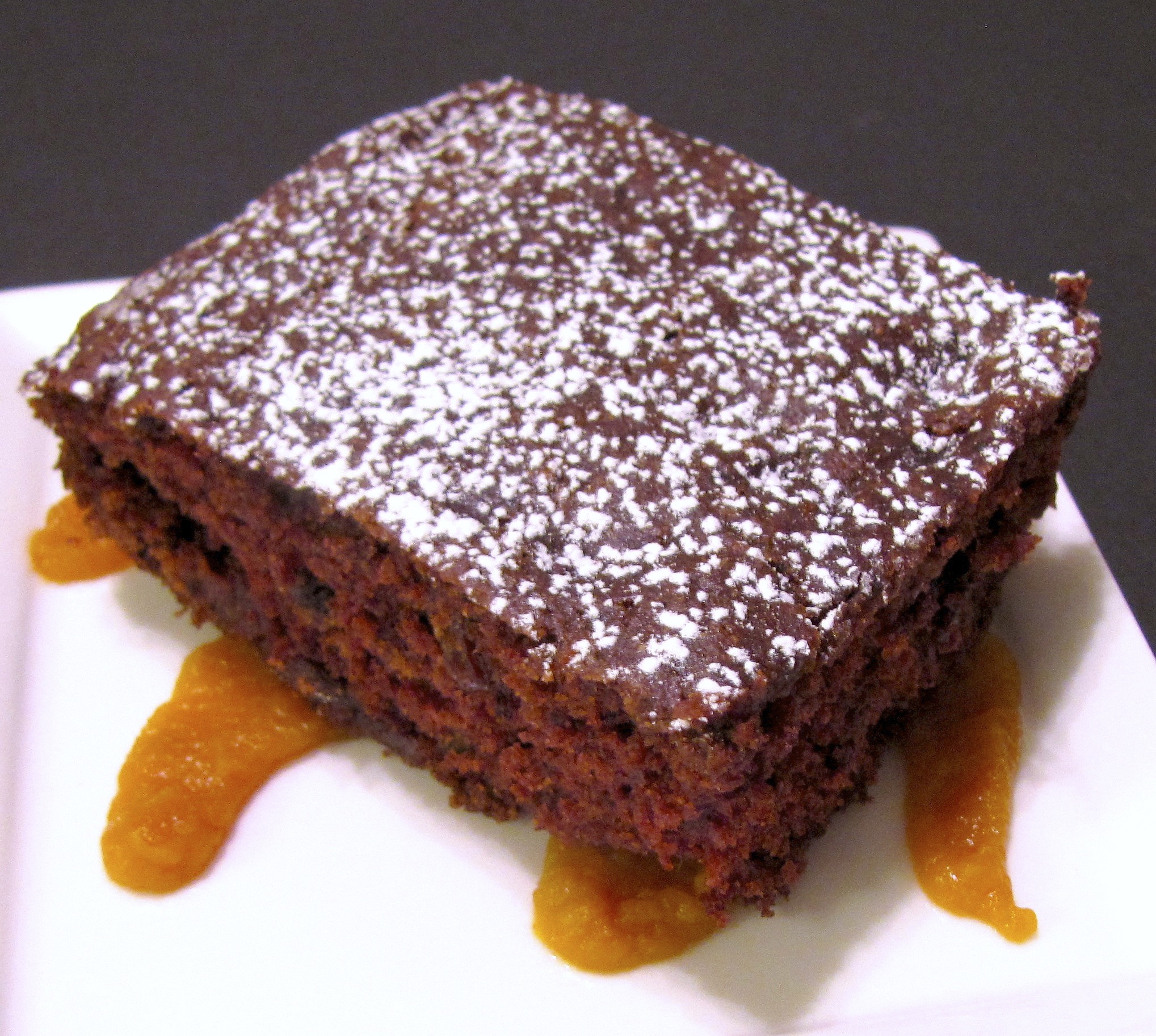 Pump­kin Choco­late Brownie Cake
Non-stick cook­ing spray
1/4 cup (60 ml) plain soymilk
1 tea­spoon apple cider vine­gar
1/2 cup (60 g) whole-wheat pas­try flour
1/2 cup (63 g) all-purpose flour or 1/2 cup (60 g) whole-wheat pas­try flour
1 tea­spoon bak­ing pow­der
1/2 tea­spoon bak­ing soda
1/3 cup (67 g) gran­u­lated sugar or 1/3 cup (64 g) Sucanat
1/3 cup (73 g) packed light brown sugar or 1/3 cup (64 g) Sucanat
2 table­spoons (10 g) unsweet­ened cocoa pow­der
1 tea­spoon ground cin­na­mon
1/2 tea­spoon ground gin­ger
1/2 tea­spoon grated nut­meg
1/2 tea­spoon fine sea salt
1/2 cup (122 g) pump­kin purée
1/4 cup (61 g) unsweet­ened apple­sauce
3 table­spoons (45 ml) canola oil
2 tea­spoons pure vanilla extract
1/3 cup (58 g) nondairy semi­sweet choco­late chips
Pre­heat oven to 350°F (180°C, or gas mark 4). Lightly coat an 8-inch (20-cm) square bak­ing pan with spray.
Com­bine vine­gar and soymilk in a medium bowl: it will cur­dle and become like but­ter­milk. In a large bowl, sift together flours, bak­ing pow­der, bak­ing soda, sug­ars, cocoa, spices, and salt. Whisk pump­kin purée, apple­sauce, oil, and vanilla into the but­ter­milk mix­ture, until combined.
Fold wet ingre­di­ents into dry, being care­ful not to over mix. Fold in choco­late chips. Place bat­ter into pre­pared pan.
Bake for 23 min­utes, or until a tooth­pick inserted in the cen­ter comes out clean. Let cool in pan, on a wire rack. Remove from pan after at least 30 min­utes. Enjoy at room tem­per­a­ture or cold.
Yield: 6 to 8 servings