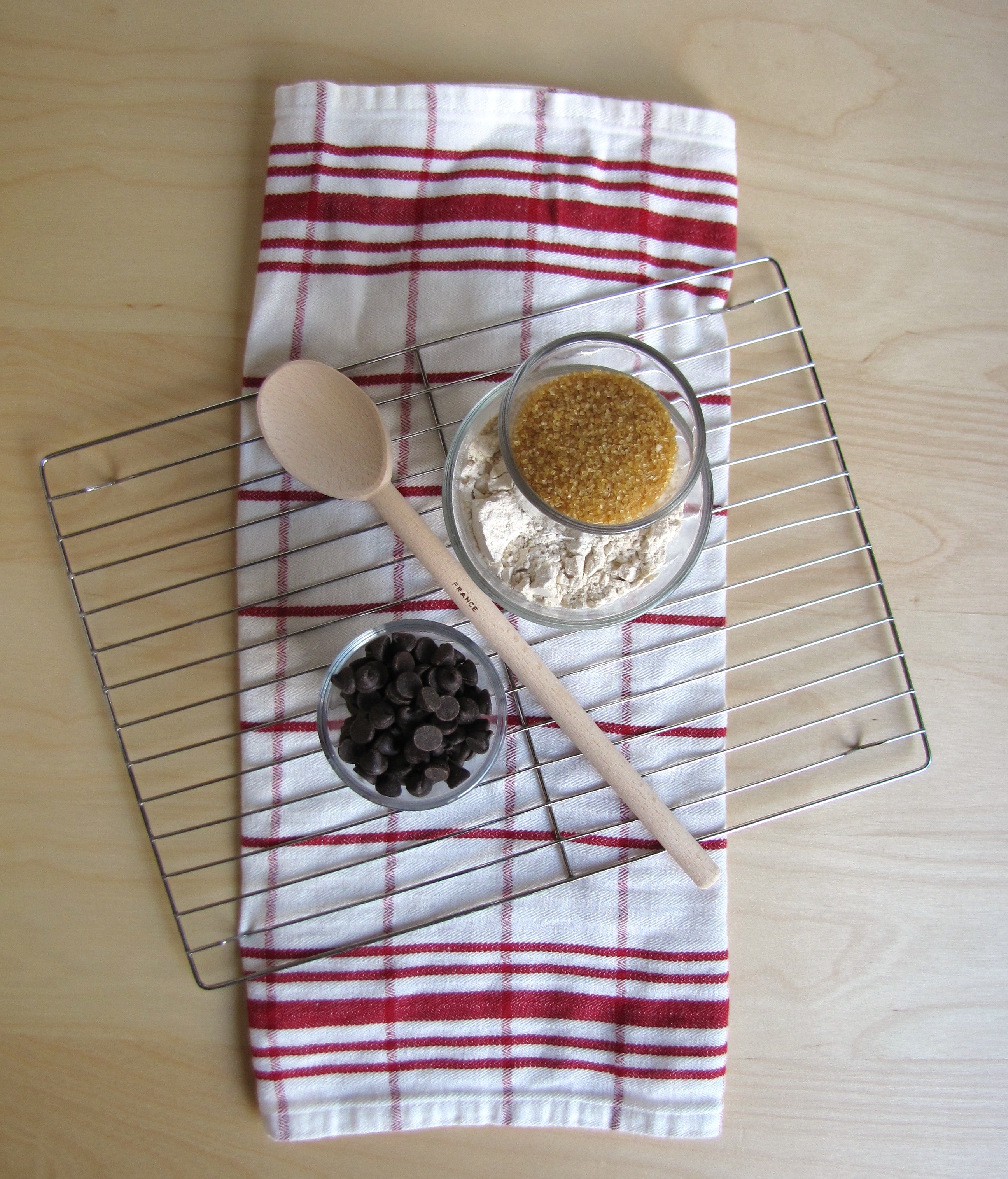 So… I didn't MoFo yes­ter­day. Oops.
Today, I want to dis­cuss bak­ing and health. I get enor­mously frus­trated when peo­ple say to me, "Oh, you're a vegan baker? Your stuff must be really healthy."
Uh, no, actu­ally. It's not.
And then I have to try to explain to them that while it's not full of ani­mal ingre­di­ents and white sugar and bleached flour, it's still full of fat and sugar and white flour. Plenty of veg­ans make things super healthy but, for bet­ter or worse, I'm not one of them, at least not when it comes to my books. My objec­tive is to make things taste as "nor­mal" as pos­si­ble. I don't want an omni to be able to tell the dif­fer­ence and I don't want a vegan or some­one with food aller­gies to feel like they are eat­ing any­thing less than.
That said, some­times it pays to clean up your act a lit­tle bit. I tend to bake way too much quite a bit and because I don't like not bak­ing, I have to mix it up in order to keep us healthy. It's no secret that the recipes in my cook­books are some­times foods. But because I have a par­tic­u­lar taste pal­late, I don't want my bak­ing to taste too healthy. Where's the fun in that?
Here are some of my tips to help you make your baked goods health­ier with­out sac­ri­fic­ing flavor.
1. If a recipe calls for sugar, use a lit­tle! Even if I'm cut­ting the sugar con­tent sig­inif­cantly or are sub­sti­tut­ing a liq­uid, I always add a lit­tle bit of reg­u­lar sugar (I use evap­o­rated cane juice) to a recipe. Gran­u­lated sugar breaks down dif­fer­ently than liq­uid and greatly con­tributes to the mouth­feel of a baked good, which is the most impor­tant con­sid­er­a­tion when health­i­fy­ing any recipe. Keep­ing a bit of sugar in there helps retain that mouth­feel, ensur­ing your muffins won't be mealy like a biscuit.

2. Always use a lit­tle bit of fat. Sub­sti­tute apple­sauce or what­ever to your heart's con­tent, but always use at least 1–2 table­spoons of fat. Fat-free baked goods have a rub­bery tex­ture. Fat is also impor­tant to help you feel sati­ated, so you don't end up eat­ing 3 muffins instead of just 1. Oops.

3. Blend your flours. Even when bak­ing health­ier, I always do a blend of whole wheat and white flour. This goes back to mouth­feel. Whole wheat flour is grit­tier and more dense. It also absorbs more liq­uid, so you may need to add an addi­tional table­spoon or two of liq­uid when sub­sti­tut­ing flours. I usu­ally do a mix­ture of white flour, whole wheat and some ground oats when I'm bak­ing for my health. This creases the fiber and pro­tein of the baked good with­out it tast­ing like I'm eat­ing some­thing that came from a 1960s co-op bakery.

3. A lit­tle sprin­kle (of sugar) goes a long way. I tend to cut back sig­nif­i­cantly on the sugar con­tent in my baked goods but often, although the tex­ture is okay, they just don't taste that sweet on their own. I love to add a sprin­kle of coarse sugar to the top of what­ever I'm bak­ing (typ­i­cally muffins or cook­ies). This sugar doesn't dis­solve into the baked good and is then imme­di­ately avail­able to your tongue when eat­ing, ensure your get that desired sweet­ness with­out ingest­ing a mass of sugar.

4. Mix it up. It's amaz­ing how far a sprin­kle of choco­late chips, some berries, lemon zest or a tea­spoon of gin­ger can take a recipe. Extracts are great, too, to help cre­ate a pro­nounced fla­vor with­out adding calorie-heavy ingredients.

5. Don't forgo the top­ping. Find a lesser-evil if some­thing you're mak­ing is usu­ally really deca­dent. If you feel deprived you will go to the other end of the spec­trum and then binge on super unhealthy things. Trust me, I've been there. If a recipe calls for fatty frost­ing, add a light glaze. Cre­ate a fruit com­pote to top it off. Just because you're mak­ing things health­ier doesn't mean you have to be without.
What things to do you do to help make a recipe healthier?