Wow, so the first week of Vegan MoFo is rolling to a close. So far, so good! There has been lots of amaz­ing food to look at and I'm dis­cov­er­ing so many new-to-me blogs! That's what it's all about, right?
So, restau­rant posts seem like a bit of a cop-out. Which they are. But, if you want someone's opin­ion on a restau­rant, it's really nice to read blog reviews, right? Please excuse the poor qual­ity of the pic­tures, as my cam­era on my phone is less-than-spectacular.
First stop is Dick's Kitchen, in SE Port­land. This is a newer restau­rant that has cropped up in the space next to Laugh­ing Planet, a space that is owned and oper­ated by Laugh­ing Planet, but has cycled through four dif­fer­ent eat­ing estab­lish­ments in the past 4 years. It's got a mod-retro diner feel and spe­cial­izes in burg­ers. I'm usu­ally pretty "meh" about that sort of thing, but a friend men­tioned that they serve vegan milk­shakes. Veg­gie burg­ers, fries AND vegan milk­shakes? Okay, I had to go.
I had a tem­peh burger with BBQ sauce, some fries and a choco­late milk­shake, which was made with Coconut Bliss, an extra spe­cial treat. I wasn't entirely won over, but I will go back and try some­thing else on their menu. My par­tic­u­lar meal was good, but not over­whelm­ingly so, although I love the fact that they make every­thing from scratch. Any by every­thing, I mean every­thing. Ketchup, pick­les, BBQ sauce, etc. Very cool.
Although this makes me come back to a point that I've often won­dered: is it pos­si­ble to get a vegan milk­shake that's actu­ally thick? Like straining-to-suck-through-the-straw thick? They are always so runny and smoothie-like. Sip does a pretty good job, but when I see vegan milk­shakes on the menu, I am often let down.
Mov­ing on to other noms: Back to Eden. If you're a Port­lander, BtE is now a Port­land sta­ple, fa ormer whole­sale bak­ery turned NE Port­land bakeshop/cafe. We stopped in for a bite on Hal­loween night and ended up with these beauties.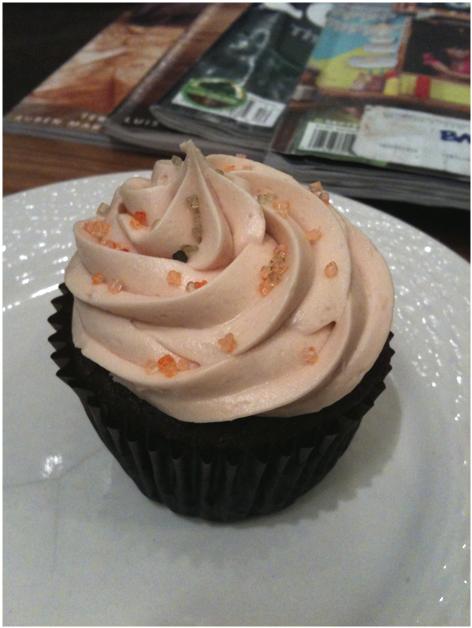 A gluten-free choco­late cup­cake with orange cream frost­ing. One of the things I love about their but­ter­cream (a thing I am noto­ri­ously picky about) is that it's just right. Not crunchy with an overkill of sug­ary sweet­ness, but not bland, leav­ing an oil slick in your mouth (I'm talk­ing to you, Saint Cup­cake). Smooth and sweet, the way but­ter­cream should be.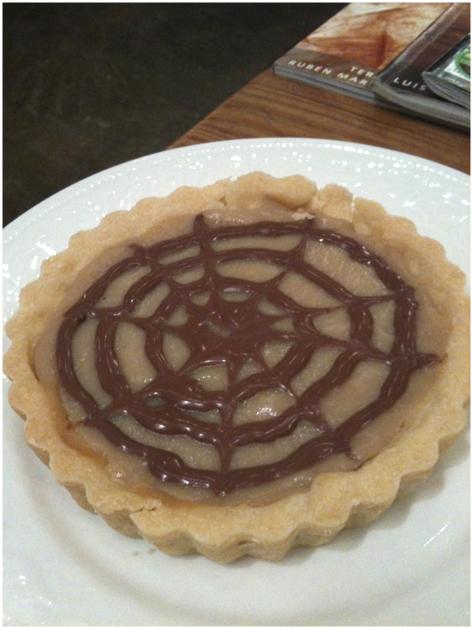 A but­ter­scotch pud­ding tart. Don't you love the lit­tle choco­late spider's web? This was phe­nom­e­nal and had Jim and I fork spar­ring for the last bite. Yum.
And now, for the Vegan MoFo week 1 give­away win­ner! Each week I'm pick­ing a ran­dom post and giv­ing away a ran­dom prize to a ran­dom com­men­tor. This week I hap­pened to pick the post that has the prize in it: the gar­lic post! The win­ner is, none other than our lovely, preg­gers Leigh! Leigh, you pick whether you want the rub­ber peeler or the Zoom and it's yours, baby mama.
Have a great week­end and I'll see you here next week for more MoFo!