I have a dirty lit­tle secret. One of those things that foodie peo­ple mock loudly and then all their groupies join in, laugh­ing, while some of us awk­wardly chuckle as our eyes dart around, ner­vously, to see if we've been found.
For years, I pri­mar­ily used jarred gar­lic. And you know what? I still have a jar in my fridge.
Sure, fresh gar­lic is cheap and tastes bet­ter. But get­ting those pesky skins off each clove was mak­ing me nuts! Then my fin­gers would stink for days, no mat­ter how many times I ran cold water over my fin­gers while rub­bing them over the back of a spoon or using lemon juice. Real gar­lic only got pulled out for com­pany and jarred was good enough for us.
And then, last year, this lit­tle friend arrived in my stocking: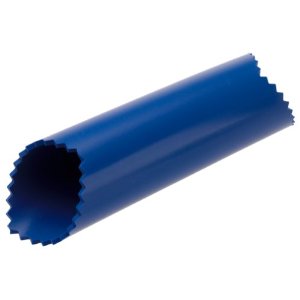 Sure, I'd seen these at the store before, but always thought, "Seri­ously? What a gim­mick!" I mean, come on, a rub­ber tube? What good would that going to do? I thought it was sweet that Jim tried to get me a new gad­get, even thought it wasn't going to work. Right?
Oh boy, lit­tle rub­ber tube + fresh gar­lic = WIN! All it takes is a cou­ple of sec­onds of rock­ing and rolling on the counter and the skins just shed off. Perfecto!
But now, to mince. Again, I don't want stinky hands. Enter: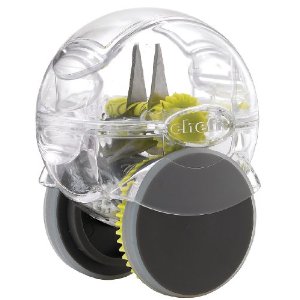 The Gar­lic­Zoom. It looks stu­pid, but works really, really well. Between the tube and the Zoom, I have freshly minced gar­lic in under 1 minute, no joke.
Now, you may have noticed that I said that I still have a jar of gar­lic. Some­times I'm out of fresh or I'm really just that lazy. But I have to give it to these lit­tle, vampire-repellent tools of the trade. They rock.
*I just want to note that I was not paid or asked by either com­pany to pro­mote these prod­ucts. I just has a luv.