First off, I want to plug a super cool new fea­ture that Word­Press is offer­ing: Food­Press! It's an easy way to sift and sort through the tons of food blogs hosted by Word­Press and to see some cool fea­tures that might not oth­er­wise cross your screen. Like you need another distraction.
I would love to know the fis­cal impact of lost worker pro­duc­tiv­ity due to Vegan MoFo.

Is it pos­si­ble to eat too much pump­kin good­ness this time of year? Never! One of the most pop­u­lar recipes from 100 Best is, of course, one of the recipes with a typo in it. D'oh! Here it is, in all its cor­rected glory, for your autumn nom­ming pleasure.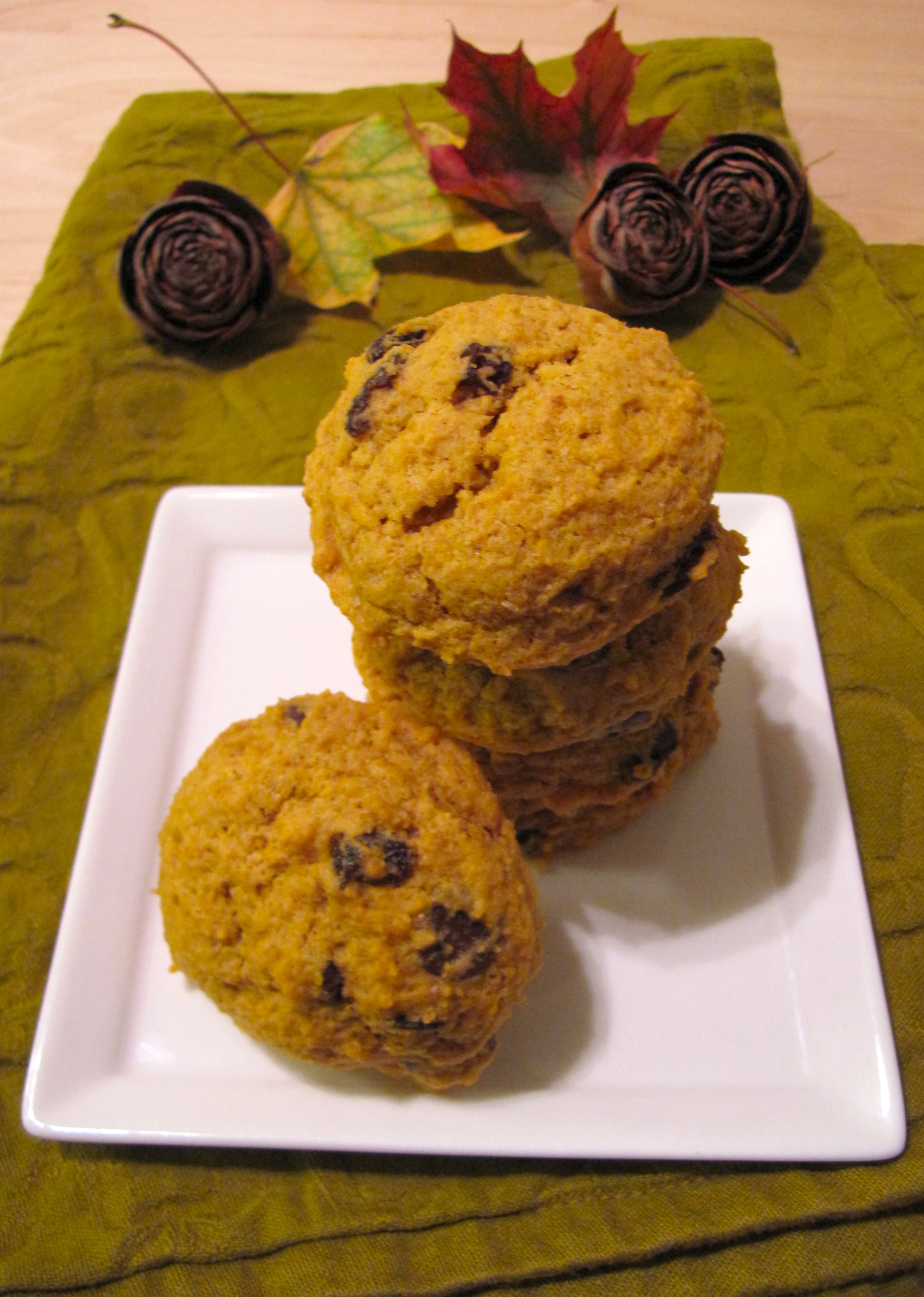 Pump­kin Choco­late Chip Cookies
Always a favorite dur­ing the colder months, these cook­ies are very light and airy. The pump­kin adds a unique hue and a boost of beta carotene to each bite. That's enough nutri­tion to con­vince me to have seconds!
2 cups flour
1 tea­spoon. bak­ing pow­der
1 tea­spoon. bak­ing soda
1 tea­spoon. cin­na­mon
1/8 tea­spoon. salt
1 cup mar­garine, soft­ened
1/2 cup reg­u­lar sugar
1/2 cup packed brown sugar, packed
1 cup canned pump­kin (not pump­kin pie fill­ing)
2 teas. milk of choice
1 tea­spoon. vanilla
1/2 cup choco­late chips
Pre­heat the oven to 350 degrees. Line two bak­ing sheets with with parch­ment paper.
In a small bowl, com­bine flour, bak­ing pow­der, bak­ing soda, cin­na­mon and salt ingre­di­ents. In a large bowl, beat cream sugar, brown sug­ars and mar­garine until creamed. Add pump­kin, milk and vanilla and mix well. Add dry ingre­di­ents to wet in two batches and mix until just mixed, then stir in choco­late chips.
Drop heap­ing table­spoons of dough 2 inches apart on a bak­ing sheet 2 inches apart on cookie sheet. Bake for 10 to-12 min­utes or until cook­ies are lightly browned on the edges. If you are bak­ing more than one sheet at a time, switch their shelves halfway through. Let cook­ies cool on the bak­ing sheet for 15 min­utes, then remove from cookie sheet and cool on trans­fer cook­ies to cool­ing rack. Store cooled cook­ies in a con­tainer with a loose fit­ting lid, as they are very moist, at room temperature.
Yields: 3 dozen cookies